In the face of illness and uncertainty, Scott and Denise Blanchett are grateful to God and thankful for the ministry of Operation Heal Our Patriots.
Bless the Marriage of a Military Couple
013960
Denise Blanchett said the water was so cold she couldn't speak. Or perhaps she was speechless for other reasons, such as the overpowering emotions she experienced during such an important moment. For nearly four years she had thought about the opportunity she'd missed to be baptized with her husband, Army Sergeant Scott Blanchett, in the glacier-fed waters of Alaska's Lake Clark.
But now at their home near Huntsville, Alabama, the same chaplain who'd baptized Scott was baptizing her—with frigid water taken from Lake Clark near Samaritan Lodge Alaska.
"Where'd you dip that out of?" Denise recalled thinking as Chaplain Jim Fisher gently poured the water over her head in a special baptism ceremony, allowing her to experience a little of what her husband felt when he was baptized at the end of Week 11 during the 2016 Operation Heal Our Patriots summer season. Scott's life was transformed that week when he received Jesus Christ as His Lord and Savior.
When Scott was baptized, Denise watched from the shore. She was battling cancer back then as well and had just undergone a difficult operation followed by chemotherapy. Though she had put her faith in Jesus Christ at age 16 and was baptized a short time later, she wanted to commemorate the new path their lives were taking. She desired to be baptized in Lake Clark as an expression of renewed commitment to the Lord and as a way to join Scott in his new relationship with God. When they returned home from Alaska, she silently promised herself that she would somehow return and be baptized in the same water as her husband.
Yet as her illness progressed and recently took a difficult turn, she wasn't sure if she would be able to fulfill that promise. She reached out to our chaplains with a special request—would it be possible for them to baptize her at the 2020 Operation Heal Our Patriots Reunion with water from Lake Clark? Our staff at Samaritan Lodge quickly got to work to make it happen.
Riding on snow machines out onto the surface of a very frozen Lake Clark, our team cleared a section of ice and drilled two feet deep, filling two vials with the freezing water. Everything was set. But then, at the request of Denise's oncologist, the Blanchetts had to cancel their plans to attend the Reunion. Our chaplains, however, didn't cancel their intent to fulfill Denise's request. (This was weeks before the Reunion itself, originally scheduled March 27-29, was rescheduled due to the COVID-19 outbreak.)
At the Blanchett's invitation, a plan was quickly devised to conduct the baptism at their house in early March. Chaplain Fisher and his wife Lori arrived in Alabama for the special occasion and were joined by our Southeast Region Chaplain Emory Lussi and his wife Beverly. Chaplain Pat Fleming participated remotely.
A Blessing in Times of Trouble
Denise and Scott talk often about how God has changed them and carried them through some difficult days—and what the Operation Heal Our Patriots family means to them.
"When I came to Alaska I was pretty cynical. I had a whole zoo full of monkeys on my back, and I needed to throw them off," Scott said. "Up there I let everything go. I gave it to the Lord and everything has been different since then."
Denise says that the encouragement she has received from fellow military couples has helped see her through some dark days. God has used Operation Heal Our Patriots to help strengthen them, especially as her cancer has grown more aggressive.
"It's been such a blessing to our lives," Denise said. "I don't know what I would have done without all the prayers. The OHOP family is as much our family as anyone else. We have some people there we hold as dear as we do blood kin. They've sent messages. They've sent cards. It all has just proven to me there is so much love and so much care from God's people."
"This is my comfort in my affliction, that your promise gives me life" (Psalm 119:50 ESV).
This all began in Alaska when they needed help the most, during a particularly trying time in Denise's battle with cancer and with Scott's war-related struggles.
It was then he committed his life to Jesus Christ. And it was there that he and Denise symbolically burned and left behind their hurts and regrets by writing them on a piece of paper that they nailed to a log and tossed into a fire at Samaritan Lodge.
One regret that wasn't written down was Denise's missed opportunity to be baptized in the same water as her husband from the place God had used so mightily in their lives.
But that regret quickly washed away as the refreshing water from Lake Clark was reverently poured over her head and ran down onto her radiant face—baptizing her in the name of the Father, and of the Son, and of the Holy Spirit.
Like so many other military couples who've become a part of the program, Scott and Denise hold fast to the promise that is offered in God's Word: "This is my comfort in my affliction, that your promise gives me life" (Psalm 119:50 ESV).
UPDATE: Denise Blanchett went home to be with the Lord on May 3, 2020.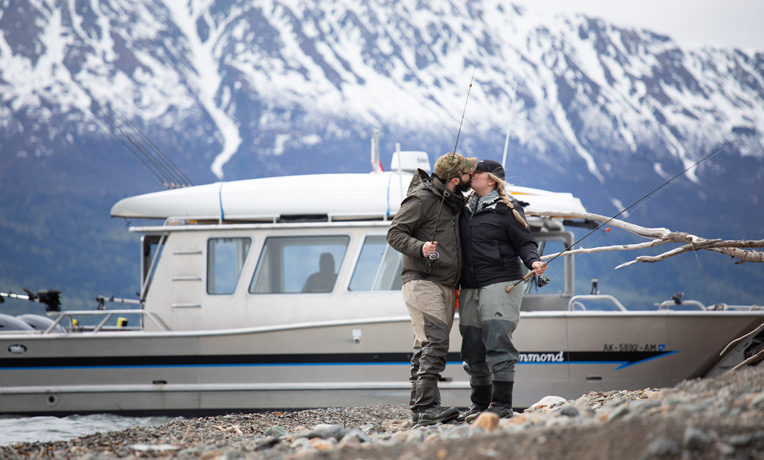 Bless the Marriage of a Military Couple
Operation Heal Our Patriots helps military couples build a strong spiritual foundation during a week of Biblically based workshops, relationship-building wilderness activities, and individual care by our retired military chaplains. We offer all this free of charge to these American heroes as a token of our appreciation for their service and sacrifice. Your gift will help us cover the costs—including transportation, lodging, activities, and long-term aftercare—so that we can help them find hope in the Lord.
---
Operation Heal Our Patriots 013960
Suggested Gift: $60