Samaritan's Purse teams are serving those in need after Hurricane Ida. Some of those we've helped are able to turn around and help others, too.
U.S. Disaster Relief
013622
Hurricane Ida rapidly intensified into a Category 4 storm—leaving Heather and Jason Harper little time to evacuate their family of five from their home in Schriever, Louisiana. They knew they didn't want to remain in their manufactured home, so they sought shelter in the nearby home of Heather's mom, bracing themselves as heavy wind and rain pounded around them.
"The noise was just so different from any noise you've ever heard," Heather said of the August storm. "The gusts of the hurricane force winds would come in at 110 mph, if not stronger. Hour by hour, it just continuously got worse."
Though their community has been impacted by hurricanes before, the Harpers had never stayed for a storm as strong as Hurricane Ida. They normally evacuated to the north and returned home afraid of what they would find in the brutal aftermath of the storm.
"This time we just walked out and saw what you would normally fear when you're driving home," Heather said.
They were glad to welcome Samaritan's Purse volunteers who quickly came to help them, removing several downed trees and clearing their yard of storm debris.
"Every person on this team is amazing and every person on this team is shining God's light very brightly," Jason said. "Samaritan's Purse is here clearing trees, they're putting everything in piles, they've looked at our roof, they've given us water, they've given kind words to my family. It's hard to articulate what it means."
We are currently serving from three bases in Louisiana, reaching out to communities in and around Houma, Hammond, and Greater New Orleans. Thus far, more than 300 volunteers from across the country have helped families clean up while reminding them that God loves them and they are not forgotten.
As we work, we are relieving the burden of recovery on southeastern Louisiana communities—helping those who are used to helping others.
"We have to make sure that we are helping the helpers: the people that are going to be here long term to help other people," said Pastor Wayne Northup of Saints Community Church in Metairie, Louisiana. We are partnering with his church as we aid hurricane victims around New Orleans.
"We want to make sure that they are taken care of and that they're in a situation that is semi-comfortable for them so that they can go out and serve others."
For Heather and Jason, receiving help from Samaritan's Purse on their own home allows them to better serve their community. They are paying forward the blessings they have received to help their neighbors pay for gas, run generators, and clear debris.
"We are Louisiana proud and we want to help others before we help ourselves," Heather said. "Even if you have nothing, you are offering your nothing to somebody else."
The Power of Prayer
As the eye of the hurricane passed over their home, Heather and Jason felt God's hand of protection on them. They were praying and friends and family across the world were praying too.
Though they did not have cell phone coverage or power during the storm, Heather and Jason looked back at the radar once the storm had passed. What they saw astounded them.
"God moved the storm for us," Jason said. "If you look at the video, the storm's path comes right up to Schriever, Louisiana, and turns east. The only thing I can attribute that to is the power of prayer; people were praying for our area and I don't know how you look at it any other way."
The Harpers thank God that they were spared more severe damage to their home. And, they thank Him for sending Samaritan's Purse volunteers to comfort them and help them with the damage they did have. "To the volunteers, I would say thank you so much," Heather said. "Thank you for spending your time and money and for leaving your homes and your families to come down here and help people who are in need."
Please continue to pray for our volunteers serving in Louisiana and for families like the Harpers who are still recovering from the storm. For more information on how you can volunteer, visit SPvolunteer.org.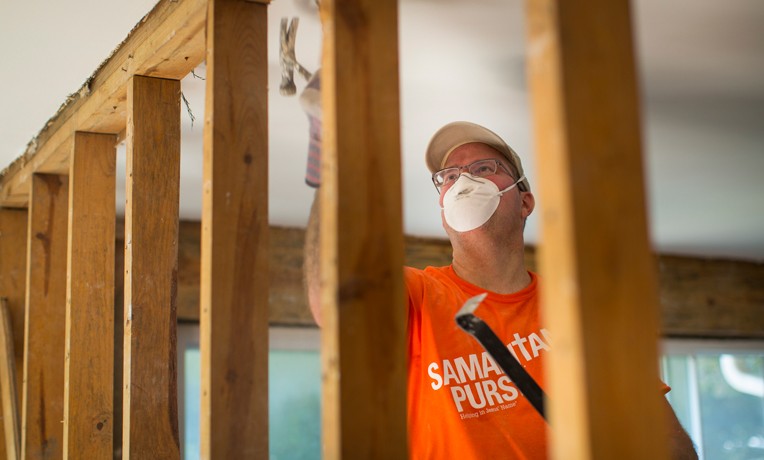 U.S. Disaster Relief
Samaritan's Purse mobilizes and equips thousands of volunteers to provide emergency aid to U.S. victims of wildfires, floods, tornadoes, hurricanes, and other natural disasters. In the aftermath of major storms, we often stay behind to rebuild houses for people with nowhere else to turn for help.
---
U.S. Disaster Relief 013622