Samaritan's Purse teams continue to help hurting families in the hardest hit areas of DeSoto County.
U.S. Disaster Relief
013622
After a powerful EF2 tornado ripped off her home's roof, Sue Williams was overjoyed to welcome an army of Samaritan's Purse volunteers on her devastated Mississippi property.
"It's a gift from God. They are absolutely a Godsend," she said. "I was standing out here in the yard this morning, and they offered to help when I needed it."
One of hundreds of DeSoto County homeowners affected by the storms, Sue was by herself when estimated winds of 120 mph and powerful rainfall pummeled her house over a matter of minutes on Saturday morning, Jan. 11.
Samaritan's Purse staff started arriving in the area on Sunday evening and began assessing the damage on Monday morning.
"The good Lord sent them," Sue said confidently of the volunteers who came to her house Tuesday morning. "They just drove up and said, 'Can we help?' I asked how much it was going to cost, and they said they did Jesus' work: 'Jesus don't charge.'"
"The volunteers are absolutely a Godsend."
With resilient dedication, teams of volunteers began helping Sue recover from the storm. More than four decades of memories were lying across her yard. Insulation from the house covered the trees, broken branches were strewn around the lawn, and pieces from the structure and roof were scattered everywhere.
Surviving the Storm
"I'm 68 years old, and I've never lived through something like this before," Sue explained.
As the intimidating storm approached, the sounds of trees snapping and glass shattering filled the air. Powerful winds rushed into her home through an open bedroom window. Immediately, Sue woke up to a terrifying situation.
"The house was shaking, I heard crashing and windows breaking. Trees were falling. It was very frightening," she recalled.
While the relentless storm continued to approach, Sue searched desperately to find a place of refuge. The storm intensified, and she knew it was important to act quickly.
"I turned around in circles thinking, 'What do I do, what do I do?' I thought before the closet would be the safest place. So that's where I went," Sue added.
Bracing herself for the storm, she took shelter in her bedroom closet and waited for the tornado to pass over. The house shook and water began pouring inside.
"I hunkered down in here until water started coming through and I looked up and I could see the sky. The roof was gone," she said.
Without a roof, nothing stopped the winds and rains from demolishing the interior of the house. An unhinged door got trapped in the closet doorframe—leaving her trapped inside. Not long after the storm passed, though, a neighbor came by to check on her and together they escaped the wreckage. Finally, this Mississippi community quieted in the wake of an astonishing disaster.
"I remember standing there, looking up at the rafters, and said, 'Dear God, everything I have is gone. I've lost everything.' God talked to me and He said, 'You still have your health, your kids, and your grandkids. It's going to be OK,'" Sue shared.
Teams of Samaritan's Purse volunteers assisted Sue by chain sawing downed trees and clearing debris while carefully searching for items displaced by the tornado. After completing work on her home, volunteers presented Sue with a Billy Graham Study Bible, and together they prayed for God's continued protection over her life.
Astounded by the volunteers' help, Sue added, "I certainly believe God is good to me."
Showing Jesus' Love
Charles "Bear" Dee was among the many volunteers who worked on Sue's property and at other homes. He chain sawed fallen trees and cleared immense amounts of debris while praying with homeowners.
"It feels good to serve others and be a part of an organization who is reaching out and helping those in the community," he shared.
Samaritan's Purse volunteers came from all areas of the country to aid hurting families in DeSoto County. Bear, however, is a county resident and has lived southeast of the devasted area his entire life. Even though he was not directly impacted by the disaster, Bear felt God calling him to help those in need.
"Jesus loves us all. It doesn't matter the community or the area," he continued. "We are His people and we are to serve others through Him. So, if we can let His Spirit and love be shown to our community, I would I like to be a part of it."
Please pray for the families in DeSoto County as they seek to recover and for our teams as they continue to aid those affected by the devastation. For more information on volunteer opportunities, please visit spvolunteer.org.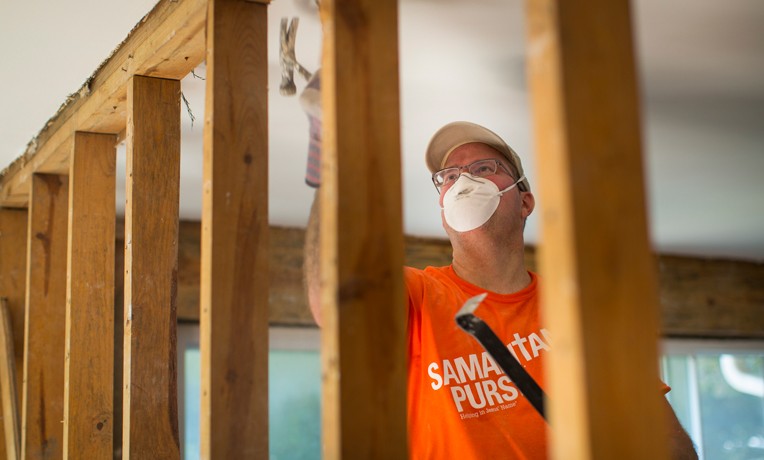 U.S. Disaster Relief
Samaritan's Purse mobilizes and equips thousands of volunteers to provide emergency aid to U.S. victims of wildfires, floods, tornadoes, hurricanes, and other natural disasters. In the aftermath of major storms, we often stay behind to rebuild houses for people with nowhere else to turn for help.
---
U.S. Disaster Relief 013622