Louisiana got another direct hit from a powerful storm. More volunteers are needed as Samaritan's Purse continues working in this hard-hit area.
U.S. Disaster Relief
013622
Hurricane Delta crashed ashore in southwestern Louisiana on Friday evening as a Category 2 storm with sustained winds close to 100 mph. It hit just a few miles from where a devastating Hurricane Laura made landfall just six weeks ago.
Strong, lashing winds and heavy downpours—with rainfall totals of 17 inches in some places—battered already storm-weary areas in Louisiana.
Samaritan's Purse already had staff and equipment in Louisiana—helping after Hurricane Laura—and we will maintain four deployments in DeQuincy, DeRidder, Jennings, and Lake Charles. This will allow us to continue helping homeowners in Jesus' Name in the wake of both Laura and Delta.
We still have over 2,000 existing requests for assistance and anticipate more. Volunteers are urgently needed. Go to SPvolunteer.org to find opportunities to serve.
This is the record-setting tenth named storm to hit the mainland U.S. this year—five of which achieved hurricane strength. Louisiana alone has taken the brunt of three named storms—Cristobal, then Laura, then Delta. The damaged roofs of many homes around Lake Charles were still covered with blue tarps as intense winds gusted through again on Friday.
Still Recovering from Laura's Fury
Following Category 4 Hurricane Laura's strike in August, four Samaritan's Purse Disaster Relief Units were quickly deployed to assist hurting families in this same region of Louisiana.
Volunteer crews have been mudding out houses, tarping roofs, removing downed trees and rubbish, and, most importantly, sharing the hope of the Gospel. We praise God that, so far, more than 130 people have received Jesus Christ as Lord and Savior through these deployments.
"The media aren't covering it, but so many families in Louisiana are still reeling from Hurricane Laura, whose 150 mph winds and torrential downpours did significant damage to homes and businesses," said Samaritan's Purse President Franklin Graham on Facebook earlier this month. "Those hard hit by Laura continue to need our prayers."
Please pray for the thousands of people living along the Gulf Coast who have already been pounded by devastating storms this year, and for our teams as keep serving in Jesus' Name.
Note: This article was originally published on Oct. 9 and was updated significantly on Oct. 10. Minor updates were made Oct. 12 and 13.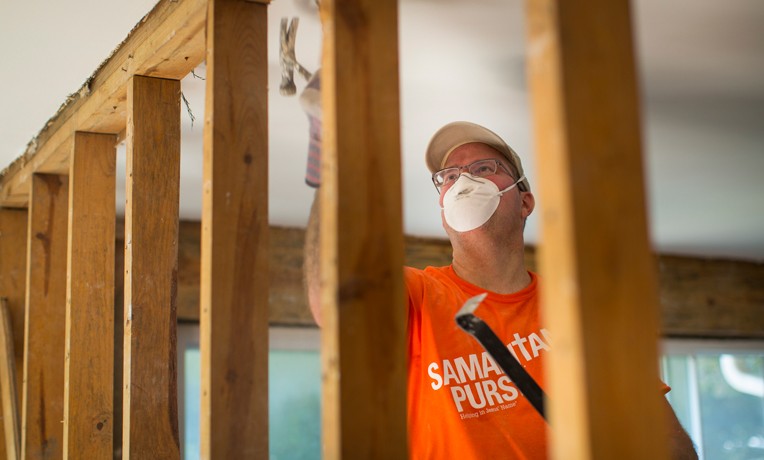 U.S. Disaster Relief
Samaritan's Purse mobilizes and equips thousands of volunteers to provide emergency aid to U.S. victims of wildfires, floods, tornadoes, hurricanes, and other natural disasters. In the aftermath of major storms, we often stay behind to rebuild houses for people with nowhere else to turn for help.
---
U.S. Disaster Relief 013622