Samaritan's Purse provides life-saving relief to flood victims in Kenya's Tana River County
Give
 Kitchen utensils, bedding, crops, even her house—nothing remained for Fatma and her five children after the Tana River crested from heavy rains in April and poured over its banks. Floodwaters rushed into the valley and overwhelmed Fatma and her village.
"I am a refugee in my own country," said Fatma, a widow of six years. "I don't know how we will survive."
The rush of water comes as both a blessing and a curse to the people of Tana River County.
The Tana River serves as a lifeline for thousands of families, providing them with a permanent source of water for drinking, household use, and irrigation. In a region plagued by perennial drought, the rainy season is a time when the river's water levels are replenished.
But for people like Fatma who must build their homes close to this essential source of water, they can only pray that three months of intense rainfall won't cause the river to overflow. This year, heavy rains fell upstream in the central highlands of Kenya, and the Tana River burst, submerging several nearby villages underwater.
This has been the worst flooding of its kind since 2007, when 2.5 million people throughout Africa were affected by one of the worst floods in recorded history.
In the village of Kumbi, more than 100 households were forced to higher ground when their homes were swept away. People had nothing to drink but contaminated floodwater. These stagnate pools were breeding grounds for mosquitoes and other disease-carrying insects. Many children became sick with gastrointestinal and respiratory infections, as well as malaria.
Samaritan's Purse responded immediately by providing temporary shelter, mosquito nets, soap, jerry cans, water buckets, and PUR sachets for water treatment. We also set up a medical camp to treat those who were sick.
"Thanks be to God because you came at the right time to save my life," Fatma said. "For sure, you were sent by Him to save my life and my children's lives. Thank you very much!"
The floodwaters have started to recede, and Samaritan's Purse is already working to provide the community of Kumbi with a sustainable water source for the future.
We are repairing their broken freshwater well and replacing the hand pump with a solar-powered one. This will help send clean water more than 1 kilometer to higher ground at the center of the village. With these enhancements, Kumbi will have access to clean water, both during droughts and whenever the river floods again.
Tana River County is a predominantly Muslim region that at times is hostile toward Christianity. And yet, by offering emergency relief to flood victims, our staff has the opportunity to boldly share the Gospel. As we continue to help communities throughout the area become more self-sufficient, men and women are hearing that through Christ they have "a fountain of water springing up into everlasting life" (John 4:14, NKJV).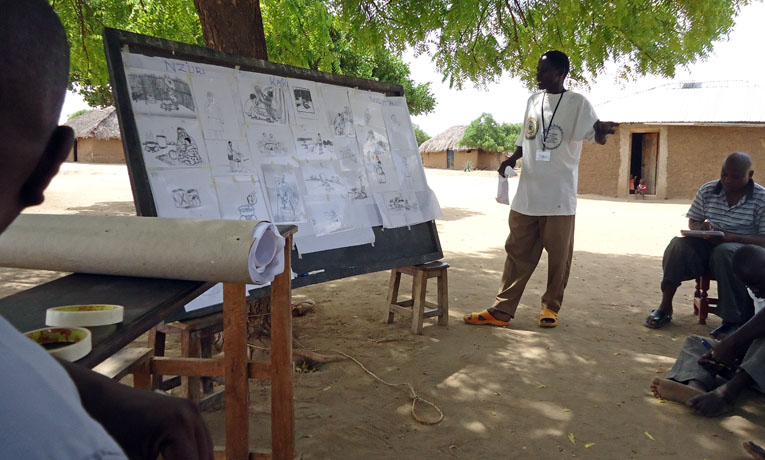 Kenya Projects
Samaritan's Purse is making a difference in the lives of Kenyans, working alongside them on agricultural, animal, and forestry projects across the country. We also have a variety of projects focused on providing clean water that's safe to drink. Since 1978 we've been sending medical doctors to Kenya through World Medical Mission, supporting at least two dozen hospitals that have helped tens of thousands of people find new life in Jesus Christ. Whether we're on a farm or in an operating room, we are there serving in Jesus' Name, demonstrating His compassion and declaring the hope of His Gospel.