A rural Oklahoma town hard hit by a tornado finds relief from Samaritan's Purse volunteers
Not too far from Moore, Oklahoma, where a deadly EF-5 tornado wreaked havoc on May 20, there is a rural town that also suffered from its own disaster.
On May 19, a tornado violently tore through Shawnee. Samaritan's Purse volunteers have been helping with clean up for this small community in addition to the operation going on in Moore.
Give
Samaritan's Purse dispatched two Disaster Relief Units from our North Carolina headquarters to help storm victims in both towns. One is based at Emmaus Baptist Church in Moore and the other is at Family of Faith Church in Shawnee. The operation site in Shawnee finished clean-up on Friday, June 21 after completing 324 work orders.
Tony McNeil, program manager for the response in Shawnee, said the emergency manager of the town immediately broke down crying when he met with her.
"She said they thought they were forgotten," he said.
Among the communities to take a direct hit from the devastating tornado was a small trailer park in an area called Bethel Acres. It is filled predominately with generations of families who have lived together for years.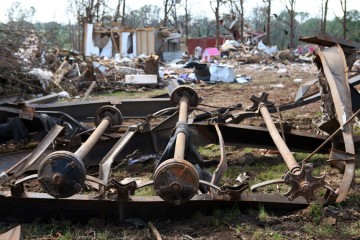 Mary and David Marshall have lived here for 25 years, continually building new trailers for their children and grandchildren, and renting to others needing a place to stay. The day of the tornado, they crammed into a 12-person cellar with 24 people. When they emerged, the entire area was flattened with many trailers either completely blown away or mangled into pieces mixed with other people's homes.
"First couple of days there was shock and chaos. To see everything you worked to build for 25 years wiped out in 30 seconds…" David said. "Even now I think some of [the neighbors] are really discouraged because most of them are walking around like zombies."
What's hardest for the Marshalls is how one of their daughters doesn't want to rebuild and move back to the family compound. She unfortunately was the person who found the body of one of the people who lost their life—an elderly man who was found headless.
Describing the community as emotionally scarred and struggling to find hope and after dealing with the heartbreak of having his property looted four or five times after the tornado already, David said Samaritan's Purse was a huge relief to the entire neighborhood.
"They were here as soon as the tragedy hit," he said. "I didn't expect them and I didn't know where they came from, but I looked up and they were there."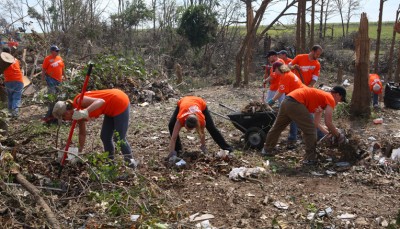 David and Mary said the volunteer crews were doing such a great job that one of their lots looked even better than it did before the tornado. And as volunteers combed through debris looking for personal items, David said the strangers treated each item with care, as if it was their own.
Bill Stoops, a resident who has lived in the park with his four kids and six grandchildren for the past 15 years, said he's been impressed with the help offered to their families.
"They've done great helping out," he said. "They've been willing do to everything and anything. They are so organized, and there are a lot of good people too."
What impressed the Marshalls the most—besides the quality of work, which David said surpassed that of professionals—was how the help was a gift with no expectation of repayment. As a family who has spent their entire lives giving everything they could to their children and neighbors, even having 19 children living with them in homemade bunk beds at one point, they appreciated seeing the love of Christ in person.
"We found out Samaritan's Purse gives like we believe, without expectation of none—not expecting to be paid back," David said. "Samaritan's Purse has been one of the greatest gifts."
Mary said they've never belonged to a church, nor do they give to churches, but after all the help they've received by various organization, they decided once they get back on their feet, they would choose one of the organizations and give back. The organization they've chosen is Samaritan's Purse.
"We're not paying you back money. We're paying it forward to help others in the future," she said. "We feel so blessed."
David, a retired veteran who doesn't have plans to slow down yet, also wants to pay the help forward in another way. He attributes the help of Samaritan's Purse volunteers to why he'll be able to make an impact.
"Thanks to Samaritan's Purse's help, they have done of the stuff I wasn't able to do alone," he said. "It frees me to go help people. All I can do is help someone else like you've helped me."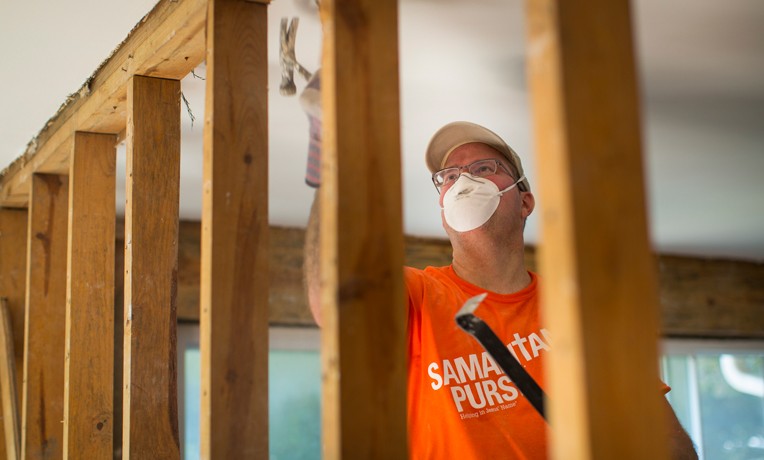 U.S. Disaster Relief
Samaritan's Purse mobilizes and equips thousands of volunteers to provide emergency aid to U.S. victims of wildfires, floods, tornadoes, hurricanes, and other natural disasters. In the aftermath of major storms, we often stay behind to rebuild houses for people with nowhere else to turn for help.
---
U.S. Disaster Relief 013622