A U.S. Disaster Relief unit is on the ground and volunteers are working in the communities north of Birmingham where a tornado destroyed homes Monday evening.
U.S. Disaster Relief
013622
Samaritan's Purse is responding in Jefferson County, Alabama, where at least one tornado ripped through business and residential areas north of Birmingham. The deadly storm toppled trees, downed power lines, and overturned vehicles on its path of destruction from Fultondale to Center Point. Dozens of homes were ripped apart in these communities and at least one person was killed.
U.S. Disaster Relief Unit 1, a tractor trailer filled with relief supplies and equipment, along with staff and other support vehicles are on the ground in the affected area.
Our team has established a base of operations at our host church:
Gardendale First Baptist Church
940 Main Street
Gardendale, AL 35071
"My prayers are with the people of Alabama affected by a devastating tornado last night that took the life of a young man and injured many others," said Samaritan's Purse President Franklin Graham via Facebook.
Billy Graham Rapid Response Team chaplains are also on the ground to provide emotional support and spiritual care as we seek to help these suffering people in Jesus' Name.
Our North American Ministries teams will work with local churches and government officials and mount a strategic response to assist hurting homeowners and communities devastated by the twister.
To volunteer (day volunteers only) for our response in Jefferson County, please call 828-588-5711. Please continue to pray for hurting homeowners and communities in the Birmingham area.
This story was updated January 27.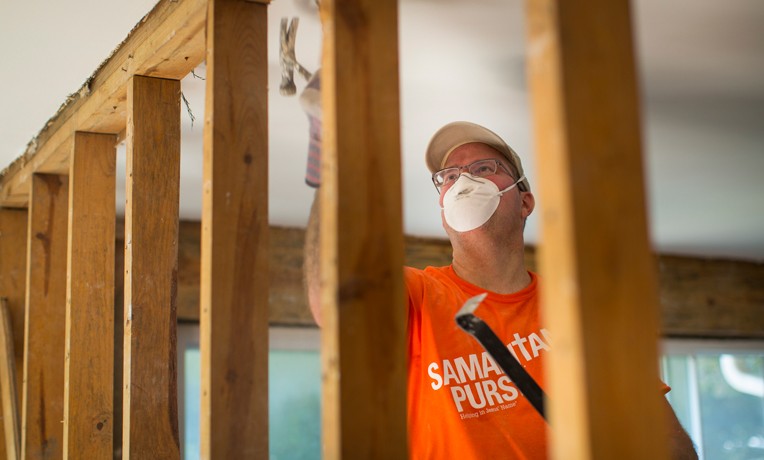 U.S. Disaster Relief
Samaritan's Purse mobilizes and equips thousands of volunteers to provide emergency aid to U.S. victims of wildfires, floods, tornadoes, hurricanes, and other natural disasters. In the aftermath of major storms, we often stay behind to rebuild houses for people with nowhere else to turn for help.
---
U.S. Disaster Relief 013622