Volunteer teams are working in Rolling Fork and in Amory, locations on the western and eastern sides of the state, where multiple tornadoes caused widespread damage in Mississippi.
U.S. Disaster Relief
013622
Dozens of Samaritan's Purse volunteers are assisting homeowners in Rolling Fork and in Amory, Mississippi, where a long band of powerful thunderstorms, spawning multiple tornadoes, carved a 100-mile path of destruction across the Magnolia State March 24, damaging and destroying hundreds of homes and knocking out power across Mississippi.
VOLUNTEER IN MISSISSIPPI ROLLING FORK | AMORY
Volunteers started work Monday, March 27, deploying out of our bases of operation at our host churches. Teams are helping in Jesus' Name tarping damaged roofs, cutting up fallen or damaged trees, and clearing debris from yards and homes. Billy Graham chaplains are also serving in communities, providing spiritual comfort and emotional support to hurting homeowners.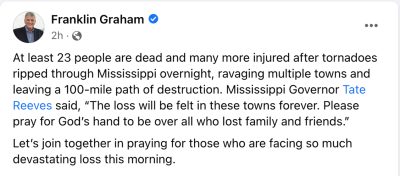 Samaritan's Purse President Franklin Graham, on Facebook early Saturday, shared Mississippi Governor Tate Reeves' urgent request for prayer.
"The loss will be felt in these towns forever," Governor Reeves said. "Please pray for God's hand to be over all who lost family and friends."
Our Two Response Locations and Host Churches
Two Samaritan's Purse U.S. Disaster Relief units—tractor trailers filled with relief supplies and equipment—have set up bases of operation on the east and west ends of the state –in Rolling Fork and in Amory.
Rolling Fork is located in western Mississippi, in the Delta region. Amory is in the eastern part of the state, near the Alabama border.
Our two host churches serve as our bases of operation, providing space and infrastructure to support our teams and equipment. They also are integral in helping us plan our response and in ministering to the many hurting homeowners requesting our assistance.


ROLLING FORK/SILVER CITY
Lake Washington First Baptist Church
1068 Lake Washington Rd E
Glen Allan, MS 38744
AMORY
First Assembly of God Amory
521 Tschudi Road
Amory, MS 38821
Please pray for the families impacted by this storm, the local first responders who are helping, for local churches as they minister to communities, and for our volunteers and staff as we begin serving homeowners in coming days.
Note: This story was first published on March 25 and has been updated multiple times.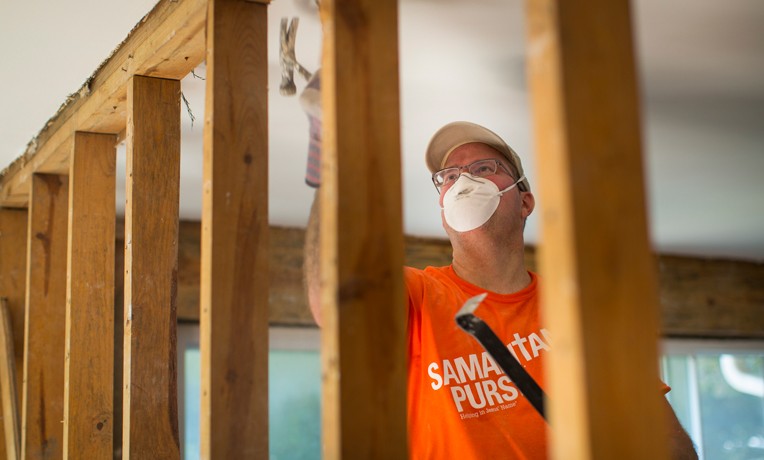 U.S. Disaster Relief
Samaritan's Purse mobilizes and equips thousands of volunteers to provide emergency aid to U.S. victims of wildfires, floods, tornadoes, hurricanes, and other natural disasters. In the aftermath of major storms, we often stay behind to rebuild houses for people with nowhere else to turn for help.
---
U.S. Disaster Relief 013622