Samaritan's Purse welcomed a disabled veteran home in South Carolina after replacing his house devastated by Hurricane Florence.
U.S. Disaster Relief
013622
Samaritan's Purse Team Patriot volunteers handed Chris Holmes the keys to his brand-new home in Horry County, South Carolina on Feb. 7. The 58-year-old disabled Marine was one of thousands of homeowners whose lives and property were devastated by Hurricane Florence in 2018.
Samaritan's Purse provided Chris with a new mobile home to replace a structure irreparably damaged during the storm. And, before Chris moved in, our Team Patriot volunteers built an accessibility ramp to accommodate the physical limitations caused by Chris' injuries. The group also arranged landscaping on the property.
Team Patriot, a project of Samaritan's Purse, is made up of trained disaster relief volunteers who are veterans. These volunteers and their spouses previously participated in Operation Heal Our Patriots, a Samaritan's Purse project aimed at strengthening the marriages of U.S. service personnel wounded or injured during combat service after 9/11.
"You have a connection automatically. You've all sweat in the same places and dripped the same blood," Team Patriot response manager, Eric Marcengill, said of the veteran homeowner. "It's nice to remind him that he has not been forgotten. He's not been tucked away. [Our team] came from all over. We went through all the different states where everybody came from, and it blew him away."
The team was mobilized from all areas of the country—traveling from Arizona, Tennessee, Pennsylvania, and across the state of South Carolina–to help Chris rebuild his home.
Unwavering Grit
Samaritan's Purse volunteers met Chris in 2019—after Hurricane Dorian—as Samaritan's Purse assessment teams deployed to the hardest-hit areas. Dorian toppled a tree onto Chris' roof, and our volunteers swiftly removed it, cleared storm debris, and tarped his roof.
While visiting the property, volunteers discovered that Chris had been living in a flood-damaged home since Hurricane Florence passed through nearly a year and a half before.
"I just dealt with it. It was tough. It got hard, really hard. I did what I had to do. I had to make it," Chris said. "Everyone had their own things, their own problems. I had to survive. One thing about the military when you get into that survival gear, you're going to survive. You do what you have to do."
Chris had placed buckets throughout the home to catch rainfall from his leaky roof, and wooden boards were arranged to provide a walkway across sunken areas of the floor. When our teams assessed the property, they found him to be the perfect candidate for the Hurricane Florence rebuild project.
"He's genuinely so grateful for us to be here and help him. He didn't go out seeking us or hunting all this help, we found him," Eric shared. "He was in awe that somebody would be willing to do all of this for him—somebody he didn't even know."
Boldly Facing Disaster
During Chris' deployment with the Marines, his base was bombed, and Chris was less than 100 yards from the direct hit.
"All I knew was my hip was hurting so bad. It didn't hurt like you think it would. It burned like fire. I thought, 'what is wrong with my hip?' They said, 'don't move. You broke your hip,'" Chris said, describing the attack. "My eye was hanging out and they put a bandage on it to hold it up. Marines have to be tough. You deal with that kind of stuff."
The wounded veteran was quickly transported back to the United States and was hospitalized for nearly five months. One of his legs was amputated, and he is now blind in one eye. After he was released from the hospital, Chris finally returned to his home in Horry County after years overseas.
As he began to process his life-altering experiences, Chris was overwhelmed. He did not understand why God would allow certain things to happen, and he felt alone without a support system nearby. Chris asked God for direction.
Through these hard times, Chris learned to trust God's timing. He refused to be disheartened by the trials in his life. He learned to walk with a prosthetic leg and adapted to his new lifestyle—trusting that God had a purpose for everything. Now Chris is seeing how God is using not one but two hurricanes to encourage him.
"Chris said to me, 'it's such a blessing to be reminded of the brotherhood,'" Eric explained. "Just because he's been out for 20 years, there are still brothers who are going to come and help and walk with him through whatever challenges he might face. This is just one of them."
Veterans Helping Veterans
While rebuilding his home, Team Patriot volunteers were inspired by Chris' perspective and determination. As they worked together, the team listened to stories from his life and were motivated by the resilience Chris displayed. Although situations in Chris' life did not always go the way that he had hoped, he remains confident in the Lord's timing.
"If you stay down, you stay down. That's the way I look at it," Chris said confidently. "Keep yourself up, and you have to keep going. It's OK. It will be all right."
The volunteer team worked together to help Chris recover—reminding him that he is not alone. The team was unified in their efforts through the strong bonds of military brotherhood and completed the finishing pieces of the rebuild project.
Throughout the week, team members were encouraged by the way Chris approached each circumstance.
"He's blessed us as much as we've been able to bless him," Eric explained.
Chris continues to believe that God has a plan for everything—seeking the joy of the Lord in all things. The veteran team finished rebuilding what was damaged by the storm, and Chris was deeply grateful to have his brothers standing with him in solidarity as he prepared to return home.
"You guys are the best," Chris remarked, thanking Team Patriot volunteers. "You guys are the best of it all. To be a part of the veteran team, that's it for me. I could say thank you, but that would not be enough. All I can say is, 'I love you.'"
Returning Home
When Samaritan's Purse volunteers welcomed Chris to his new home, it was a testament to him, his community, and fellow veterans of God's care and presence despite our circumstances.
Family and friends gathered to celebrate Chris' new home. The American Legion presented him with an American flag to honor his military service. Chris received the keys to a brand-new home and confidence that God has placed people in his life who care about him.
More than 8,200 volunteers have assisted homeowners through disaster relief and rebuild efforts in response to widespread devastation caused by Hurricane Florence. Samaritan's Purse plans to rebuild and repair more than 200 homes affected by Hurricane Florence across North and South Carolina.
Please pray for the homeowners who have lost so much as our teams continue to help them rebuild their lives. To learn more, please visit spvolunteer.org.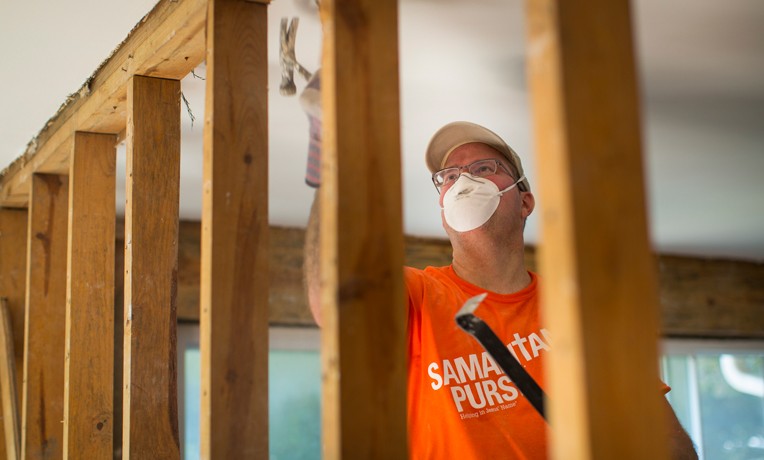 U.S. Disaster Relief
Samaritan's Purse mobilizes and equips thousands of volunteers to provide emergency aid to U.S. victims of wildfires, floods, tornadoes, hurricanes, and other natural disasters. In the aftermath of major storms, we often stay behind to rebuild houses for people with nowhere else to turn for help.
---
U.S. Disaster Relief 013622