Samaritan's Purse volunteers assisted more than 30 homeowners in northeast Arkansas after a deadly tornado twisted through the area.
Connie Carter's life is all about helping people. For the last 40 years, her entire professional career has been devoted to caring for senior adults. And she's always looking out for her community, from checking in on things when families are out of town to wheeling garbage cans out to the street every week for elderly neighbors.
But when a recent tornado barreled through Trumann, Arkansas, Connie discovered, much to her frustration, that she herself needed some help. Connie's mobility is limited due to multiple arm and shoulder surgeries, which made it difficult and even painful for her to clear the debris in her yard after the powerful storm.
Connie couldn't believe that Samaritan's Purse volunteers would come from across the country to serve her and others in Trumann. Not only did our team clean up her yard, but they also offered her spiritual encouragement as she grieved for so many in her hometown who are suffering in the storm's aftermath.
"I spent three days crying. Today is the first day I haven't cried," Connie said.
Our team also worked at the home of Connie's next-door neighbor, Donna Brown, who attends Maple Grove Baptist Church, which served as our base of operations for this deployment. Donna leads an addiction recovery ministry at Maple Grove, and she is an incredible resource, as she has her own story of how God's grace helped her overcome an addiction to drugs and alcohol.
Like Connie, Donna has lived in Trumann her whole life, and seeing families she cares about suffering is almost unbearable. "It's heartbreaking," she said. "I grew up in this town, and my street is destroyed."
Donna thanked the Samaritan's Purse team over and over again for coming to northeast Arkansas during their time of desperate need. "Ya'll don't know how much this means."
'God Was with Us'
Connie shared that in the days following the tornado she bawled every time she walked down her street, as it was among the hardest-hit areas in Trumann. She watched as remnants of once loved homes were bulldozed because there was nothing left to salvage.
She said she heard about a young couple who, only seconds after sheltering in the bathtub with their 8-month-old daughter, found themselves still in the bathtub—but the bathtub sat in the middle of the road, having been blasted outside of the home by the tornado's incredible force.
Connie also heard from friends like Delbert and Doris Reeves, another family just down the street who also received helped from Samaritan's Purse volunteers serving in Jesus' Name.
"I waited until the last second to dive into the bathtub. It almost got me. By the time I got the door shut, stuff was hitting the house," Delbert said.
The storm left a huge hole in the roof directly above the couple's bedroom that caused ceiling and insulation to crash down on the bed.
Delbert credits God for keeping them awake that evening, long enough to be awake when the storm hit. If they'd fallen asleep, "that would have been a rude awakening," he said. "God was with us that night."
Our volunteers tarped the roof for the Reeves and helped remove debris in their yard.
"You don't realize how many people care until something like this happens," Doris said. "What you guys are doing is awesome."
Sadly, this isn't the first time a disaster has hit close to home for Doris, as she said both her grandmother and aunt died in a tornado many years ago. Doris never expected she'd have to endure the trauma and heartache of yet another tornado.
Giving Back
We praise God for our volunteers who are willing to serve hurting people in the wake of natural disasters. We had more then 90 volunteers come out during our response in Arkansas, which concluded Dec. 18.
Jeff Watson, associate pastor of The Rock Church in Jonesboro, Arkansas, joined a number of his church members to volunteer in Trumann. Jeff has been ready to serve with Samaritan's Purse ever since an army of orange shirts showed up at his home last year after a devastating tornado hit Jonesboro.
Jeff, his wife, and an elderly neighbor huddled in the bathroom and prayed. "We'd no more than said 'Jesus' when I could hear stuff hitting the house. It was thunderous. But there was really no fear—we're believers in Jesus Christ.
"The Lord confirmed His Word, that He never leaves us or forsakes us. He was there, and that peace that passes all understanding filled the room."
Entire walls were ripped out in Jeff's home, and many of the family's personal belongings were destroyed. Jeff remembers walking around in a daze without any idea of where, or how, to start picking up the pieces. But he also remembers the morning he saw our volunteers walking up his driveway.
"I looked up, and I saw the Church. They came in orange shirts," Jeff said. "My first thought was: How good is God. It's a blessing to be part of His big family. I don't know what I would have done without my brothers and sisters in Christ on that day."
Jeff volunteered in Trumann because he wanted to encourage families who were walking the same painful, uncertain road he'd traveled last year. And, because he wanted to give back.
"I'm honored to wear [the orange shirt]. I'm a volunteer for Samaritan's Purse because I know what I felt as a homeowner when I looked up and saw those orange shirts," he said. "You go from hopeless to hopeful. Hope was restored. I became a volunteer because I wanted to help keep hope alive."
"I became a volunteer because I wanted to help keep hope alive."
Jeff and our volunteers worked hard helping Delbert and Doris, Connie, Donna, and others on the street. They also shared prayers and encouragement from God's Word.
"I don't know how many people in this neighborhood are believers, but I guarantee you, they are seeing Jesus lifted up."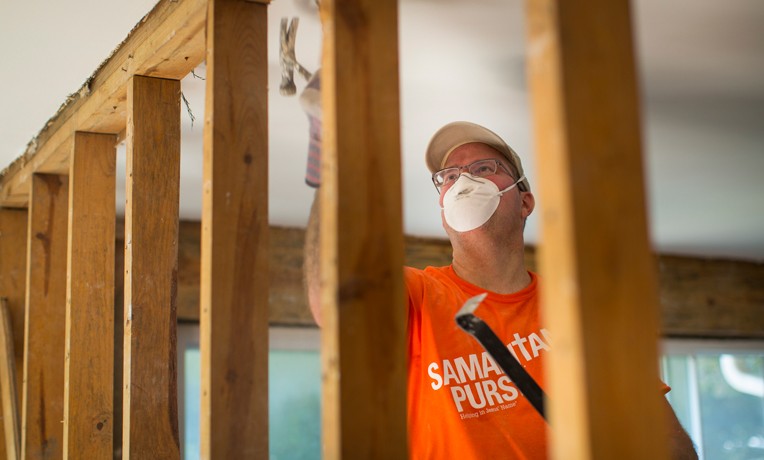 U.S. Disaster Relief
Samaritan's Purse mobilizes and equips thousands of volunteers to provide emergency aid to U.S. victims of wildfires, floods, tornadoes, hurricanes, and other natural disasters. In the aftermath of major storms, we often stay behind to rebuild houses for people with nowhere else to turn for help.
---
U.S. Disaster Relief 013622