Bean farmers in Haiti are not only receiving seeds and training, we also give them each a Bible so they can grow in God's Word.
Tucked away in the lush greenery of Grand-Goâve, Haiti, are dozens of bean fields ready to be harvested. Nore and his fellow farmers planted the beans three months ago, and now their family and friends are helping them with the harvest.
Harvesting beans involves pulling the full-grown plants from the ground and plucking off each bean pod.
This task of stripping the pods is tedious and time-consuming because the work is done by hand. In a day, Nore and his harvesters are able to strip enough bean pods to fill a 160-pound bag.
Helping Farming Families
As part of Samaritan's Purse agriculture projects around the world, our teams help farmers in financial need by providing them quality seeds and training to improve their crops. This training in agriculture as well as entrepreneurship helps them to earn a modest income.
"With the seeds and training I received, I will be able to provide better for my family," Nore said.
"I will be able to provide for my family."
Nore depends on the revenue from selling the beans at the market to take care of his wife and three children. The beans will not only provide him and his family with added food and nutrition, but also with enough money to buy other food items such as rice and to pay for his children's school fees.
Sharing God's Word
During our training sessions and follow-up home visits, Samaritan's Purse staff share the Gospel with farmers and their families.
"We teach beneficiaries about the creation story in Genesis to show them how the land is a gift from God and that He wants us to use it and use it well," said Frederic Guerrier, agriculture program manager for Samaritan's Purse in Haiti.
We give each of the farmers in our training classes a copy of God's Word so that they can learn more about how to follow Jesus Christ as their Savior and Lord.
"From reading the Bible, and with the teaching, I learned how God created the world and gave it to us to work the land and produce food from it," Nore said. "I am so thankful to Samaritan's Purse for coming to my community and teaching us how to grow and harvest beans and teaching us about God's love."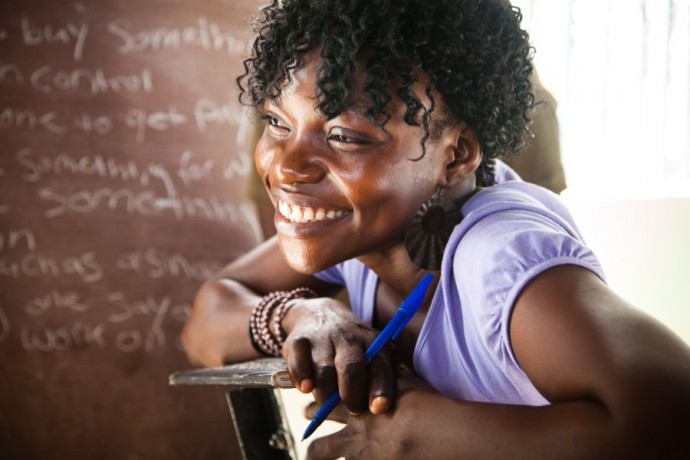 Haiti Projects
Samaritan's Purse began work in Haiti in 2010 in response to the devastating 7.0 earthquake. The nation's needs remain great and our work continues. We are helping vulnerable people through agriculture, microenterprise, water and sanitation initiatives, medical clinics, an orphanage, gender-based violence programs, infrastructure improvement, preparing sites for reconstruction, training mothers and expectant mothers in child health and nutrition, evangelism, and discipleship programs.