Samaritan's Purse volunteers are working throughout Baldwin County in the devastating aftermath of Hurricane Sally.
U.S. Disaster Relief
013622
Just one look into her eyes and a story quickly unfolded. A story woven together with fear, panic, and absolute confusion that left little hope for resolution.
Deborah Nelson could see in her mother's eyes that a storm still lingered, even in the days following Hurricane Sally's brutal punch to Baldwin County, Alabama. Her mother Dora lives with dementia and has a difficult time understanding anything outside of her usual routine.
"She looks at you like she's looking through you. I'm talking, but it's not registering," Deborah said.
Dora didn't understand why the power was off or why the phone wasn't working and she couldn't call Deborah, who lives next door. And every time she looked out her windows, what she saw was anything but usual.
"She walks out of the house and the devastation is so heavy," Deborah said. "Her roof has flown off everywhere. The trees are down. This isn't her norm."
Dora was so upset that her son, who is her other next-door neighbor, stayed with her at night for several days in a row.
Dora and Deborah are some of the first homeowners to receive assistance from Samaritan's Purse volunteers during this deployment to Alabama. Our base of operations is First Baptist Church in Foley, and our volunteers are working hard in Jesus' Name throughout Baldwin County.
"Putting a tarp on my mom's house is amazing," Deborah said. "Just the tarp on the house alone, if nothing else was done, is a miracle."
Our volunteers also cleared downed trees and debris in both Dora and Deborah's yards. They had a mess to deal with, as Hurricane Sally moved through the area so slowly that it had plenty of time to leave a devastating wake—and to keep families up all night waiting for it to finally pass.
"The wind was pounding against the window. At times you felt like it was going to come in on you," Deborah said.
Deborah is grateful for the Samaritan's Purse volunteers who brought unexpected blessings during a time of need.
"There is so much burden that is carried with a disaster. Samaritan's Purse takes away a big part of that burden," she said.
Now, instead of worrying about how everything would get done, Deborah has more time to enjoy with her mom and more time to help her neighbors with storm cleanup.
A Joy Like Nothing Else
Among the volunteers helping to relieve the burden for Deborah and her family are Bonnie and
Rick Cerezo from Adamsville, Tennessee. The Cerezos first volunteered with Samaritan's Purse last year after strong storms and straight-line winds pounded their city and damaged 70 percent of communities in McNairy County. The church they attend, Love & Truth, served for the first time as a Lighthouse Partner Church during the response, becoming the base of operations for our work.
Bonnie and Rick's home was not harmed, and so they joined Samaritan's Purse volunteers in helping other families hard-hit by the Tennessee storm. "It was incredible to see the generosity given to our little town. The actions of Samaritan's Purse rallied the community to start helping one another," Rick said. "We felt it was only right to continue being the hands and feet of Christ."
The couple has volunteered with Samaritan's Purse several times since then, and said they are blessed to be serving once again now, this time in Alabama.
"Every hand that assists is getting someone else closer to getting their home back to normal," Rick said. "The joy you feel after serving—it cannot be compared to anything else."
Leaving Everything Behind
Rick and Bonnie left family, friends, and jobs behind in Illinois and moved to Tennessee about two years ago. "We felt like God was guiding us to Tennessee, we just didn't know what for," Bonnie explained.
So, the couple obediently packed up and moved to a new town without any idea of what their future would look like or why God wanted them to begin this new journey.
Bonnie said they had their answer after the powerful storm rolled through Adamsville and they connected with Samaritan's Purse staff and volunteers. Although long-time shoebox packers for Operation Christmas Child, Bonnie and Rick didn't know about the extensive disaster relief efforts of Samaritan's Purse.
"I think this is why God needed us in Tennessee. He needed us to meet another side of Samaritan's Purse," Bonnie said.
In addition to working hard for homeowners like Deborah and Dora, the Cerezos also volunteered to drive a Samaritan's Purse box truck filled with tools and equipment from Love & Truth Church in Adamsville, Tennessee, to Baldwin County, Alabama. These trucks are positioned at Lighthouse churches across the country and are deployed to nearby disasters.
Bonnie and Rick are enjoying serving God together and demonstrating His love to people in desperate situations.
"I don't consider this to be work at all," Bonnie said. "God is refreshing our souls."
Many more volunteers are needed in Alabama to bring physical relief and the hope of Jesus Christ to hurting homeowners. Learn more about volunteering at spvolunteer.org. Volunteers are also critically needed at our four locations in Louisiana, where we are responding to Hurricane Laura in DeQuincy, Jennings, DeRidder, and Lake Charles.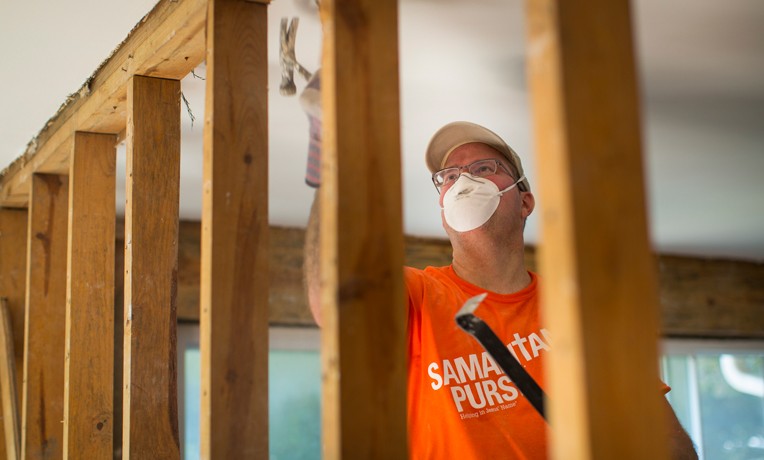 U.S. Disaster Relief
Samaritan's Purse mobilizes and equips thousands of volunteers to provide emergency aid to U.S. victims of wildfires, floods, tornadoes, hurricanes, and other natural disasters. In the aftermath of major storms, we often stay behind to rebuild houses for people with nowhere else to turn for help.
---
U.S. Disaster Relief 013622