A struggling family in the Philippines receives physical help and spiritual encouragement through Samaritan's Purse projects.
Philippines Projects
013395
Dennis is among many people in the Philippines who have lost their jobs because of the COVID-19 global health crisis. Although his wife was able to keep her position as a sales clerk, the family struggled to make ends meet on just her income.
Dennis tried earning money to support his wife and three daughters by selling breakfast meals in his neighborhood, but he had to stop due to COVID-19 restrictions. The family's resources continued to be limited and providing their daughters nutritious meals became a challenge.
Then, one day, Dennis met Samaritan's Purse staff during an event to evaluate children in the neighborhood for malnutrition. "I was surprised when they informed me that one of my daughters would be part of a feeding program. I didn't know she was malnourished," Dennis said.
He was thankful that our staff was able to catch this and prevent future complications from malnutrition. Dennis said the connection to Samaritan's Purse healthcare teams also turned out to be a blessing to the health of the entire family.
Shortly before his 2-year-old daughter began the feeding program, Dennis and his family developed a painful skin infection. Dennis wasn't sure how they would be able to get treatment for the condition. "I didn't know what to do. I did not have a job and we were afraid to catch COVID in hospitals," he said.
Because Dennis had connected with Samaritan's Purse through the nutrition screening, he was aware of other Samaritan's Purse projects in the area, including a free clinic. The family quickly recovered after taking the medication prescribed to them by a clinic doctor.
Dennis is grateful for the compassion our team demonstrated to his family.
"I have received not just physical help, but more importantly, spiritual help. The ministry partners prayed for me and gave me a Bible, and that made the biggest impact on me. I was reminded that I should trust in God," Dennis said. "I have hope, because God is always there."
"I have hope, because God is always there."
Not only did the family recover from the infection, but Dennis' daughter also turned a corner toward improved health once she started gaining weight through the Samaritan's Purse supplemental feeding program.
A Fresh Start
Dennis has also joined a Samaritan's Purse livelihoods program in his community and received a grant to restart his cooking business. Now he's able to earn $10 per day, which helps to provide more financial security for his family.
Dennis was so overwhelmed by the support from Samaritan's Purse that he decided to volunteer with our healthcare projects.
"In my own little way, I want to be able to help others as well," he said.
"I want to be able to help others."
As a volunteer, Dennis has attended webinars led by the Samaritan's Purse health team on various topics such as immunization, antenatal care, nutrition, and mental health. Dennis plans to continue volunteering and sharing with others in his community about these important health messages.
"I want to thank all the Samaritan's Purse staff," he said. "I have been given new hope because of you, and that is the greatest blessing I have received."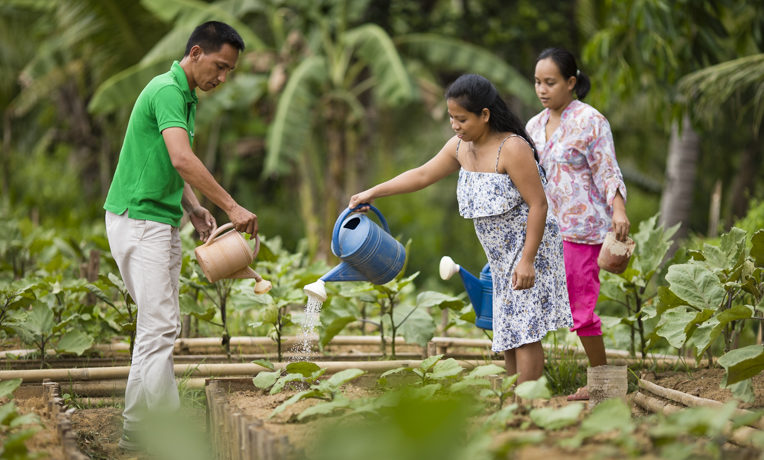 Philippines Projects
Samaritan's Purse is working to improve the quality of life for impoverished families in both rural and urban areas of the Philippines. We are training women and expectant mothers on best feeding practices for infants and young children. Our teams are providing malnutrition screening, medical care, clean water, latrines, and hygiene education. We're also supporting families through livelihood projects such as community gardening and pig raising, as well as vocational skills and microenterprise training. Most importantly, our staff are sharing the Gospel. We partner with local churches to offer evangelism and discipleship courses so that they can reach their communities with the hope of Jesus Christ.
---
Philippines Projects 013395