God is using Samaritan's Purse relief efforts to meet the physical and spiritual needs of Mississippi homeowners affected by the recent tornado.
The deadly EF3 tornado that ripped through Hattiesburg on January 21 did serious damage to the roof of homeowner Lisa Barnes. Samaritan's Purse received her request for help and volunteers came out and covered the gaping hole with tarp. But her greatest need was met only after volunteers circled her friends and fellow homeowners in prayer, thanking God for their survival from the storm. It was then that she prayed to receive Jesus Christ as Lord and Savior.
Volunteer in Mississippi
Kathy Moore from Gulfport, a Rapid Response Team chaplain for the Billy Graham Evangelistic Association, led Lisa in a prayer of salvation. The previous day, Kathy had talked with Lisa at her home. The next day when Lisa attended a Samaritan's Purse Bible presentation to close neighbors, Kathy felt drawn to talk with Lisa again. Kathy shared her own testimony of a life transformed by Jesus Christ and asked Lisa if she wanted the Lord to change her life as well. Lisa told her, "I'm ready. It's time."
Lisa had been watching her friends Kayla and Warren Randle receive a signed Bible from Samaritan's Purse disaster relief volunteers. The group had helped the couple clear debris and salvage what belongings they could after the tornado flattened their house—and nearly them in it.
U.S. Disaster Relief
013622
Walking Testimonies
Kayla knows exactly when the tornado struck her house—3:48 a.m. That's when she woke up and walked to her bathroom. One of their dogs was howling like never before, causing her husband, Warren, to push back their bedroom curtains to investigate the source of the disturbance.
Both back in bed, the couple heard the ear-splitting sound of a violent rush of wind.
"It sounded like a train was at our front door," Kayla said.
Warren wrapped his arms tightly around his wife and held on for dear life. Two seconds later, Kayla said, glass was breaking, their roof was flying off, and the swirling wind lifted the couple and their mattress into the air—and then threw them back down again.
"It was so hot and dry inside the tornado we were in," Kayla said. Though rain was pouring down into the house, "there wasn't a drop of water to take in. All I could breathe in was dirt, not air. It felt like I was suffocating."
All Warren could see was the dark purple and orange storming sky before the ceiling gave way and pressed down within two feet of them. He described the sucking force of the wind as being like a vacuum cleaner or a magnet. The pressure of the wind moved the house off its foundation, pushing everything in the house toward one corner—where they were.
"The wind seemed to leave, then came again," Kayla said. "We never came off the bed, but it pushed us in the bed against the back wall of our bedroom."
Warren felt a hard surface against his arm. Feeling around, he realized it was one of their cars that had slammed against the house. He helped Kayla climb up onto the roof of the car and into their yard.
They ran in the rain, dodging flying debris and sparking electrical wires, to their neighbor Lynn Chapman's house. They banged on her door, yelling, "Our house is gone!" Part of Lynn's roof was gone as well.
Kayla, a sheriff's department dispatcher, is used to talking others' through traumatic situations. This time, she was on the other end of a distress call.
Wrapped in Jesus' Arms
Kayla and Warren, who are part of the nearby East Jerusalem Baptist Church, believe that when Warren wrapped his arms tightly around Kayla seconds before the tornado hit, Jesus wrapped His arms tightly around Warren, protecting them both.
"My husband wrapped me up in his arms, and Jesus wrapped him up in His—there's no other explanation," Kayla said. "We almost lost our lives. God saw us through this." The couple walked away from their flattened house with just a few deep scrapes between them.
They thank the Lord that their two children, 8 and 3, were staying with Kayla's mother that night, safe from the storm. Kayla is also glad that Warren, who works on offshore rigs, was home to ride out the storm with her.
Samaritan's Purse volunteers pulled toppled cars away from their yard, including the blue and yellow car that had been their escape route out of the house. The Randles have had that car since they started dating. In the 10 years since then, Warren had wanted to sell it, but Kayla wanted to keep the car because her daughter wanted to drive it one day. Now, it's more special to the family than ever as a testimony of God's protection and provision.
Inspired to Volunteer
Like finding needles in a haystack, the volunteers helped the couple sift through rubble—ultimately uncovering Kayla's birth certificate, their marriage license and photo, Warren's wedding ring, ultrasound photos of their son, their daughter's report card, a toy that has been in Kayla's family for 40 years, and a Bible—perfectly intact though it had been on top of the television in their living room.
Volunteers who helped the Randles included members of the women's soccer team from William Carey University in Hattiesburg. Nearly all of the university's buildings sustained storm damage and several students were injured—among them was a member of the women's soccer team who lost three fingers when a door slammed shut. The men's soccer team also volunteered with Samaritan's Purse on Friday, January 27.
The Randles said they were so inspired by all of the volunteers that they said they will serve with Samaritan's Purse to help other homeowners in their community.
"We're so thankful to Samaritan's Purse for coming and helping us clean up," Warren said. "They've helped us in all ways—spiritually, physically, and mentally."
—
Editor's Note: Samaritan's Purse is currently ministering in both Mississippi and Georgia after the recent tornados. For more information on volunteering in either location, go here.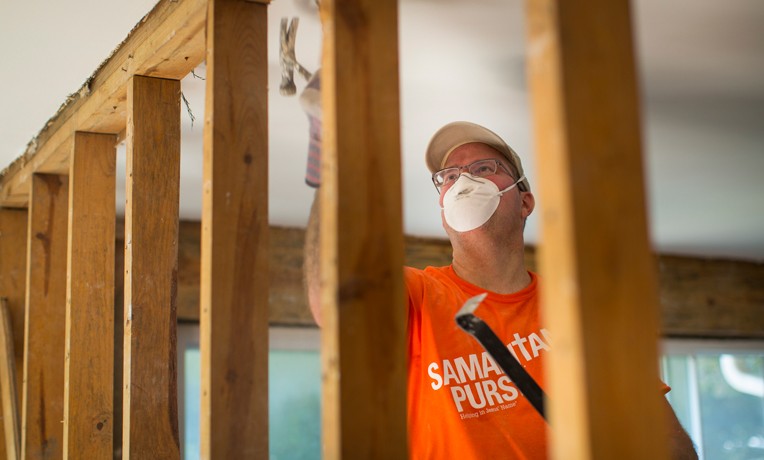 U.S. Disaster Relief
Samaritan's Purse mobilizes and equips thousands of volunteers to provide emergency aid to U.S. victims of wildfires, floods, tornadoes, hurricanes, and other natural disasters. In the aftermath of major storms, we often stay behind to rebuild houses for people with nowhere else to turn for help.
---
U.S. Disaster Relief 013622