Disaster Relief deploys in the wake of severe weather across the Southeast.
U.S. Disaster Relief
013622
A brutal storm system that spawned dozens of tornadoes left at least 20 dead across the Southeast this past weekend. Fifteen people died in southern Georgia, four in southern Mississippi, and one in Florida.
Samaritan's Purse has staff, volunteers, and disaster relief units on the ground in both Georgia and Mississippi.
"We're going to help these people recover and show them the love of Christ and that He's with them at every step in the process," said Luther Harrison, Vice President of North American Ministries.
One tornado ripped through the city of Albany, in Dougherty County, Georgia, killing four on Sunday. Samaritan's Purse was already working in the county to help homeowners, a response to devastating winds that blew through January 2-3. We will be continuing that initial response and expanding to assist surrounding communities affected by the most recent severe weather.
Hattiesburg Hit Again
Hattiesburg, Mississippi, is reeling after an EF3 tornado barreled through the area around 4 a.m. Saturday, killing four people, injuring dozens of others, and causing extensive damage. An EF3 tornado packs winds between 136 and 165 mph.
Saturday's severe storms hit hardest in Forrest, Lamar, and Perry counties.
SIGN UP TO VOLUNTEER
One of our Samaritan's Purse disaster relief units—a tractor trailer filled with equipment and supplies—is now stationed in the Hattiesburg/Petal area, which has a combined population of just under 60,000. Our host church is Carterville Baptist Church, 1115 Carterville Road, Petal, Mississippi. Volunteers have begun their work; please go here for more information on volunteering.
Deborah Bryant, wife of Mississippi Governor Phil Bryant, joined Samaritan's Purse Disaster Relief volunteers in tornado-devastated areas around Hattiesburg, Mississippi, on January 23. "It gives hope to these people when volunteers show up and give of their time," she said, "and that's what they need to see."
Samaritan's Purse has existing relationships within the Hattiesburg and Petal communities since we deployed there in February 2013 after an EF3 tornado caused widespread damage. We assisted hundreds of homeowners with debris and tree removal and provided heavy plastic sheeting for temporary roofing for damaged homes.
Please pray for strength, protection, and comfort for residents of the Southeast again devastated by natural disaster. Pray also for staff, chaplains, and many volunteers as they respond to affected areas in Georgia and Mississippi.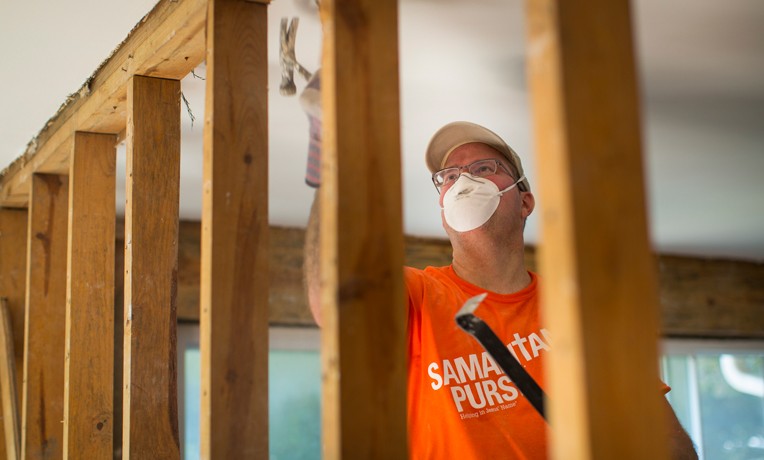 U.S. Disaster Relief
Samaritan's Purse mobilizes and equips thousands of volunteers to provide emergency aid to U.S. victims of wildfires, floods, tornadoes, hurricanes, and other natural disasters. In the aftermath of major storms, we often stay behind to rebuild houses for people with nowhere else to turn for help.
---
U.S. Disaster Relief 013622