Marine Sergeant Nick Hine and his wife Bree came to Samaritan Lodge looking for a miracle. They both experienced the healing power of the Gospel last week in Alaska.
He'd been good with a gun since he started hunting at age 8 and was a hard-driving athlete during high school, so for Nick Hine the rigorous life of a Marine Corps scout sniper seemed like a good fit. He wasn't interested in college just yet, so when he was 18 years old he joined the Marines.
Within a few weeks of his first deployment the teenager was awakened to the realities of war. He saw his best friend killed in Iraq when a bullet hit him in the head.
In Marine Corps basic training he'd been told about statistics on mortality and had been trained to fight without fear of death. But it didn't prepare him for what his young mind had just seen.
With no time to grieve this traumatic loss, Nick pushed down the thoughts and emotions as they moved on to the next mission.
During the same deployment, he was standing close to an anti-tank mine as it exploded. The shockwave knocked him out cold, and everything went black. "I actually thought I was dead," he remembers.
During his years as a Marine, serving in Iraq and Afghanistan, Nick saw other friends killed. He also wrestled with the weight of his role as a scout sniper.
Nick finished his career as a decorated war hero. He'd joined the 1st Battalion 5th Marines in Helmand Province, Afghanistan, for the largest helicopter-borne insertions since the Vietnam War—and they cleared the area of enemy forces in less than 30 days. He also received the Army Achievement Medal for rescuing a seriously wounded soldier from a fire fight.
He married Bree about a year before facing one of the biggest battles of his life—the challenge of returning home, to a "normal" life far from war.
"Combat is not something you think about when you're doing it, but as abruptly as it began it just stops," Nick said. "You're not really prepared for life after that."
Often the issues that affect veterans only begin to appear months or years after they've left the battlefield. Their families become fresh casualties of battles fought years before and thousands of miles away. Nick and Bree have struggled as he deals with traumatic brain injuries and post-traumatic stress disorder from his years of military service.
"I developed a short fuse over time. The littlest thing can make me go flying off the handle. It's affecting the kids, too. That's part of why we're here," Nick said, describing why he and Bree signed up for Operation Heal Our Patriots and recently traveled to Alaska for a time of marriage enrichment. "I've denied it for the longest time so the time has come to stop denying it and to start fixing it."
God's Plan for the Journey Ahead
While at Samaritan Lodge last week, Nick and Bree realized what they needed most is a relationship with Jesus Christ. On the Sunday night of their arrival in Alaska, they prayed with Chaplain Dan Stephens to invite Jesus into their lives.
"Chaplain Dan asked us if we wanted to talk tomorrow, and we said we're ready right now because this is what we came for," Bree said. "This wasn't a vacation, it was more like 'please save us.'"
During their time in Alaska, while taking intensive marriage training classes and enjoying a number of wilderness excursions, the couple realized a lot about themselves as individuals and about each other as a couple. Most important, they learned about what God wants to do in their lives and in their marriage.
Away from the craziness of everyday life and with their children safe with grandparents, the Hines were able to take a step back and spend a moment thinking through where they had been and where they want to be.
"I feel like God brought us here because I honestly wasn't even going to get on the plane [to come to Alaska]," Bree said, recounting the tension between her and Nick leading up to their flight. "It's huge. We asked for a miracle, and I believe it's a miracle that we're even here."
At one point the Hines made a list of the hurts and burdens they wanted to give to God and leave in Alaska. Together they attached that list to a log and burned it in the camp's firepit. They recommitted their marriage to God last week, and they were both baptized in Lake Clark.
Addressing Samaritan Lodge staff and the other couples before he was baptized, Nick said he feels like God is beginning to restore him.
"I let a few acts of violence define who I am up until 10:20 p.m. the other day," Nick said, recalling the time on Aug. 26 when God saved him and his wife. "Also I want to apologize to my wife. I've made just about every mistake that I possibly can, and I just hope that I can become the man you've always wanted me to be."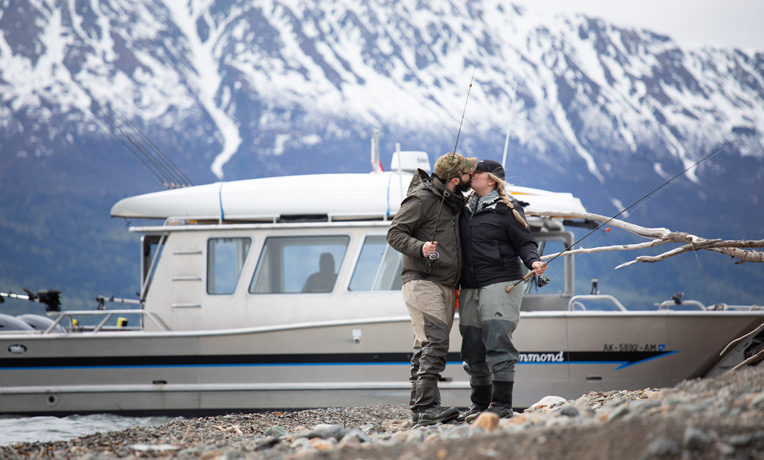 Bless the Marriage of a Military Couple
Operation Heal Our Patriots helps military couples build a strong spiritual foundation during a week of Biblically based workshops, relationship-building wilderness activities, and individual care by our retired military chaplains. We offer all this free of charge to these American heroes as a token of our appreciation for their service and sacrifice. Your gift will help us cover the costs—including transportation, lodging, activities, and long-term Family Care—so that we can help them find hope in the Lord.
---
Operation Heal Our Patriots 013960
Suggested Gift: $60