After experiencing multiple traumas in their lives, the Demenkows were ready to give up on their marriage. But Operation Heal Our Patriots made them reconsider.
"I kissed my first fish!" Anne shouted after posing lips to scales.
She'd just landed an Arctic grayling in Kijik River near Port Alsworth, Alaska, and she knew she needed a souvenir picture to commemorate the occasion. The emotion-laden memento likely will hang in her home beside fish-kissing photos of her husband, Master Sergeant Shawn Demenkow, USMC; their two sons, Tim and Andrew; and Shawn's father.
The Demenkows hadn't been at the spot long before the fish started biting. It was a good start to what would be a long day of healing.
"Fellas, this is what I've been dreaming about my whole life," Shawn said as he cast another fly.
"Unbelievable, isn't it?" Anne said. "It's very surreal. It's like we're on a movie set."
"She's doing it for me," Shawn said. "She knows I love fishing. This is making us so much stronger. Just to see her smile—she hasn't smiled like that in almost a year."
"He hasn't been happy in a while," Anne said. "To see him happy makes me happy."
The Demenkows were in Port Alsworth as part of Operation Heal Our Patriots, the Samaritan's Purse ministry to military couples with a spouse injured or wounded in combat or combat-related activities after 9/11. Time spent at the faith-based marriage enrichment retreat came at a crisis point for the couple, together for 28 years and married for 18.
"We've both had our bags packed many times," Anne said. "We were ready to just go and call it a day and just end it. This was our last-ditch effort."
In fact, their relationship was so strained that they almost didn't make it to Port Alsworth. Before they boarded their final commercial flight to Anchorage, things began falling apart.
"We were so angry at each other—I don't even know why—and we separated," Anne said. "We were supposed to go to our gate, and we just went our separate ways. We both went to ticket counters and were going to get on separate flights and go home. I'm not sure why we got on the plane to come here, but I'm very, very glad we did. God pushed us here. We needed to come."
"This is the best experience my wife and I have ever had," Shawn said.
Having received new life in Christ while participating in the Operation Heal Our Patriots program, they left Alaska with hope for tomorrow and eternity—a radical outlook given the difficulties they've faced over the past decade.
Trauma After Trauma
Shawn is a true New Englander, with a classic Boston accent, a passion for hockey, and a love of clam chowder. He's also an avid fisherman and rock hound. Anne too hails from Massachusetts and married her high school sweetheart—it was love at first sight, she said.
However, first sight could not have anticipated the intense struggles and sufferings the couple has endured. A Marine since 1991, Shawn has been deployed nine times, including five combat tours, and missed four Christmases. Even when not overseas, he's often away on training missions. Absence does not always make the heart grow fonder; sometimes the only thing that grows is bitterness.
And then there are the physical and emotional wounds of war. Shawn has had calf/ankle surgery; suffers from hearing loss; lives with a titanium screw in his neck (he can't sit down for more than two or three hours without intense pain); and struggles through post-traumatic stress disorder. He wrestles with anxiety, sleeplessness, flashbacks, and anger. Some nights he wakes up at three in the morning and looks out the window as if he's on watch.
"The PTSD thing is so unpredictable, and it hurts other people around you," Shawn said.
The roots of his PTSD likely go back about 10 years to the beginnings of the war in Iraq. He spent three straight days and nights awake trying to secure an airfield near Basra for 400 Marines to land on.
"That stuff wears you out, wears you down," he said. "You're mentally drained."
Subsequent deployments only got worse. He can cite seven incidents in which he came close to death, including one in Fallujah where he watched an improvised explosive device malfunction in slow motion just feet from his vehicle. Had it gone off, Shawn says he would have been vaporized.
His last deployment took him to Marjah, Afghanistan, where there were sometimes three or four firefights a day. He also witnessed an Afghan soldier "blow up in a thousand pieces" in front of him.
"I'd never seen anything like that," he said.
But the most difficult situation the Demenkows have faced has nothing to do with any wars against terrorism. Their daughter, Emily, was diagnosed with cancer when she was 3. On June 26, 2005, she died from T-cell acute lymphoblastic leukemia. Eight years later, the emotional wound remains raw and easily brings tears.
"[Emily] went through a lot, a lot of treatment," Anne said. "We pretty much lived in the hospital with her. We would take turns going home with the boys. It should have brought us closer together, but I think that's where our separation started. We had to live separate lives and do separate things, taking care of Emily and the boys and the house. It was very hard."
"After the death of our daughter, we just grew distant unfortunately," Anne said. "We both had anger issues."
All these factors had taken a heavy toll by the time the Demenkows left North Carolina for their week's retreat in Alaska in early June.
New Life, New Hope for Their Marriage
After the airport dramas, Shawn and Anne finally arrived on Sunday in Port Alsworth, greeted by town residents and Samaritan's Purse staff waving American flags. The next morning started off with an argument, and they spent much of the rest of the day talking with Samaritan's Purse staff. On Tuesday they went fishing together and their outlook began to change.
It was the start of healing but that night, after tempers flared again, they realized they needed something even more powerful than a good day of fishing. Chaplain Daniel Stephens and his wife, Linda, pointed them to the only One who could offer lasting hope for their marriage and their lives: Jesus Christ.
"We were ready to give ourselves to God," Shawn said.
"We had nothing else," Anne added.
At 10:25 that night, only hours before Shawn's 43 birthday, the Demenkows placed their faith in Christ for salvation and healing. The following days were spent soaking up more guidance and wisdom from devotions and marriage classes, as well as enjoying the outdoors with an exciting new perspective on life.
"All that sin in the past is gone," Shawn said. "I'm pretty sure our marriage is on the rebound. I thank God for that."
On Friday, the couple was baptized in the frigid waters of Lake Clark.
"Continue to go to Him [God] and your relationship will grow together," Chaplain Stephens told them.
"My heart was filled with anger, resentment, and pain," Anne said to the gathered crowd. "[Now] my heart is filled with peace and comfort because of you all. I cannot thank you enough for this opportunity."
"We were in crisis," Shawn said. "I say 'were' because we're not in crisis anymore. Today everything is right, not wrong anymore."
With a new Bible, presented to them in Alaska, and a desire to connect with a local church, the Demenkows returned to their North Carolina home the next day ready and equipped to start over.
"So, if anyone is in Christ, there is a new creation: everything old has passed away; see everything has become new!" (1 Corinthians 5:17, NRSV).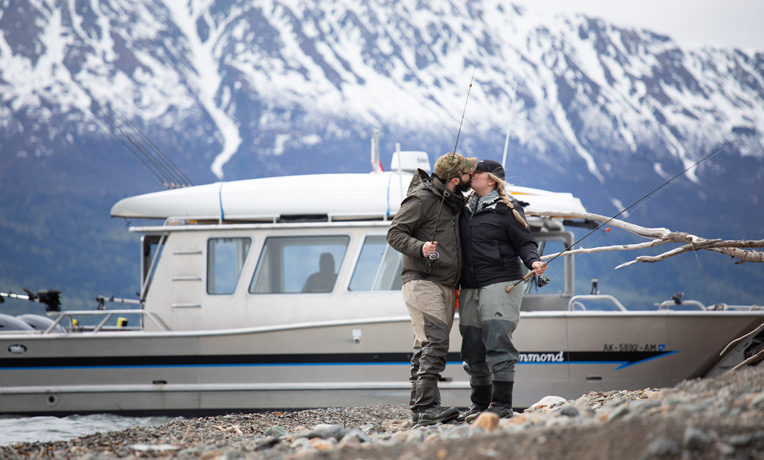 Bless the Marriage of a Military Couple
Operation Heal Our Patriots helps military couples build a strong spiritual foundation during a week of Biblically based workshops, relationship-building wilderness activities, and individual care by our retired military chaplains. We offer all this free of charge to these American heroes as a token of our appreciation for their service and sacrifice. Your gift will help us cover the costs—including transportation, lodging, activities, and long-term Family Care—so that we can help them find hope in the Lord.
---
Operation Heal Our Patriots 013960
Suggested Gift: $60