Bible Tablets in Cambodia give pastors a way to reach non-believers
Pastor Seim Seyha is the pastor of Fellowship Church in Kratie province, Cambodia. He and his wife have two young boys.
Before Fellowship Church partnered with the Samaritan's Purse ministry team, we had difficulty taking and showing photos and video during church events and activities. We didn't have a good camera or phone to take photos. For many years, I had prayed for a camera that we could use for God's ministry.
In June 2015, Samaritan's Purse partnered with our church. They initiated an educational exercise between churches and pastors in our area. An electronic Bible tablet would be offered as encouragement for the best idea. Through the exercise, I became closer to other churches and pastors that partner with Samaritan's Purse, and now I have more friends in the community.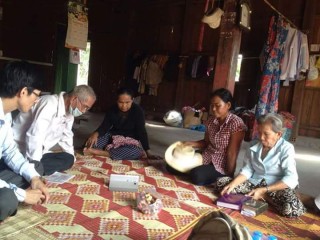 I was blessed to receive the tablet, and now I have the ability to help my church members grow through sharing photos, watching testimonies and Bible stories, and reading. I now have ministry tools that I never had before, and they've made me more confident.
Through help from the Samaritan's Purse ministry team, my church will grow spiritually and can develop better relationships with other church pastors and leaders to work together for the Kingdom of Jesus Christ. I will share what I've learned from the project and will use the Bible tablet to teach my congregation and to evangelize to non-believers. It will strengthen my church members to grow more in Christ.