Our Children's Heart Project provided lifesaving care for Sarana, a little girl born with a heart defect that couldn't be repaired in her homeland of Mongolia.
Save a Child's Life
013687
As the mother of two healthy children, Narangarav knew in her heart that something was wrong with her newborn baby. After three weeks, a doctor confirmed her worst fears: Sarana had been born with a hole in her heart.
Even worse, there was not a single hospital or surgeon in all of Mongolia who could perform the delicate procedure Sarana desperately needed to repair the hole so she could live a full and healthy life.
Sarana's parents were desperate. Narangarav quit her job managing a bakery to give Sarana the around-the-clock care she needed.
Her husband Bayarbayasglan heard about a hospital in South Korea that could help, but the trip alone would have cost him most of a year's wages. It looked like he would have no choice but to sell his car, which he uses as a taxi to help support his family.
To save Sarana, they might have to sacrifice everything they had worked for, including their ger, a circular one-room felt tent where they lived on the outskirts of the national capital, Ulaan Bataar.
Then their doctor told them that Samaritan's Purse might be able to help. In March of this year, Sarana was screened by a doctor we sent to Mongolia to evaluate dozens of children born with heart defects.
Sarana's case was so urgent that we booked her and her mother for a July trip to Denver, where Dr. Steven Leonard and the Rocky Mountain Hospital for Children were ready to offer her world-class medical care.
"When we heard that Samaritan's Purse would pay for everything, it was unbelievable," Narangarav said. "My husband asked them twice: 'Are you really saying it will be no cost at all?'"
Complex Surgeries Change Young Lives
Through our Children's Heart Project, Samaritan's Purse has been able to help more than 1,280 children like Sarana over the past 21 years. We provide the round-trip international transportation, coordinate partner hospitals and surgeons who donate their services, and arrange for host families and churches who provide a loving home and surround the travelers with the love of Christ.
Sarana was born with Ventricular Septal Defect—a hole between the two lower chambers of her heart. It is the most common congenital heart defect and is routinely repaired in leading hospitals across America. But many countries lack the medical facilities or expertise to do such an intricate and delicate operation.
"Pediatric cardiac surgery is probably the most complex of all surgical procedures," said Dr. Steven Leonard, who has been doing these procedures for over 30 years. "In many parts of the world, it's just impossible."
Working through a translator, Dr. Leonard explained Sarana's operation to Narangarav. Because of the hole between her heart chambers, her little lungs were being overworked. This kept her from growing as she should. At 10 months old, Sarana was unable to sit up on her own.
To patch the hole in Sarana's heart, Dr. Leonard's team would have to put her on a heart-lung bypass machine and stop her heart for about an hour. That's a terrifying thought for a young mother, but Narangarav knew it was Sarana's only hope.
The surgery on Aug. 2 went well, and five days later Sarana was back in the home of one of the host families, Brian and Diane Pauls.
Sarana and her mom returned home to Mongolia—a trip that spans over 8,000 miles—on Monday, Sept. 3. Later this month she will celebrate her first birthday, and her mom is excited that by then, she might be able to take her first steps.
Our team in Mongolia will continue periodic checkups, and when Sarana turns 6 years old she will be eligible to attend our Heart Camps, which are special Christ-centered gatherings for the hundreds of children in Mongolia who have had surgery through the Children's Heart Project.
"Confident in God's Blessings"
During her five-week trip, Narangarav had the opportunity to attend church and hear the Gospel for the first time in her life. She was deeply touched by what she heard and by the love she experienced from Christians. So has Sarana's grandmother back in Mongolia, who has started attending a local church, taking Sarana's brother and sister with her.
"Mom says that the church people are praying for Sarana and kindly caring for the family," Narangarav said. "Christians are very faithful to the commitments they have. When I go back to Mongolia, I want to go to church and join the prayers for others.
"We are very thankful to Samaritan's Purse, all the sponsors, and the host families. It was unbelievable for all this to happen and to have this surgery for Sarana. I'm impressed that so many people said they were praying for my daughter. That made me confident in God's blessings."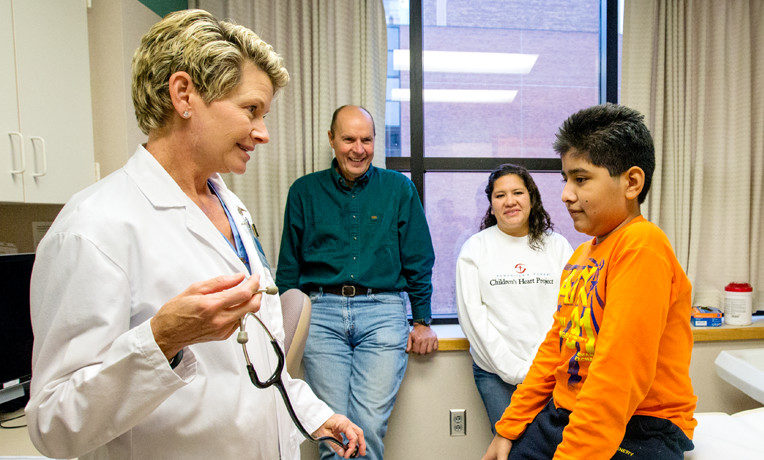 Save a Child's Life
About one out of every 100 babies has a heart defect that surgeons can routinely repair. Unfortunately, many of them are born in poor or remote places where their families cannot access the cardiac care they urgently need. Through our Children's Heart Project, Samaritan's Purse transports boys and girls from places like Bolivia, Mongolia, and Uganda to hospitals in North America. Doctors, hospitals, and host families and churches donate their time and services, but airfare is a major cost—typically $2,200 per person for international flights. For $50, you can share in this cost so that we can offer life-saving surgery and the unsurpassed hope of Jesus Christ, "the way, the truth, and the life" (John 14:6).
---
Children's Heart Project 013687
Suggested Gift: $2,200 | Share the Cost: $50