Tan Sayorn is the Samaritan's Purse trafficking vulnerability reduction project coordinator in Cambodia.
Phall Sophea and her husband are farmers in Cambodia. They have one daughter who attends the school in their village.
Working in their family's rice field didn't provide enough income to support the family. The selling price for their raw rice was very cheap, but the price of milled rice and other items from the market was more expensive.
"It was a really hard time for me. I decided to go to work in Thailand through a broker," Sophea said.
She migrated illegally as a labor worker, earning $4.28 per day for 11 hours of work. "It was unsafe," Sophea said. "Sometimes we put dozens of people together in one taxi to run from the Thai police. We would sleep in the forest."
Sophea sometimes worked all day but never received wages. Earlier this year, she had health trouble and decided to return to Cambodia.
Samaritan's Purse is helping people in villages like Sophea's start savings and cooperative groups in order to empower communities to care for their members and to improve their economy. If people are able to earn an income in their village they are less likely to become vulnerable to unsafe migration.
Sophea purchased shares in the cooperative and was selected as a rice seller by the group. She takes care of the rice mill installed through the project, helps people buy rice and products like bran and husks, and manages the records of income and expenses of the rice business.
"I hope it can help me a lot with income in the future to support my daughter's studying. If so, I can stay near my family and have time to take care of them," she said.
The cooperative in Sophea's village has started a rice bank to serve farmers in the village. They award loans to community members, keeping the interest earnings inside the community. Next year, they hope to expand their business, create more jobs in the community, and grow their cooperative shareholdings.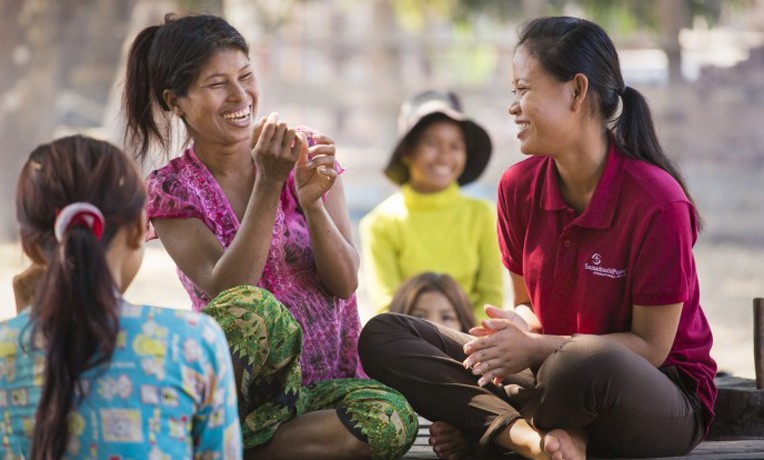 Cambodia Projects
Cambodia, one of the poorest nations in the world, has few resources available to care for its people, the majority of whom live in rural areas. We help meet desperate needs for food and livelihoods through animals and agriculture projects, as well as providing access to safe, clean drinking water. Children's education projects ensure boys and girls remain in school, while increasing their quality of life. Our maternal and child health program reduces the mortality rates of women and their young children by improving obstetric care, teaching essential nutrition practices, and increasing access to quality healthcare. We also combat human trafficking through education and training. Only 2 percent of the country is Christian, and a crucial aspect of our work involves partnering with local churches to help spread the Gospel in their villages.