Widow's home is the first of hundreds to be rebuilt by Samaritan's Purse following Hurricane Harvey.
UPDATE: On Thanksgiving Day, Margarita Saldierna moved back into her home—completely renovated by Samaritan's Purse after Hurricane Harvey.
Through an interpreter, she said, "I am very, very thankful because without all of your help I would not be able to have this house that you built for me. Thank you a thousand times, thank you. I'll never forget you all. I asked Christ for a new house, one that I could live in forever, and look what He has done for me. I have a new house now all because of Him."
Since her husband died 23 years ago, Margarita Saldierna has usually spent Thanksgivings alone in her modest three-bedroom house on the north side of Houston. This year, it looked like she wouldn't even get to enjoy the comforts of home, after it was flooded by Hurricane Harvey and had to be gutted down to the stud walls.
But for the past month, Margarita has never spent a day alone, as waves of Samaritan's Purse volunteers from all across the country have come to her home to replace walls, floors, cabinets, appliances, and other items—work that seemed impossible to her.
And on this Thanksgiving Day, she'll be surrounded by new friends for a dedication ceremony as Samaritan's Purse helps her move back into her freshly rebuilt home.
"I didn't have any money to fix my house," Margarita said. "Now I'm going to have a brand-new house. God has brought me more than I could have ever asked for. Through Him, all this happened. He answered my prayers."
In the coming days, three of Margarita's neighbors will also be moving back into their storm-damaged houses as soon as Samaritan's Purse volunteers and staff complete repairs.
Reconstruction marks a turning point for Texans still struggling to overcome Hurricane Harvey. It's taken three months just to clean up the massive damage and remove tons of muddy and moldy belongings. The last of the five Disaster Relief Units deployed to Texas by Samaritan's Purse completed their clean-up work on Saturday, Nov. 18. We thank God for an army of volunteers—10,492 individuals representing all 50 states—who helped 2,921 families get their homes ready to rebuild. Most importantly, 543 people in Texas made decisions for Christ through the relief work.
Across Houston and along the Texas coast, thousands of flood-damaged houses now stand gutted and vacant. In Margarita's neighborhood, only one family has been able to move back in. Most are still living in hotels or with friends. "People here still need help," said Mary Hooey, one of Margarita's neighbors. "Houston is still in trouble."
Samaritan's Purse is committed to working in Texas for the next two or three years as we repair and rebuild homes for families who are unable to do the work on their own—widows, elderly, uninsured, and others with special needs. Our goal is to see up to 1,000 families get back into their homes. We will also be assisting damaged churches who need help to rebuild.
HELP WITH REBUILDS
Margarita's and Mary's neighborhood was not supposed to be in a flood zone, and few of the residents had flood insurance. But after Harvey rained for four days and nights, the filthy waters rose over a foot inside their houses.
Within hours, the Army National Guard evacuated the neighborhood, but somehow Mary and her sister Liz Emerson were left behind. They stayed in their flood-scarred house for two months even while crews from Samaritan's Purse helped them remove the ruined furniture, flooring, and sheetrock. They moved out only when reconstruction began, and Mary can't wait to return home.
"I love this neighborhood," she said. "We're coming back, and when we do, we're going to have a street party. This is not the first time we've been through something like this. But nobody wants to move."
Mary describes the Samaritan's Purse volunteers as "angels in orange shirts." As they worked in her house, they wrote Bible passages on the frame of the house, and Mary recognized many of her favorite verses. "This will all be covered up, but all this Scripture is in my heart," Mary said. "Whenever I walk through these doors, I'll remember these wonderful people who came to help me."
Since most of the families along Anice Street will not be home for Thanksgiving, they are planning a community meal at Zion Hill Baptist Church, where many of them took shelter in the nights following the flood. George Dorsey Jr.—described by Mary Hooey as "the mayor of Anice Street"—plans to serve his award-winning shrimp gumbo.
George and his wife Arva say the storm did not spoil Thanksgiving. "It's easy to be thankful when you can see God working," she said. "Thanksgiving itself is just one day, but you can see the love of God pouring out day after day after day.
"Some people have no hope, but that's not us. We have plenty of hope, because we know that Christ Jesus lives, and he lives through all these people. If the only way we could have met all these beautiful people was through this tragedy, then I would go through it again."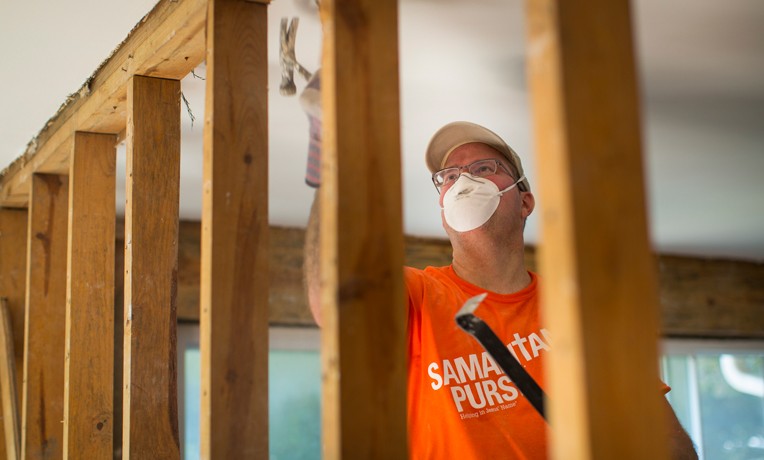 U.S. Disaster Relief
Samaritan's Purse mobilizes and equips thousands of volunteers to provide emergency aid to U.S. victims of wildfires, floods, tornadoes, hurricanes, and other natural disasters. In the aftermath of major storms, we often stay behind to rebuild houses for people with nowhere else to turn for help.
---
U.S. Disaster Relief 013622