Military couples are finding healing for their relationships and hope for the future as the second season of Operation Heal Our Patriots is underway
The swish-swish of a fly-fishing cast, the buzz of floatplanes, and the laughter of couples learning to kayak signal the start of a new season for Operation Heal Our Patriots in Port Alsworth, Alaska.
Give
The program, a ministry of Samaritan's Purse, is bringing hope and healing through Jesus Christ to U.S. military couples with a spouse injured or wounded in combat or during combat-related activities after September 11, 2001.
Fifteen weeks of marriage retreats began June 2 and will continue until September 13 along the shores of Lake Clark. Each week, as many as 10 qualified couples—usually a mix of active-duty and retired personnel—can attend. Through wilderness adventures, biblically-based marriage enrichment classes, and daily devotions, husbands and wives make cherished memories together, discover perspective-changing insights on their relationship, and enjoy a unique time of spiritual refreshment.
HELP BRING HEALING TO AMERICA'S HEROES: You can help us serve America's patriots by encouraging couples with a spouse injured or wounded in combat or during combat-related activities after 9/11 to apply for Operation Heal Our Patriots. It's not too late for this summer's program. Applications are available online.
Couples treasure the time to relax together surrounded by pristine natural beauty—a marked contrast for many of them still struggling with pain, anxiety, nightmares, bureaucracy, financial stress, and other fallout from their wounds. The Operation Heal Our Patriots experience in Alaska can be just the encouragement couples need to make lasting changes, rededicating themselves to God and each other.
It may even be the start of a brand-new spiritual life, as it was for Army veteran James Peterson and his wife, Kateri, both of whom received Christ as Lord and Savior during this season's first week. They were baptized together on Friday, June 7, in the frigid waters of Hardenburg Bay with Samaritan's Purse staff and other couples cheering them on.
"I've got a whole new outlook on life through the grace of God," James said.
His body rocked by explosions numerous times, James was diagnosed with traumatic brain injury (TBI) and post-traumatic stress disorder (PTSD) as a result of his 2004–2005 deployment in Iraq. He also suffers with non-healing wounds on his feet, a condition he developed while overseas. The health issues and surrounding stress have taken a heavy toll on his marriage and family. However, the couple is now filled with hope, knowing Christ has given them a new start.
"James really opened up there," Kateri said. "It was life-changing for him, so it was life-changing for me."
Gunnery Sergeant Brien Kirkpatrick, USMC, and his wife Annie are among nine couples starting the second week of retreats this season. Brien was injured in Iraq in 2005 and suffers from severe pain in his back and neck. During their first full day in Alaska, the couple went fishing for lake trout together, an activity both of them enjoy.
"It's amazing," said Annie, waist-deep in water and surrounded by greening mountains topped with streaks of snow. "I'm glad to get to spend this time with him."
Staff Sergeant Duane Merchant, USA (ret.), and his wife, Angie, have also just arrived. An insurgent sniper shot Duane in the right shoulder on August 2, 2007. Knocked forward, his head slammed into a nearby vehicle. Nonetheless, he stayed in Iraq another four months and has been dealing with PTSD, TBI, and chronic pain in his shoulder and back ever since.
"Since Duane got back from Iraq, we've been consumed with the kids and his healing. Sometimes we put 'us' on the back burner," Angie said.
Due to his injuries, as well as arthritic knees (thanks in part to more than 20 years of active military duty), Duane said he no longer gets outside and does as much as he wants to do with his wife and family. This trip is a special treat.
"It means a lot," he said.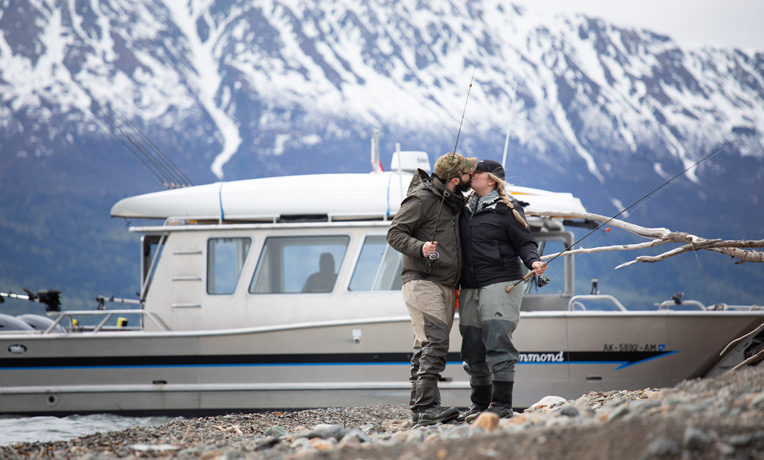 Bless the Marriage of a Military Couple
Operation Heal Our Patriots helps military couples build a strong spiritual foundation during a week of Biblically based workshops, relationship-building wilderness activities, and individual care by our retired military chaplains. We offer all this free of charge to these American heroes as a token of our appreciation for their service and sacrifice. Your gift will help us cover the costs—including transportation, lodging, activities, and long-term Family Care—so that we can help them find hope in the Lord.
---
Operation Heal Our Patriots 013960
Suggested Gift: $60
WATCH MORE: Visit our video site, SPTV, to see how God is using Operation Heal Our Patriots to restore marriages and hope.