Claire Zasso is a Samaritan's Purse intern in the Philippines.
The smell of decomposing trash and filth reaches me before we round the first corner. In borrowed rubber boots from the barangay (district) community center, I slosh through black mud. I'm following Queen, the Samaritan's Purse water, sanitation, and hygiene program coordinator, into Tondo.
Tondo District lies on the outskirts of metro Manila, Philippines, and has a population of about 631,000. Tondo is a collection of temporary housing units constructed on a dump site and is known as one of the worst slums in the country. The odor of decay hangs in the air on every street and is a lingering heaviness.
Children run out to look at the newcomers. Some start walking with us and stomp through the mud without shoes. They grin at me and speak all the English words they've learned in school such as "Hello," "What is your name?" and "Where are you from?"
Some want to hold my hands and at first, I can't stop thinking about the greasy stickiness on their fingers. Yet, these words flashed in my mind: "Let the little children come to me" (Matthew 19:14). I high-five and squeeze their reaching palms.
Though happy and playful, many children experience health issues due to poor sanitation conditions. Common diseases in this area include acute upper respiratory infection, acute bronchitis, presumptive tuberculosis, diarrhea, and pneumonia.
Samaritan's Purse began water, sanitation, and hygiene projects in Tondo two years ago. We are teaching about proper hygiene and nutrition and basic health knowledge. Our food security project is providing assistance to families living in poverty.
Earlier this year, there was a fire in Barangay 105, a Tondo neighborhood where Samaritan's Purse has worked. Five housing units burned to the ground and displaced about 600 families. Our Samaritan's Purse teams were notified by community members within minutes of the event.
Our staff piled into vans with hundreds of blue tarps and drove to the barangay basketball court where displaced families had spent the night. When they stepped through the gate, staff members were embraced with teary-eyes and wide smiles. "Salamat po, salamat po," the families echoed. "Thank you. We knew you would come." Each family clung to their new heavy-duty plastic tarp, the first possession they received after the fire. 
The people of Tondo want the same things as most everyone else in the world: A safe place for their family to live, full stomachs when they fall asleep at night, and a brighter future for their children. They want to be loved and accepted.
Their hearts ache because society has no room for the poor. They ache because they feel alone in their suffering.
Samaritan's Purse efforts in Tondo extend beyond physical aid because we seek to care for aching souls. Our staff serve others because they love God. In Tondo, we want to offer light in the darkness, comfort for the restless, and hope to the hopeless. We pray that we can lead people to the Shepherd of their souls so that they might know true peace.
"Beloved, if God so loved us, we also ought to love one another" (1 John 4:11).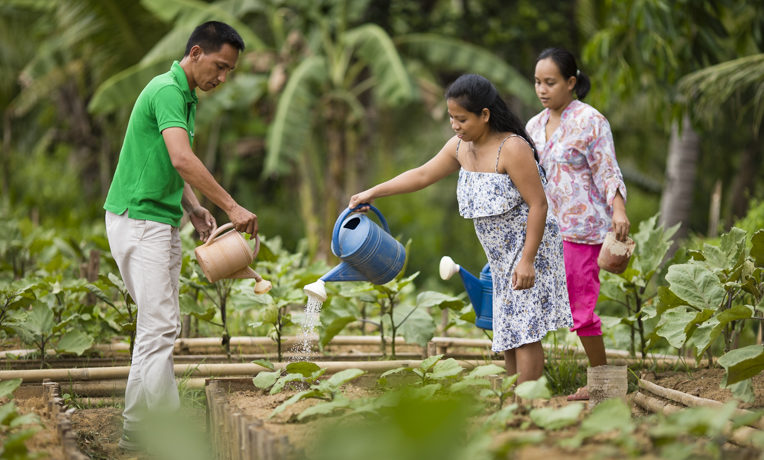 Philippines Projects
Samaritan's Purse is working to improve the quality of life for impoverished families in both rural and urban areas of the Philippines. We are training women and expectant mothers on best feeding practices for infants and young children. Our teams are providing malnutrition screening, medical care, clean water, latrines, and hygiene education. We're also supporting families through livelihood projects such as community gardening and pig raising, as well as vocational skills and microenterprise training. Most importantly, our staff are sharing the Gospel. We partner with local churches to offer evangelism and discipleship courses so that they can reach their communities with the hope of Jesus Christ.
---
Philippines Projects 013395