Eva Anite is a refugee from Sudan living in the Democratic Republic of the Congo. Her husband and son are both dead.
In my home country of Sudan, the situation was bad, so I fled. I walked more than 1,000 miles, but God gave me the grace to make the journey, and I am here today in the Congo. It's this strength that allowed me to overcome the problems in front of me. I don't know how to thank God for what He has done for me.
Although I'm thankful for this new life, I still face problems. I'm a widow without children. I lost my husband and my son. I have had issues with my chest and other complications with my stomach. I have no money for treatment and no one to assist me. I'm not able to work, and I have problems finding food. I sleep in a hut without a roof, and I don't have anyone to help me. There's no special assistance for people like me in the refugee camp that I'm living in.
One day, I summoned the courage to explain my situation to the Samaritan's Purse team working in the camp. They agreed to help me, and soon after, I received a kit with several kitchen items, soap, fabric, a sleeping mat, a mosquito net, a wash basin, a hoe, and a hygiene kit.
God is faithful. I thank you for your goodwill, love, and respect. God understands what my heart wants to express deep inside of me. I will always support Samaritan's Purse with prayer so that aid may also be given to others in similar situations.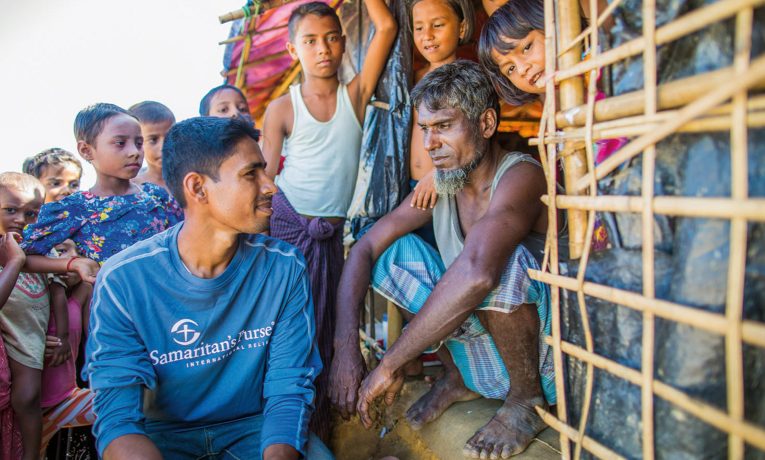 Refugee Relief
Families fleeing from violence or famine often cross borders seeking safety and shelter, and find themselves strangers in foreign lands—hungry, thirsty, and need of refuge. Samaritan's Purse is offering compassionate care for these refugees by providing food, water, shelter, and other lifesaving essentials. Your gift can help provide basic necessities for a refugee family, offering a tangible expression of Christ's love in the midst of upheaval and uncertainty.
---
Refugee Relief 012190
Suggested Gift: $125