Homeowners thank volunteers, and some are joining the volunteer team to bless others
Shayla Dave, 11, and her family joined Samaritan's Purse disaster relief volunteers at dinner on Jan. 30 to thank them for cleaning up tree debris and putting a tarp on her grandmother's roof, damaged by the Jan. 22 tornado in Albany, Georgia.
"My mom, my cousin, and me—we all got reborn," Shayla told the volunteers about the trio's decision to receive Jesus Christ as Savior on Jan. 27. "We are three-day-old Christians."
Gay and Rick Carter, Rapid Response Team chaplains for the Billy Graham Evangelistic Association, led the family members to faith in Christ.
Rebirth Day
Shayla's mother, Shereese Dave, had been sitting on a fallen log in her mother's front yard when a Samaritan's Purse volunteer walked up and prayed with her, she said.
"Sometimes God uses people to talk through, and I felt it," Shereese said.
Later, Shereese told Gay and Rick that she thought she was saved because she had attended church, but she had never committed her life to the Lord.
"Once I understood what I needed to do, I didn't want to go another day without God," she said.
When Shereese told Shayla and her 12-year-old niece, Nia, that she had decided to accept Jesus as Savior, they wanted to make the same decision and be reborn in Christ.
Gay told them that they are children of God. The cousins, as close as sisters, smiled and exclaimed, "We really are sisters now! Sisters in Christ!"
Gay said, "It was such a blessing to see their excitement." She gave the girls and Shereese each Bibles for their "rebirth day."
"They were so excited to tell me that they got saved," said their grandmother, Julia.
Easing the Burden
Julia hadn't seen the state of her home until a week after the storm because Shereese was afraid the stress of seeing the damage would negatively affect her mother's heart condition. She wasn't at the house at the time of the tornado.
Most of the home's windows were shattered, and there was a gaping hole in the roof that sent attic insulation flying in a thin layer of cotton ball-like fuzz.
Shereese showed her mother some photos of the damage right before driving her to the home, where Samaritan's Purse volunteers were nailing tarp to the roof and hauling tree debris from the yard.
"This is the first day I'm seeing my house after the storm," Julia said. "Thinking about it kept me awake at night. But it doesn't hurt so much to see it when you guys are out here working on it. I saw the pictures of what it was like before, so I know how much work you've done to make it better.
"Thank you for all your hard work, for your togetherness. I appreciate you doing so much and not knowing me. Seeing people helping us out of the goodness of their hearts is very touching."
Neighbors Helping Neighbors
The Daves haven't been the only family to show their appreciation to the volunteers while sharing dinner with them.
"Yesterday, I was a homeowner, and today, I'm a volunteer," said Denise Clarke-Dumas as she stood to tell her story during a share time after volunteers had dinner at Gillionville Baptist Church in Albany, Georgia, which is hosting Samaritan's Purse volunteers.
Denise, who attends River Road Church of Christ in Albany, said she almost joined a friend in volunteering with Samaritan's Purse after Jan. 2-3 storms there. When the Jan. 22 tornado caused roof and tree damage to her property, she was even more determined to volunteer.
She requested help for her home from Samaritan's Purse and decided that in the meantime she would volunteer to help others affected by the storms.
Denise was on her way to volunteer when she received a call from Samaritan's Purse—a team was headed to her house to remove fallen trees from her property.
"They let me cry on their shoulders," Denise said about the Samaritan's Purse volunteers. "Everyone on my crew has been so nice and so sweet to me."
The following morning, she signed up to be a volunteer. Donning a Samaritan's Purse orange volunteer shirt, Denise helped several of her neighbors clean up their yards.
Orange Shirt Angels
The volunteers showed up when I needed them, homeowner Tumila King said during one of their dinner meetings.
"I call you my orange shirt angels because that's what you have been for me and my family," she said.
Both her and her father's homes were damaged by the Jan. 22 tornado. Volunteers helped them clear fallen trees from around the houses.
While her father, Larry Lakes, was watching volunteers lift and carry heavy tree limbs from his yard, he thought, "How do these people do this?"
"I realized that it's because He placed this work in your heart," he said. "I thank God for Him placing this in your heart, not only here but everywhere disaster strikes."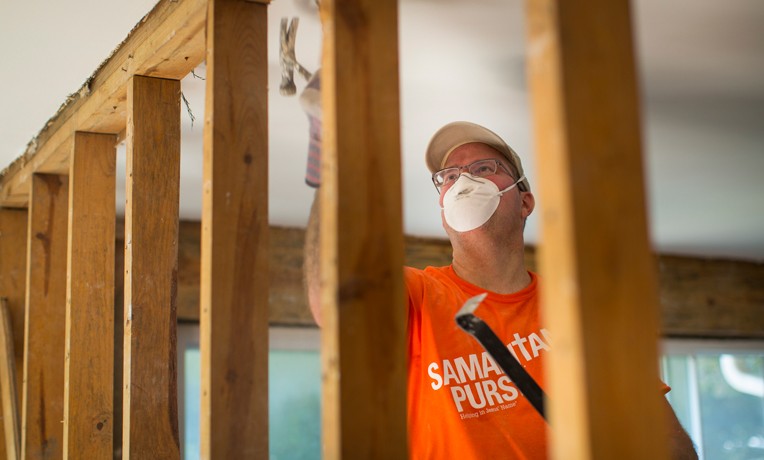 U.S. Disaster Relief
Samaritan's Purse mobilizes and equips thousands of volunteers to provide emergency aid to U.S. victims of wildfires, floods, tornadoes, hurricanes, and other natural disasters. In the aftermath of major storms, we often stay behind to rebuild houses for people with nowhere else to turn for help.
---
U.S. Disaster Relief 013622