As Samaritan's Purse volunteers work in homes throughout Columbia, South Carolina, they share the hope of Jesus Christ, even in the midst of stormy weather.
Despite a powerful early-morning thunderstorm and a late-day downpour, more than 200 Samaritan's Purse volunteers circulated throughout Columbia on Saturday to assist homeowners cleaning out their flood-damaged homes.
And, our volunteers did far more than just manual labor. Joined by Billy Graham Rapid Response Team chaplains, they encouraged and prayed with homeowners, ministering in Jesus' Name to those who continue to struggle with great loss following the recent epic rains.
On a typical day, teams disperse to homes shortly after 8 a.m. following a safety orientation at our host church—Shandon Baptist Church—but a strong cell of thunderstorms with flashes of lightning delayed their Saturday departure by about an hour. Once the storms passed and the green light was given, teams caravanned to their work destinations. To date, nearly 70 homeowners have requested assistance from Samaritan's Purse, and the word is spreading that we're here to help.

Frank Lodato, whose home in New Orleans was destroyed by Hurricane Katrina in 2005, drove to Columbia with his 15-year-old son Jackson. Frank could empathize with the struggles that the homeowners are facing, and he wanted to reach out as a Samaritan's Purse volunteer and serve in Jesus' Name. That door opened at the home of Vince and Sabrina.
"I wanted to not only help them clean up their home, but I really wanted the chance to encourage them, that this season—as difficult as it is—will not last forever and they were going to be OK," Frank said.
As Vince and Sabrina were surveying their waterlogged possessions piled along the curb in front of their house, Frank walked up to the couple and asked how they were holding up under the stress. With a light rain falling, they talked for about 15 minutes, and Frank shared how he managed during the weeks that followed Katrina. He shared with the two that he and his wife were praying for them. Vince and Sabrina graciously thanked Frank for his words of kindness.
"I wanted to let my light shine," Frank said afterward. "A seed was planted, and I'm trusting that it will be reaped at another time. That's what it's all about."
Regarding this chance to serve, Jackson added, "It's sad that they lost all that they had, so I'm glad I could help them out in their time of need."
Vince said he was deeply grateful how Samaritan's Purse came alongside them and performed their work with a high level of expertise and excellence. Volunteers tore out waterlogged walls and floors, gutting two floors of their tri-level home, so that a contractor can eventually come in at a later date and rebuild.
Volunteer in South Carolina
When told that Samaritan's Purse responds to disasters worldwide from earthquakes in Nepal to tornadoes in Alabama to floods in his hometown of Columbia, Vince's voice cracked and dropped almost to a whisper as he shared, "Wow. Thanks man. Very much."
"An Overwhelming Blessing"
Volunteers also worked at Paul's home, Vince's next-door neighbor. The lower level completely filled with floodwater up to the second floor.
"When it comes to deconstruction, it's obvious that Samaritan's Purse people know what they're doing," Paul explained. "I had never heard of them, but I have now, and I'll tell people about them."
Then becoming reflective, Paul said he would have preferred not to have experienced such a trial, but he saw the personal benefits. "I was saved at church back in 2012 when I was going through a really tough time, and having gone through this, it's brought me closer to God," he said. "When people who don't even know me were willing to help me out, it was like God just brought angels down to do His work."
In another hard-hit section of Columbia, Earl and Cynthia expressed a similar sentiment. Samaritan's Purse volunteers worked at their ranch-style home, which was ravaged by muddy floodwaters more than five feet deep.
But perfectly preserved was a plate that was lodged and displayed on their kitchen counter. Cynthia had purchased it at a Christian store in nearby Sumter. The plate was monogrammed with the Bible verse Lamentations 3:22-23. It reads, "The steadfast love of the Lord never ceases; his mercies never come to an end; they are new every morning; great is your faithfulness."
Earl said, "That passage has been true for us, every morning."
Even though the flood wreaked havoc in their lives, Cynthia said that God has enabled them to focus on their neighbors and their need for Jesus. They were especially thankful—and excited—that Samaritan's Purse was active in their devastated neighborhood.
"Receiving help from their volunteers has been an overwhelming blessing," she said. "We're thankful, and now hopeful that friends who don't know Christ will come to know Him."
As the deluge fell Saturday morning before the teams dispersed, Luther Harrison, vice president of North American Ministries for Samaritan's Purse, said: "When you've just lost everything in a flood and now you see another major storm come in, it reveals people's fears. So we want to go out and show them God's love, that He is with them every step of the way, and He can calm the storms."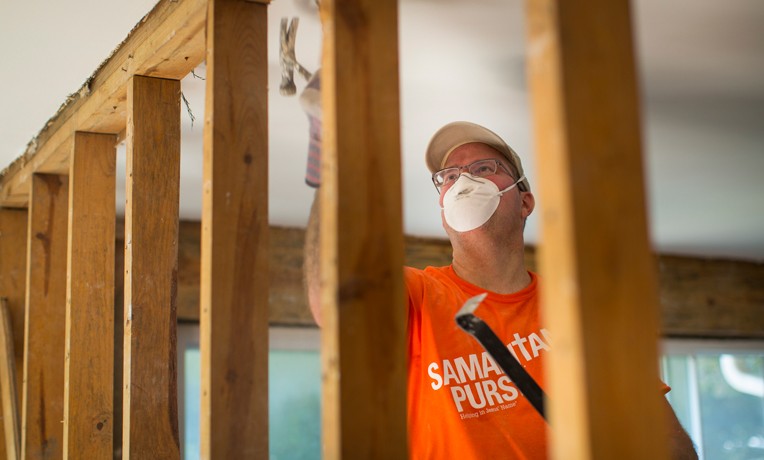 U.S. Disaster Relief
Samaritan's Purse mobilizes and equips thousands of volunteers to provide emergency aid to U.S. victims of wildfires, floods, tornadoes, hurricanes, and other natural disasters. In the aftermath of major storms, we often stay behind to rebuild houses for people with nowhere else to turn for help.
---
U.S. Disaster Relief 013622