Motorcyclists help send wounded veterans and their spouses to Alaska by taking a scenic ride through the North Carolina High Country.
Bless the Marriage of a Military Couple
013960
Almost 200 riders on 160 motorcycles rode down backroads and the Blue Ridge Parkway on Saturday, May 20, to support Operation Heal Our Patriots. The group departed from Samaritan's Purse International Headquarters in Boone, North Carolina, for the roundtrip route to and from Grandfather Mountain.
This was the 12th Annual Warrior Ride, an event that benefits Operation Heal Our Patriots, a Samaritan's Purse project that strengthens the lives and marriages of wounded military veterans and their spouses through Biblically based training. As part of an initial mountaintop experience, couples are flown to Samaritan Lodge Alaska for a week of marriage enrichment training at the edge of wilderness. They are then followed up on for life through our Family Care program.
"We started this ride to glorify God and to send veteran couples for a life-changing week in Alaska," said Mark Spier, who helped launch the Warrior Ride 12 years ago. "We're also looking forward to enjoying God's creation on the back of our bikes."
Samaritan's Purse President Franklin Graham shared with riders about what God is doing throughout the country. He highlighted our work in Mississippi where he dedicated three dozen reinforced mobile homes for families without insurance whose homes were destroyed by tornadoes in early spring.
"I believe in responding to the storms of this life and doing it in Jesus Name," Graham said. "We do it in Jesus' Name because there's no hope for anyone without Jesus Christ."
He expressed gratitude to the many people who were at the ride to support veterans and hurting marriages. Operation Heal Our Patriots started in 2012 and has since grown to include more than 1,500 couples.
Renewed Hope for Their Marriage
Warrior Ride participants heard from one alumni couple who went to Alaska last year and experienced God's healing power in their lives and marriage.
Wounded Army veteran Sean Karpf and his wife, Brandy, shared with the audience how God transformed them during their week in Alaska and through the ongoing Family Care ministry.
In Alaska, Sean received Jesus Christ as his Lord and Savior and was baptized in Lake Clark, Brandy recommitted her life to Christ, and the couple recommitted their marriage to God. They said it's been a miraculous turnaround after a tumultuous two decades.
"I was the person who caused the hurt and the pain in my family…everything I had become from bottling up for years and years," Sean said. "We really hit rock bottom."
Brandy said their marriage of more than two decades was falling to shambles, and she was praying for a miracle. She said God answered her prayers.
"Operation Heal Our Patriots showed us that this wasn't going to be the end of our marriage," Brandy said. "We thank God for bringing this ministry into our lives. It gave us our family back."
John Pryor, director of Operation Heal Our Patriots, spoke to the riders, thanking many of them for their own military service. He also emphasized how the Samaritan's Purse project cares for veterans, their spouses, and their families for life, not just in Alaska. There are numerous ongoing events and opportunities to grow, lead, serve, and connect through Operation Heal Our Patriots.
"We want to help them build a strong foundation through our Lord Jesus," Pryor said. "That's why we send them to Alaska. But that's just the beginning. That's what I love about this ministry. It starts in Alaska and continues for a lifetime."
Fun Way to Support Veterans
Edward Graham was among Saturday's riders. The youngest son of Franklin Graham and a retired Army Ranger, he serves as chief operating officer of Samaritan's Purse. Riders also included Franklin Graham's son, Roy, as well as Luther Harrison, vice president of North American Ministries at Samaritan's Purse.
Retired Air Force Lieutenant Colonel Daniel Slate and his wife, Air Force Captain Lesley Slate, have been coming to the Warrior Ride for nine years.
"I've always loved bike riding," Lesley said. "So about 10 years ago I finally bought a Harley and we started riding together."
Daniel echoed his wife's words.
"Being able to support veterans and marriages and do it in a Christ-centered way, all while riding bikes through the mountains," he said. "It brings it all together for us."
Start to a New Season
Over Memorial Day weekend this year's first group of military couples will land at Samaritan Lodge Alaska for a time of Biblically based marriage enrichment training through Operation Heal Our Patriots. For 17 weeks total, up to 11 couples each week will have the opportunity to connect with each other and with God and to experience the healing power of the Gospel of Jesus Christ.
Please pray for these many couples whose marriages and families are suffering from the wounds of war. Pray that God would transform many lives and bring many to salvation in Jesus Christ.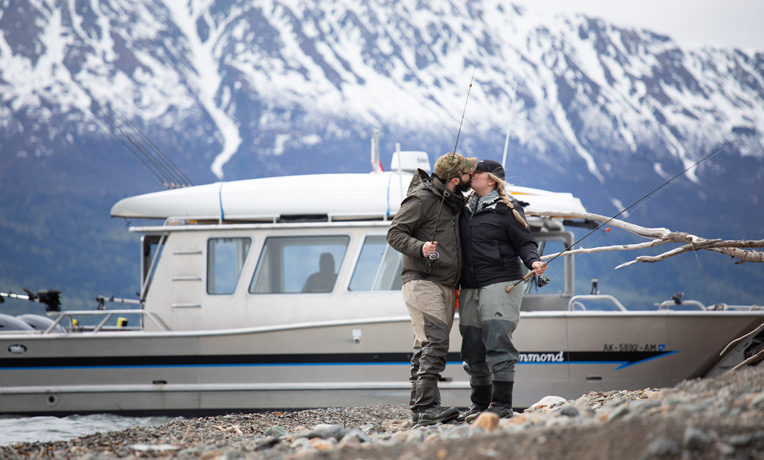 Bless the Marriage of a Military Couple
Operation Heal Our Patriots helps military couples build a strong spiritual foundation during a week of Biblically based workshops, relationship-building wilderness activities, and individual care by our retired military chaplains. We offer all this free of charge to these American heroes as a token of our appreciation for their service and sacrifice. Your gift will help us cover the costs—including transportation, lodging, activities, and long-term Family Care—so that we can help them find hope in the Lord.
---
Operation Heal Our Patriots 013960
Suggested Gift: $60