For years, families in remote Bolivia dreamed of clean water in their homes. Now, God has made it a reality.
Alicia enjoyed the sound of water gurgling through the pipe then splashing into the basin as she worked, kneading and rinsing her family's clothing. The warm Bolivian breeze would finish the laundry later when she hung everything up to dry.
In the midst of doing chores, Alicia's heart was full of gratitude to God. It wasn't long ago that cooking and cleaning—and even finding water to drink—were even heavier burdens. Safe water was scarce.
"For 25 years I had to go out in search of water to cook and drink," she said. "I also had to go wash clothes down in the river with the risk of coming across a wild animal. Now look! I have water in my home. God has been good to us."
"I have water in my home. God has been good to us."
Alicia and her husband, Simón, are community leaders in Litoral, which lies in the Amazon Basin of Bolivia. For years, the couple sought solutions to yield clean water. People in the village, especially children, were often ill from drinking water that was hazardous to their health. The community's existing well—its only source of water—was contaminated, and the water it did produce was quickly drying up.
So, Simón reached out on behalf of this community, requesting that Samaritan's Purse help build a new water system. And Alicia reached out to God in prayer, asking that the project would come to completion.
"We had become tired looking for help," Alicia said. "When Samaritan's Purse arrived, we had hope again."
Hope Renewed
Samaritan's Purse installed a new water system and tank, and built a network of pipes so clean water can be accessed in each home. With clean water available, our staff was also able to help build showers, hand-washing stations, and latrines.
In an area where families struggle daily due to poor sanitation and a lack of clean water, these basic resources have been life-changing. The Gospel also has changed lives for eternity.
Our teams shared about Jesus Christ with the people of Litoral as we brought clean water to the community. Several people put their faith in Him for eternal salvation, including two of Alicia's daughters.
Even when the COVID-19 pandemic caused a temporary lockdown, our team continued to share Scripture and spiritual encouragement by sending videos and daily devotionals. When the team was able to visit villages in person again, spiritual growth was evident among many people.
They shared how they had been regularly reading their Bibles, praying, and putting their faith in God.
This project in Litoral is part of a larger initiative to create water access for villages in the municipality of San Ignacio. As our teams have brought clean water to these communities, they have shared the Gospel with families and have seen God at work to draw people to Him. Those who have made the decision to trust Jesus Christ as Savior are being discipled by our Bolivia ministry team.
Our WASH project has helped 20 communities in the area obtain access to clean water by providing water filters and through building latrines, hand-washing stations, and shower systems. Samaritan's Purse conducts similar projects around the world in which we also provide community education and training on healthy hygiene practices. All along the way, we share about the Source of Living Water, Jesus Christ.
"He saved us, not because of works done by us in righteousness, but according to His own mercy, by the washing of regeneration and renewal of the Holy Spirit, whom He poured out on us richly through Jesus Christ our Savior" (Titus 3:5-6, ESV).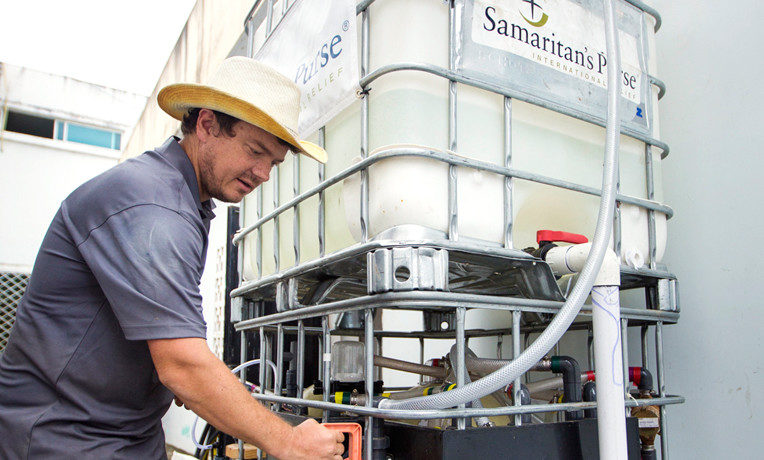 Clean Water
Your gift for clean water can provide tanks, filters, latrines, hygiene training, and other essential measures to protect water sources and prevent the spread of disease as we seek to meet physical and spiritual needs in the Name of Jesus.
---
Clean Water Projects 013659
Suggested Gift: $75