New Orleans Saints players and coaches team with Samaritan's Purse volunteers to serve a West Virginia community devastated by killer flooding
The New Orleans Saints—2009 Super Bowl winners—are always in the hunt for another championship ring, but the team put football aside and invested their opening day of summer training camp to serve the people of White Sulphur Springs, West Virginia, a community traumatized by deadly flash floods five weeks ago. The Saints train each summer at the property of the nearby Greenbrier Hotel.
Players, coaches, and front-office staff partnered with Samaritan's Purse Wednesday afternoon to help two employees connected with the world-famous resort. Forty members of the Saints team joined our orange-shirted volunteers at the homes of Mark Wickline, a longtime groundskeeper, and Barbara Long, who worked there for more than 42 years as a waitress.
The Saints personnel participated in mud-outs—ripping up flooring and tearing out waterlogged walls to help ready the properties for eventual repair. Another 70 worked side-by-side with Lowe's employees cleaning up a nearby park severely damaged by the raging floodwaters and catastrophic mudslides.
There Are People Who Care
"We had a number of our staff people who experienced Hurricane Katrina in 2005, and their homes were flooded," explained Mickey Loomis, in his 17th year with the Saints and 15th as executive vice president and general manager. "My home was flooded. So we're familiar with how much damage water can cause and the challenges people here are now facing.
"New Orleans had people from all over the country come and lend a helping hand, and I know how meaningful that was for our community," he added. "There are a lot of groups, like Samaritan's Purse, who are helping in West Virginia because it's the right thing to do. Obviously you're doing great work, and we're excited to partner with you, and show the people of White Sulphur Springs and throughout the region that there are people who care."
Tim Haas, manager of U.S. Disaster Relief for Samaritan's Purse, applauded the leadership of the Saints organization for helping and being a blessing to not only the two homeowners but also the community at large. "Today, we couldn't have been more honored that they would reach out to us and allow so many of their team to come and work at our sites," he said. "I'm humbled and grateful for all they did."
Program manager Bruce Poss added: "We have nothing but praise for these guys and are thankful that Coach Sean Payton wanted to get his guys involved. We were honored that we were the non-governmental organization that they wanted to partner with."
Saints March Over to Barbara's Home
When torrential rains triggered horrendous floods in late June, Barbara Long had to walk through swift-flowing, knee-high water with the aid of two rescue workers before being ferried by boat to safety. She had lived in her home for 49 years. Albert, her husband of 37 years, died in 1996.
Samaritan's Purse volunteers showed up first to Barbara's home and started the mud-out. Barbara was familiar with our work and ministry, having packed Operation Christian Child shoeboxes for years.
When told that members of the New Orleans Saints football team would also be coming to help at her home, she exclaimed, "I may not be much of a sports fan—my husband was—but God bless them all."
As each player and coach stepped up onto her porch, they bent over to hug the 81-year-old widow and whisper words of encouragement. Then for the next two and a half hours, they worked energetically and sweated profusely, stopping only twice to gulp water and Gatorade.
"It's awesome to help give back to the community hosting us and to make a difference," said rookie tight end Garrett Griffin. "Putting a smile on people's faces is really cool."
"This is hard work and requires teamwork," noted Aaron Glenn, secondary coach and former Saints player.
"In fact, it may take more teamwork to perform one of these mud-outs than it does playing out on the football field," he added, laughing heartily.
One player who understands not only that meaning of community service but also embraces the Samaritan's Purse commitment to serving in Jesus' Name is rookie safety Vonn Bell. He played for Ohio State and was selected in the second round of this year's NFL draft.
Vonn grew up in a Christian home, with both sides of his family having grown up in church. He himself sang in the choir and ushered. And he gave his life to Jesus Christ when he was younger.
"It was a humbling experience meeting and greeting Barbara," he said. "Hearing her story and helping her out is a touching moment.
"I realize I can't do anything without Christ's help and that I'm nothing without Him," Vonn continued. "I pray to Him every day and read my daily devotion and also try to spread His Word among my teammates who are willing to hear. I'm learning more and more that I can only live in His strength."
That's certainly a message Barbara readily grasps. "The Lord has been very good to me, and I think He will continue to be good to me," she said. "There's no way I could have gotten through this without Him."
—
Volunteer with Samaritan's Purse
All in all, 7,000 homes were destroyed and 23 people lost their lives in West Virginia in the recent floods, including 14 in Greenbrier County. Samaritan's Purse responded quickly to the flooding and has helped more than 130 homeowners so far. More than 50 salvations have been reported during the response.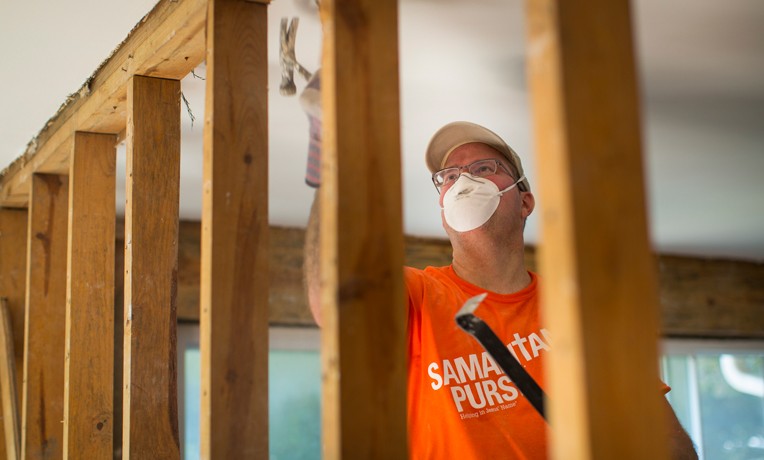 U.S. Disaster Relief
Samaritan's Purse mobilizes and equips thousands of volunteers to provide emergency aid to U.S. victims of wildfires, floods, tornadoes, hurricanes, and other natural disasters. In the aftermath of major storms, we often stay behind to rebuild houses for people with nowhere else to turn for help.
---
U.S. Disaster Relief 013622