Nico carried his stuffed animal around as his friend. Now, the boy has a best friend in Jesus. His mother also gave her heart to Christ.
Save a Child's Life
013687
Nico was diagnosed with a heart defect as an infant in Bolivia. By age 8, he was experiencing fatigue, a loss of appetite, and shortness of breath.
That made it harder for him to concentrate on his homework or participate in physical education with his friends.
"I always felt tired when I was at school," Nico recalled. "I couldn't play with my friends."
Trompeta, a toy elephant, became his best friend. Trompeta means trumpet in Spanish. Nico even carried him to his doctor's appointments.
Surgery to correct Nico's heart defect was out of reach for the family. It was too expensive and far away to be an option since pediatric cardiac surgery isn't readily available in the country. Just when the family thought that there was no hope for his improvement, Nico's mother, Marcela, heard about our Children's Heart Project from a friend.
It was an answer to her prayers that Nico was screened and approved for surgery made possible through a Samaritan's Purse partnership with Health City Cayman Islands and through project donations to Samaritan's Purse that cover transportation to and from the hospital. Samaritan's Purse also arranges for an interpreter from our project team to travel with the child and a parent or guardian during every step of their journey, providing guidance and encouragement. We pair them with host churches located near the partner hospitals, and families from the church welcome the special guests in their home.
Traveling with Trompeta
Nico's host family had one more special guest that had traveled with him—Trompeta.
"Trompeta goes with me everywhere," Nico said. "He's a part of our family. He was a traveling friend with me on the airplane and in the hospital, he came to visit me."
Nico could tell that his mother was worried before his surgery. He told her, "Mom, don't worry, I have peace in my heart."
Marcela desperately wanted to experience peace. She wanted to bless her son and know the kind of contentment she saw in members of their host church, as well as several of the other mothers of patients who had accepted Christ during their stay there.
"They have been an example for me of how to follow Christ and depend on Him," she said. "I am so thankful for everyone and their love for us."
Their interpreter, Geraldine, shared the Gospel with Marcela and Nico, including through The Greatest Journey, a discipleship program developed by Samaritan's Purse for Operation Christmas Child shoebox recipients.
As a result, both Marcela and Nico placed their faith in Jesus Christ as their Savior and Lord a few days after his surgery.
"I met a real God," Marcela said about her salvation. "I learned to praise God and found a friend in Him."
After listening to a host church sermon on baptism, Marcela said, "I need to be baptized." Church leaders guided her through a new believer's study and baptized her in a community pool.
"Thank you, Samaritan's Purse, for everything," she said. "My life is changed. I was in darkness but now I am in the light."
Nico loves to tell people about Jesus. Members of our project team taught him how to share the Gospel through colors on a cloth:
Yellow—God created the world.
Black—Our sins separate us from God.
Red—God sent His Son, Jesus Christ, to die for us. And, He rose again to offer new life in Him.
White—God cleanses repentant hearts.
Green—God helps us grow in our faith and share it with others.
"God wants us to grow up like a plant to share the Gospel with everyone," Nico said.
"God cleansed my heart," he said. "I am returning home with my heart healed and clean."
Lives Transformed
Nico now has plenty of energy left over after school and homework to play soccer with his family and friends.
"I can be a kid now," Nico said, looking forward to learning how to swim.
"Now, he walks full of energy," Marcela said. "He likes to run. It's really good to see him active."
Nico is one of more than 40 children in 2022 who had life-saving cardiac procedures through Children's Heart Project, which turned 25 this past year. In all, the project has helped nearly 1,500 boys and girls in Jesus' Name.
Marcela is grateful for how her family has been transformed by the Gospel. They have begun attending a church near their home.
"I'm grateful to God, I'm full of hope," she said. "We are growing in our relationship with God."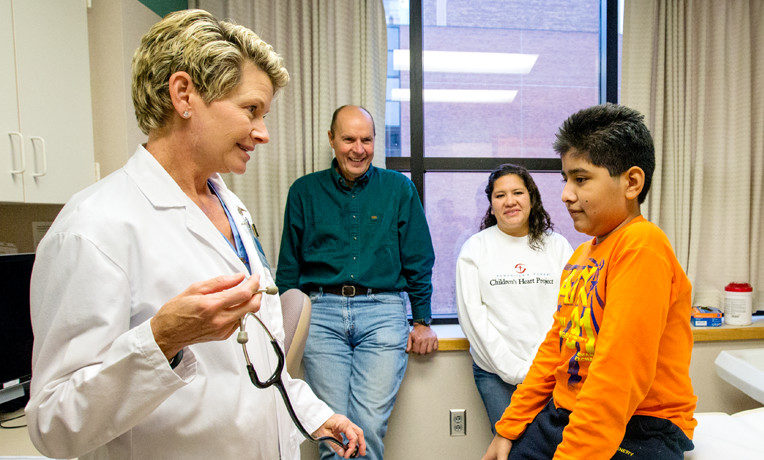 Save a Child's Life
About one out of every 100 babies has a heart defect that surgeons can routinely repair. Unfortunately, many of them are born in poor or remote places where their families cannot access the cardiac care they urgently need. Through our Children's Heart Project, Samaritan's Purse transports boys and girls from places like Bolivia, Mongolia, and Uganda to hospitals in North America. Doctors, hospitals, and host families and churches donate their time and services, but airfare is a major cost—typically $2,200 per person for international flights. For $50, you can share in this cost so that we can offer life-saving surgery and the unsurpassed hope of Jesus Christ, "the way, the truth, and the life" (John 14:6).
---
Children's Heart Project 013687
Suggested Gift: $2,200 | Share the Cost: $50