Samaritan's Purse Australia responds to deadly wildfires in Jesus' Name.
Australian Disaster Relief
014049
Record-breaking high temperatures, strong winds, and years of drought have stirred intense wildfires Down Under, killing at least 30 people across the country, destroying more than 2,200 homes, and scorching more than 20 million acres of land. The fires began in September and have spread across 131 regions of Australia.
Over the past week Samaritan's Purse disaster response teams have been assessing bushfire-affected areas in Victoria and New South Wales, and more volunteers are arriving this week to help with the clean-up and recovery process.
A team of eight disaster response volunteers arrived from Samaritan's Purse Canada to assist the Australian team with logistics, administration, and the physical work of helping homeowners and families who have been affected by the fires. Three crisis-trained Canadian Billy Graham Rapid Response Team chaplains are also in Australia to help Australian chaplains provide spiritual and emotional aid to people who have lost their homes and possessions to catastrophic wildfires.
Rob Rolley, our disaster response program manager in Victoria said, "Hundreds of families have been impacted by the bushfire; the needs are very compelling for the many people in distress. We are working together with local churches, government organizations, and community groups to help and provide hope in the midst of this disaster."
Samaritan's Purse teams will be cleaning properties, clearing fence lines, removing debris, and helping homeowners start to rebuild their lives again in Jesus' Name.
Assisting Since the Beginning of the Bushfires
Within a week of the initial fire outbreak last fall, the Samaritan's Purse Australia disaster relief team was offering help and support to the communities of Stanthorpe and Beau Desert, Queensland. Their work continues as the situation remains dire.
"We have had a team on the ground for the past three months, helping families affected by the bushfires in Queensland and most recently in New South Wales," said Dave Ingram, executive director of Samaritan's Purse Australia/New Zealand.
"We're grateful to all our Samaritan's Purse volunteers who have undertaken the huge task of assisting homeowners [to] clear properties and to start the journey of rebuilding their lives."
The deadly fires have made international headlines, and the Australian states of New South Wales and Victoria have both declared states of emergency.
Some residents in the New South Wales community of Killabahk have recently been able to return home. Samaritan's Purse volunteers are assisting these homeowners in shoveling ash, chopping up fallen trees, and clearing debris.
A woman from Killabahk who lost her home in the bushfires thanked our volunteers for coming to help in her time of desperate need. "We had no idea where to start. There are no words that describe the gratitude and comfort of knowing that we don't have to do this on our own," she said.
New South Wales is Australia's most densely populated region—home to Sydney. In that city's suburbs, unprecedented high temperatures have reached up to 120 degrees Fahrenheit.
The situation is so bad in Mallacoota, a coastal town in the state of Victoria, that about 4,000 people fled to the beach for safety earlier this week. The Australian military evacuated about 1,000 individuals on Jan. 3.
The economic impact on the nation is serious; insurance claims from the fires already total close to $200 million.
From Horrendous to Uplifting
Earlier this year, an uncontrollable fire forced residents of Stanthorpe, Queensland, to evacuate their homes. When Diane and Archie Mitchell returned, they found the home they were renovating completely destroyed.
"It was horrendous, frightening, devastating to come home to, but by the same token we tried to stay positive," Diane said.
The Mitchells were one of four families in Stanthorpe who lost a home. It was completely destroyed along with their vehicles, a shed, tools, furniture, and more.
A team of Samaritan's Purse staff and volunteers spent two days on the Mitchell's property clearing wreckage, and sharing God's love in Jesus' Name.
"I couldn't tell you how uplifting it was for us," Diane said. "My husband went down and joined in…It was really beautiful."
Diane and Archie also received a Samaritan's Purse fire recovery kit, which contains personal protective equipment, a shovel, hammer, and other tools. This kit included items the Mitchells had lost in the fire, and aided them in clearing the property and finding salvageable items.
Diane was incredibly grateful for the work of Samaritan's Purse staff and volunteers. She stated on Facebook: "The wonderful Samaritan's Purse Australia crew came to our aid to start the clean-up process. Can't thank these guys enough. We will never forget you."
Please Pray for Families Affected by the Fires
Samaritan's Purse Australia continues to serve as the wildfires burn.
Dan Stephens, their disaster response manager, said, "With so many fires around the country, as soon as our response teams finish in one area, we are immediately moving on to the next community.
"In the aftermath of so much loss…we just want to bring hope and support to families as they begin to see a way forward."
Executive Director Dave Ingram also added, "Please join us as we pray for the families who have lost so much and for our team as we respond, that we can bring hope amidst this disaster."
—
Note: This article was originally published on Dec. 31, 2019, and updated on Jan. 27, 2020.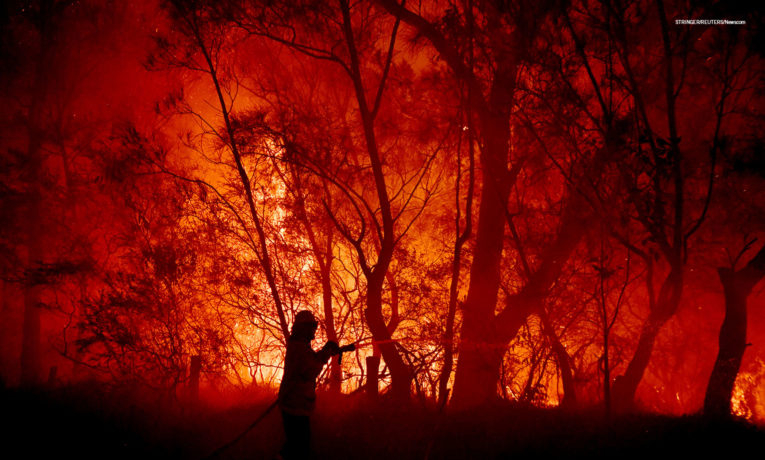 Australian Disaster Relief
Unprecedented bushfires are burning across much of Australia. The Samaritan's Purse Australia disaster response team has been deployed since September 2019, working across three states and seven locations. A disaster response unit and trailers—stocked with relief supplies, chainsaws, and other tools—help enable staff and volunteers to provide relief to those in need. Samaritan's Purse Australia stands ready whenever natural disasters strike their nation and works in partnership with local churches during its responses.
---
Natural Disasters-Australia 014049