Samaritan's Purse is improving the health of families in remote villages by building latrines and teaching proper hygiene.
Nawe Naing became a wife at 14 because her mother and stepfather couldn't afford to take care of her. Her husband was only 16.
It's a story not uncommon in her remote Myanmar village—more than half the village has married young.
Parents in this impoverished area struggle to find work. Life in the village is also difficult because of devastating flooding during the rainy season.
Many families like Nawe Naing's must repair or rebuild their bamboo homes every year.
"It's stressful," she said. "If I could afford it I would move to a different village."
Nawe Naing and her husband don't have the income necessary to move nor can they afford basic necessities such as a properly built latrine.
Poor sanitation and hygiene can lead to diarrhea and other waterborne diseases. Children are among the most vulnerable, with more than 2 million children in Myanmar living in households without access to latrines.
Samaritan's Purse is improving the quality of life for Nawe Naing's family and families across Myanmar's Tada U Township by building latrines and teaching healthy hygiene.
We're also working to better the overall health of families, and to demonstrate God's love to a predominatly Buddhist population. Samaritan's Purse programs in Tada U include training for midwives, nutrition training, and mother to mother support groups.
Nowhere to Turn
Nawe Naing's father died when she was 10 years old and her mother remarried a few months later. Although her parents worked hard, they couldn't make ends meet and had a difficult time supporting Nawe Naing and her three siblings.
Nawe Naing is now 23 and has two sons, ages 5 and 6, and is pregnant with her third child. She's never been able to attend school but works hard to provide for her children. Nawe Naing hand rolls tobacco for cigarettes and her husband works as a carpenter about an hour away in Mandalay, Myanmar's second-largest city.
Since the entire village struggles financially, most families were in the same situation as Nawe Naing before Samaritan's Purse stepped in. They didn't have latrines and had to use the bathroom in a field near an old pagoda.
"I realized that was shameful," Nawe Naing said. "We didn't have a choice."
Last year, Samaritan's Purse built latrines in 40 Tada U villages, 10 beneficiary families per village, with Nawe Naing's family among the beneficiaries.
"I am so glad not to have to go to the pagoda anymore," Nawe Naing said. "We knew we needed a latrine but we couldn't afford it."
Emily Guebert is the Samaritan's Purse water, sanitation, and hygiene program coordinator in Myanmar. She explained that latrine construction is just one step toward improving the health of families.
"With latrines, hygiene trainings, and menstruation hygiene management, our hope is that we can begin conversations that will continue in the home with parents and children," Emily said. "We've been so encouraged by the willingness of these communities to learn and grow together."
Sisters Fighting for Their Families
This year, Samaritan's Purse is building latrines in 50 villages in Tada U Township. In every village where we build latrines we're also providing hygiene training and menstruation hygiene management.
Twenty-eight-year-old Nwe Win attended the trainings and learned healthy hygiene practices such as washing her hands before every meal.
Nwe Win has been married 10 years and has two children.
"It's hard for our family to survive. Sugar cane is our livelihood. It takes about one hour to get to town to sell it," she explained.
Her sister, Ei Mon, also has a hard time maintaining a steady income because she's a day laborer. Finding employment during the rainy season is a little easier because she can help harvest crops.
Both sisters were excited to receive help from Samaritan's Purse. Previously, only one family in the village had a properly built latrine. Everyone else went into a field to use the bathroom.
Life will be different with both receiving a latrine from Samaritan's Purse. Nwe Win said her family will be sick less often now that they have a hygienic latrine.
"I am very happy and thankful for the latrine and hygiene training," she said. "Our health will improve."
Please pray for Nwe Win's family and other families in remote Myanmar villages. Pray that they will see and respond to God's love for them.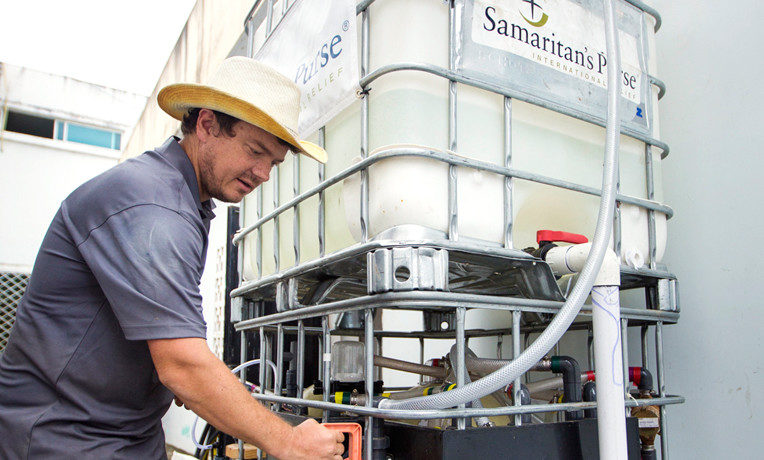 Clean Water
Your gift for clean water can provide tanks, filters, latrines, hygiene training, and other essential measures to protect water sources and prevent the spread of disease as we seek to meet physical and spiritual needs in the Name of Jesus.
---
Clean Water Projects 013659
Suggested Gift: $75