A homeowner in eastern Kentucky continues trusting in God after devastating floodwaters destroyed her home.
U.S. Disaster Relief
013622
She clutched the decorative glass tightly against her chest, closed her eyes, and stood still and silent. Then, the tears came.
"Oh, my goodness. This means the world to me. You don't know what you've done for me today," said Sherry Justice.
A Samaritan's Purse team found the drinkware set that belonged to Sherry's grandmother while working at Sherry's home in Breathitt County, Kentucky, after historic flooding pummeled the area.
"My grandmother was like a second mother to me. I loved her so much," Sherry said, still crying and thanking the team for finding this precious gift that her grandmother passed on to her before she died a few years ago.
The glasses are among the only keepsakes Sherry has left. The catastrophic flooding destroyed nearly everything in her home.
Samaritan's Purse volunteers worked hard for several days at Sherry's home removing appliances, cabinets, and damaged personal belongings; they also ripping out waterlogged drywall and insulation.
"The concrete block is off my chest, off my back. I can breathe," Sherry said as the Samaritan's Purse team continued working late into the afternoon. "I can never thank you enough. There's no way."
Surviving the Flood
The floodwaters rose so quickly that all Sherry could think about was trying to save herself and her family.
"There was no time to do anything. There was no time for grabbing anything, not even clothes. We got out with our lives," Sherry said. "By God's grace, I'm alive."
Sherry and her teenage son were at her mom's house next door when her stepdad noticed the rising water. Sherry had walked over to visit them just 30 minutes earlier—that's how fast the water made its way to their doorstep.
The family knew they had to escape. Sherry and her mom held hands, trying to keep each other balanced and steady through the rushing waters. "The water was everywhere. It smothered me," Sherry said. "We had to wade out. I just about fell getting out."
Falling would have been especially bad for Sherry, who is recovering from her fourth surgery to deal with a cyst on her tailbone. She still suffers from a lot of pain due to the surgeries and a wound infection. Sherry is also diabetic, and she explained that this causes her healing process to be much slower.
Sometimes the pain is so intense that Sherry knows she is taking the next step by God's grace. "I can't even walk without Him holding my hand."
Always Trusting in Jesus
"Ain't nothing going to get me down. I'm not going to go down. The only way I'm going to go down is on my knees in front of my Lord; I'll bow before my Lord," Sherry said.
Sherry has walked with Jesus since she was a child, and it's her steadfast faith in her Savior that is carrying her through this horrific experience. She cried as she watched volunteers remove damaged items from her home, and the pile of waterlogged drywall in front of the house continued to get taller.
Yet, Sherry won't give up. She is resolved to press on, to be a source of strength for her son, adult daughter, and three grandchildren. Sherry's especially focused on caring for her mom, whose home was also ruined.
"You have to decide: I'm not going to let Satan get me down. God has the final say."
Sherry and her family have always called eastern Kentucky their home. They are determined to rebuild their lives and to move forward in the mountains of Breathitt County.
The devastation from this historic flooding is sobering, but Sherry isn't letting it steal her joy in the Lord.
"God is with me," Sherry said. "He will prevail. And if He prevails, His servants will, too."
Our disaster response in Breathitt County, Kentucky, has now concluded (as of April 8). We praise God that our teams were able to help dozens of homeowners and saw 14 people receive Jesus Christ as Lord and Savior. Samaritan's Purse volunteers continue to serve in multiple locations across the South in response to severe storms. To learn more, visit spvolunteer.org.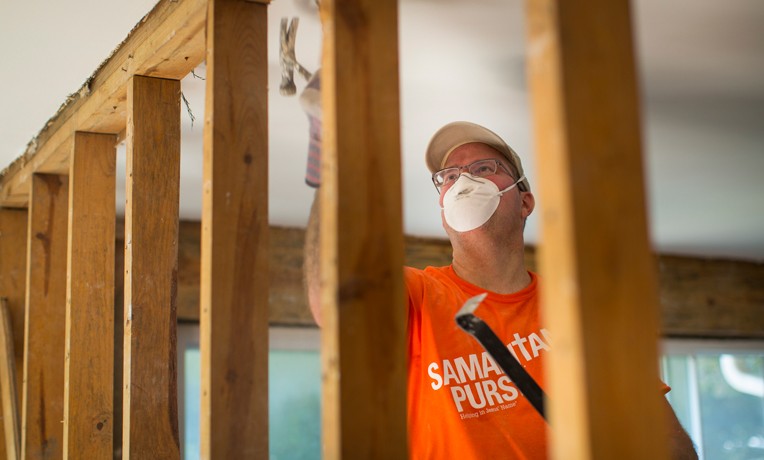 U.S. Disaster Relief
Samaritan's Purse mobilizes and equips thousands of volunteers to provide emergency aid to U.S. victims of wildfires, floods, tornadoes, hurricanes, and other natural disasters. In the aftermath of major storms, we often stay behind to rebuild houses for people with nowhere else to turn for help.
---
U.S. Disaster Relief 013622