Samaritan's Purse staff and volunteers are helping flood victims, including a wounded Army veteran and his family, in Texas.
As a retired Army sergeant, Brandon Price knows that in battle you never abandon your fellow soldiers. Likewise, his wife Ashley, as a mother, knows that you never forsake your family. When the couple recently experienced the horrors of seeing their Texas home ravaged by historic flooding, they found that Samaritan's Purse takes such ideals seriously as well—standing with them throughout their turbulent ordeal.
Ashley and Brandon, who suffered multiple injuries during combat tours in Iraq and Afghanistan, went to Alaska last summer with Operation Heal Our Patriots, our marriage ministry to wounded military veterans and their spouses. While there, Brandon committed his life to Jesus Christ and was baptized on the 14th anniversary of the 9/11 attacks.
"When we were at Operation Heal Our Patriots, they kept talking about how they wouldn't leave us," Ashley said. "Once we came, we became family. This flood proved how true that was."
VOLUNTEERS NEEDED— FIND OUT MORE
Deweyville, Texas—a stone's throw away from the Louisiana border—was considered ground zero as the worst flooding on the Sabine River in more than 130 years inundated houses up to the rooftops. The Prices' home was among hundreds that were swallowed up when heavy rains pelted the area in early March and caused four levees to break sending floodwaters cascading throughout the region.
Eight to nine feet of water swept through Brandon and Ashley's residence. Floodwaters shattered windows and washed heavy furniture and appliances outside the house. The porch was transported from one end of the property to the other. Their son's basketball goal wound up hanging from a tree. And yet, Ashley's Bible, which had been placed atop the couple's bed before they left, remained perfectly dry while everything else around was drenched.
Responding in Time of Trial
As soon as we heard of the Prices' plight, Samaritan's Purse leaders contacted them—and even traveled to Texas to meet with them personally. When floodwaters had finally receded and Brandon and Ashley were able to return, only to be confronted by the devastation, our team was there to comfort them.
"I can honestly say that God has blessed my wife and me beyond measure through Samaritan's Purse," Brandon said. "And God has not stopped working for us.
"Their leaders and their volunteers showed us the compassion of Jesus," he added. "They looked at every single item like it was their own stuff. If they weren't sure of something, they put it aside. To me, that was the greatest act of kindness they could have shown my family."
What also made an indelible impression on Brandon was how Samaritan's Purse didn't just minister to their needs. We reached out—and continue to reach out—to so many others.
"They didn't just care for us and say 'OK, we've helped Brandon and Ashley, let's go now,'" Brandon said. "They came here and helped and cared for our entire community."
UPDATE (April 12)
That service in Jesus' Name inspired Brandon so much, he took similar action upon his return from the Operation Heal Our Patriots Reunion in West Virginia held earlier this month.
"I prayed about this and so when Ashley and I got back and we were a little more settled, I volunteered and helped people in Deweyville, at least as much as my doctor allowed me," he noted.
Brandon served with our teams on Friday and Saturday, April 8-9. On Saturday, he and one of our site leaders, Dale, had to pick up some supplies at the local Walmart. While there, Brandon noticed a man who appeared down in spirit and needed a word of encouragement. So, Brandon walked up to him and they started talking.
It was lunchtime so Brandon bought the man's lunch and while sharing a meal, God opened the door for Brandon to share his testimony of how Christ had been working in his life. Afterward, the man shocked Brandon by saying, "I'm ready to accept the Lord." Brandon remembered that he had in his wallet the Salvation Poem card he had received from his time with Operation Heal Our Patriots, so he used it to share the Gospel and lead the man to faith in Jesus Christ.
Brandon has come full circle from receiving help to being a blessing to someone else—from being led to Jesus to proclaiming Him with others and being used to advance God's Kingdom.
Reaching the Community
Another family that has benefited from the ongoing presence of Samaritan's Purse has been that of Herbert Joseph Guillory. He has lived at his Deweyville home for more than 37 years.
Herbert knows all too well how a storm can inflict pain. In late September 2005, Hurricane Rita, a Category 5 monster, slammed ashore at the Texas-Louisiana border and caused havoc. Its high winds pummeled Herbert's property. Trees were uprooted and tossed around like toothpicks. Fortunately, Herbert insisted that his wife Anne and their youngest son Clint move to another section of the house, just minutes before a 100-foot tree toppled onto the roof, caving in the bedroom where they had been sleeping.
All these years later, those memories are still fresh in Herbert's mind. The recent flooding, which ravaged everything he owned, brought them back to the surface.
Now 77, he is so thankful he was able to connect with Samaritan's Purse. We helped him clean up his property and perform a "mud out," getting his house prepped to be repaired. Beginning on Easter Sunday and continuing through Tuesday, our volunteers removed mud and waterlogged belongings, then tore out damaged drywall, insulation and flooring.
When our team circled up to pray with him, Herbert told the group: "God bless you. You mean a lot to me. I don't know what we would have done without you."
Not only did our volunteers pray with him, they also presented the glorious eternal claims of Jesus to him and to Clint. God blessed their spiritual outreach and both Herbert and Clint prayed to receive Christ as their personal Savior.
Not too far away, another Samaritan's Purse team worked on the home of Brandon and Amanda Tubbleville. They've lived there for just over seven years. Nearly six feet of water damaged the couple's house.
"I had never heard of Samaritan's Purse, but I'm so glad they helped us, as they did a lot of people around here," Brandon said. "They're real good people."
Among those who helped serve were Chad and Lori Kibodeaux, pastors of Mauriceville Assembly of God Church, which is hosting Samaritan's Purse during this deployment. Despite hobbling with a twisted right knee, Lori said, "I'm enjoying this. God is allowing us to be a blessing to someone."
After their work was completed, the team presented a Billy Graham Study Bible—signed by each volunteer—to Brandon. Chad then prayed: "Father, You have motivated us with your love. May the name of Jesus be exalted and may His truth and His Gospel be exalted in this place."
VOLUNTEERS NEEDED— FIND OUT MORE
Please continue to pray for communities in Texas and Louisiana who've been devastated by recent flooding. Waters are still receding in some areas. Samaritan's Purse needs volunteers to help in this massive recovery effort. In all we do, our objective is to lift up the Name of the Lord Jesus Christ. More than two dozen have received Christ as we reach areas around Orange County, Texas; Bossier City, Louisiana; and West Monroe, Louisiana.
"Therefore God also has highly exalted Him and given Him the name which is above every name, that at the name of Jesus every knee should bow, of those in heaven, and of those on earth, and of those under the earth, and that every tongue should confess that Jesus Christ is Lord, to the glory of God the Father."—Philippians 2:9-11 (NKJV)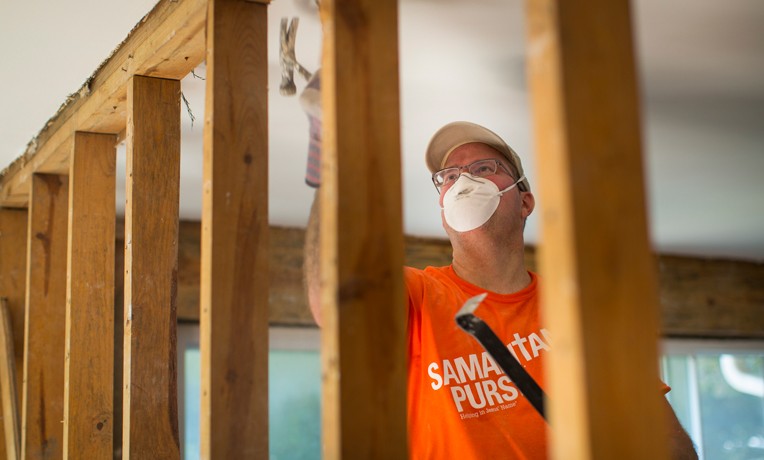 U.S. Disaster Relief
Samaritan's Purse mobilizes and equips thousands of volunteers to provide emergency aid to U.S. victims of wildfires, floods, tornadoes, hurricanes, and other natural disasters. In the aftermath of major storms, we often stay behind to rebuild houses for people with nowhere else to turn for help.
---
U.S. Disaster Relief 013622