Julia Naman is an intern with Samaritan's Purse in the Philippines.
There's dancing, games, and karaoke. It's hard to believe I'm at an event to help eliminate open defecation in the Philippines.
The Samaritan's Purse Philippines office has implemented a program that helps communities realize the dangers of open defecation and their need for 100 percent latrine coverage. The following pictures demonstrate a few of the steps in the process.
First, facilitators go into rural areas and conduct a series of eye-opening activities. Rather than presenting lectures on why latrines are necessary, the approach is participatory and relies on the community members realizing their need for a change.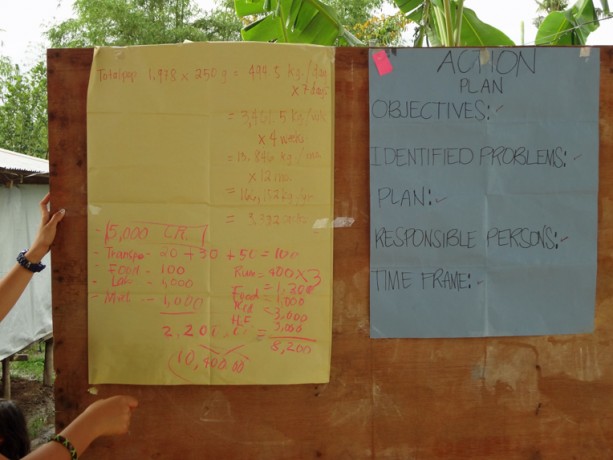 One of the activities has the participants calculate the amount of feces generated by the community. Seeing the large amount of waste produced, they realize the importance of proper disposal.
A second calculation compares the cost of building a latrine with the cost of seeking treatment for a fecal-oral disease. Considering physician, medication, and hospital costs, the facilitators reveal that building a latrine is much cheaper than treating sickness from exposure to fecal matter.
Once communities commit to change, they go through the process of zero open defecation verification. The municipal sanitary inspector, along with other assessors, performs a door-to-door survey to determine whether the community qualifies for certification. If the community passes, Samaritan's Purse hosts a celebration to acknowledge the achievement.
The community is awarded a certificate of achievement as well as a sign so all visitors can see the new status.
Then the community celebrates! Through performances, like the one pictured above, games, songs, and dancing, the community and Samaritan's Purse rejoice together that we're one locality closer to eliminating open defecation across the Philippines.
The Samaritan's Purse internship program is an opportunity for college students and recent graduates to use their skills to impact the world in a tangible way. Find out more here.
Community Health & Hygiene
In remote communities around the world, people suffer needlessly and even die from preventable and treatable diseases. Samaritan's Purse hygiene education and sanitation projects give people the tools to stay healthy. We also train health professionals to deliver immunizations or other vital aid to families in need in the Name of Jesus Christ.
---
Community Health Projects 013804