Tharanga Diyunugala is the Samaritan's Purse health program manager in Myanmar.
Kyaw Doo is a 31-year-old father who lives in a village in the mountains of Myanmar near the Thailand border. Kyaw has endured many hardships since childhood due to years of war in his region. He and his family had been displaced many times until they finally made this village home about 10 years ago.
However, life in the village was challenging as the village didn't have basic necessities such as water, latrines, healthcare, or electricity. People from his village had to travel about half an hour to the mountain spring to fetch water. This was not only difficult and time consuming, but people also risked land mine injuries.
Samaritan's Purse is serving Kyaw's village and communities in the conflict zone by working with a local church partner to provide clean water and latrines. Christian families in the village took leadership during the project and demonstrated God's love to their neighbors.
"Life changed one month ago when support came to the village through the church. We were very excited. We all worked together to build a water system for our village," Kyaw said.
He expressed how the community volunteered their time and efforts to serve each other. "Men, women, and young people all worked together to dig ditches to lay pipes and build a water tank."
Samaritan's Purse also helped the village build 35 latrines. No one in the village had ever had a latrine or even knew how to use one. Kyaw is grateful that his life has changed dramatically because of the blessing of clean, accessible water.
"We no longer need to go far to fetch water for our daily needs. I can use that time to farm. We have water for drinking, cooking, bathing, and farming," Kyaw explained. "When I saw the water coming through the pipe for the first time, I was very happy. Now, there is a glimpse of hope for our community."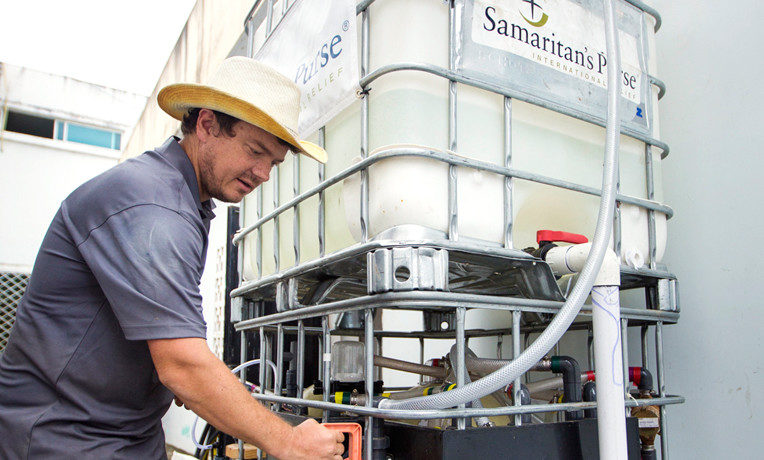 Clean Water
Your gift for clean water can provide tanks, filters, latrines, hygiene training, and other essential measures to protect water sources and prevent the spread of disease as we seek to meet physical and spiritual needs in the Name of Jesus.
---
Clean Water Projects 013659
Suggested Gift: $75