Community filtration systems are meeting basic needs for Filipinos after Typhoon Haiyan contaminated wells and left people thirsty and desperate
Four hundred people crammed into Willie Cadayong's large two-story cement home to ride out the fierce winds, driving rains, and storm surge of Super Typhoon Haiyan, known as Yolanda in the Philippines. The district's residents now aptly refer to the building as "Noah's Ark."
Today in the San José barangay (district) of Dulag, a town some 37 kilometers south of Tacloban City, residents are again flocking to the home for a different reason. Battered storm victims are lining up to collect clean water from a filtration system recently installed in the courtyard by Samaritan's Purse.
"The last few days after Yolanda we (residents) have had some diarrhea," said Cadayong, whose brother, Victor, is the district's chairman. "We really need this safe water."
Help Disaster Victims Around The World
He said 50 percent of the area's deep wells were affected adversely by the typhoon. The district includes 1,200 families.
"People are happy now that they have this source of water," said JoJo Diloy, a relative of the Cadayongs.
Hundreds formed a queue to fill up with drinking water the first morning the system was working. They included Nida Cayosa, a mother of two. Her home was destroyed by the typhoon and she is staying with a neighbor near the Cadayongs. Her family suffered from stomach aches from drinking unclean water after the storm and is now happy to benefit from the Samaritan's Purse relief efforts.
Samaritan's Purse is planning to install many additional water filtration systems in Leyte Province. The systems can filter 10 gallons a minute (or 7,200 gallons in 12 hours). Thousands of wells have been rendered undrinkable for various reasons, including saltwater intrusion from the storm surge. Others may be contaminated in the coming weeks as debris decomposes.
"There is a real need for potable water now. Otherwise we will run into diarrhea and cholera cases," said John Akudago, Samaritan's Purse Water, Sanitation and Hygiene technical advisor.
The Santo Niño district of Tanauan, one of the areas hardest hit by Yolanda, will be among beneficiaries.
"We need badly drinking water," said Bianito Fiel, a municipal councilor and resident of Santo Niño. "Most of the wells are salty. We are thankful that Samaritan's Purse is assisting us."
There is much work to be done in the Philippines. Please pray that residents who benefit from our work, including water projects, will come to know the living water of Jesus Christ through the witness of our staff.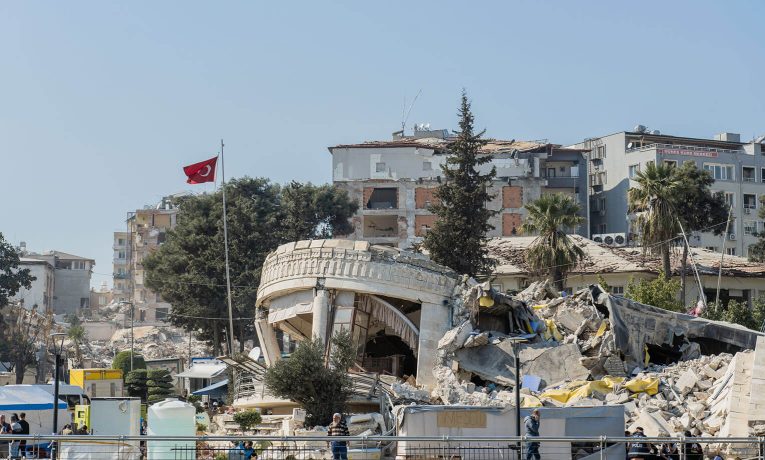 International Emergency Relief
When natural disasters strike, such as the earthquakes in Turkey, Samaritan's Purse responds quickly to bring relief to people in urgent need. One way we help in disaster situations is by handing out "family survival kits" that include warm blankets, buckets with water filters, cooking utensils, soap, and other daily essentials. For just $45, we can provide a lifeline to a family that has lost everything, to help them get back on their feet.
---
International Emergency Relief 013310
Suggested Gift: $45