Samaritan's Purse President Franklin Graham traveled to the Paradise Alliance Church in California on Christmas Eve to encourage individuals and families returning after this year's devastating fire.
As the community of Paradise, California, grieves in the wake of the Golden State's deadliest wildfire, local churches have come together to reach out to residents with the love of Jesus Christ.
In partnership with other area congregations and Samaritan's Purse, Paradise Alliance Church hosted close to 4,000 local people for three special Christmas Eve services and a meal.
Samaritan's Purse President Franklin Graham attended the first service at noon to encourage residents of the area, where we have been serving since November. He spent the morning surveying the remains of the city.
"We're here today on Christmas Eve to let the people of Paradise know that we love them, that God loves them, and that we are standing with them," he told residents of Paradise.
After the services, Luther Harrison, vice president of our North American Ministries, along with a large team of our volunteers, helped to distribute boxed lunch meals from Panera Bread. In addition to feeding those present, we provided thousands of musical Jesus Loves Me lambs as a comforting gift for young children. Attendees also received a pillow from MyPillow.
"Many of these homeowners haven't returned to Paradise since they lost their homes, so this is just an opportunity for the community to come home for Christmas," said Luther Harrison, who has spent significant time in California to oversee our disaster relief response. "And we're here to help at this event in whatever way we can as the body of Christ serves the hurting families here in Paradise."
Decisions for Christ were made at each of the three services, and Billy Graham Rapid Response Team chaplains were available for those wanting spiritual counsel and prayer.
SIGN UP TO VOLUNTEER IN CALIFORNIA
Our disaster response will continue in Butte County for weeks to come. We've already helped almost 140 homeowners sift through the ashes on their property to salvage what valuables and keepsakes were not destroyed by the fire. We praise God that since the beginning of our response more than 40 people have received Jesus Christ as Lord and Savior.
The Alliance Church building is one of only a few structures in Paradise that wasn't burned to the ground.
"This [Christmas Eve service] is the first community-wide event in Paradise that all the churches are united around," said Josh Gallagher, lead pastor at Paradise Alliance. Pastor Josh was among the many homeowners who had to evacuate and lost their homes in the inferno that destroyed Paradise on Nov. 8. More than 80 people died in the Camp Fire, the majority of whom were residents of Paradise. [Watch video below]
He says they are praying that these Christmas Eve services will spark a movement of God in the community. "I can't think of a better way to kick off this revival in our community than by celebrating the birth of our Savior," he said.
He hopes the events will strengthen and unite residents who've been scattered by the disaster. Many homeowners were forced to live in housing outside of the area, and many have not returned to Paradise since.
Homeowners Heath and Megan Jarrett and their three young children attended the Christmas Eve services. They were forced to move out of Paradise after the Camp Fire destroyed their home. Heath, a native of Paradise and also a local pastor at Living Hope Fellowship in Chico, said that even with such great loss in his community, God and God's people are blessing them and their congregation in the midst of grief.
"It's been hard but the Lord has been really, really blessing us," Heath said. "We're on the front lines of the devastation but we're receiving just untold amounts of blessing, of love and care. The Lord has been really good to us."
Please continue to pray for those affected by this catastrophic wildfire, for local churches, for our volunteers, and for local community and government officials in Butte County.
SIGN UP TO VOLUNTEER IN CALIFORNIA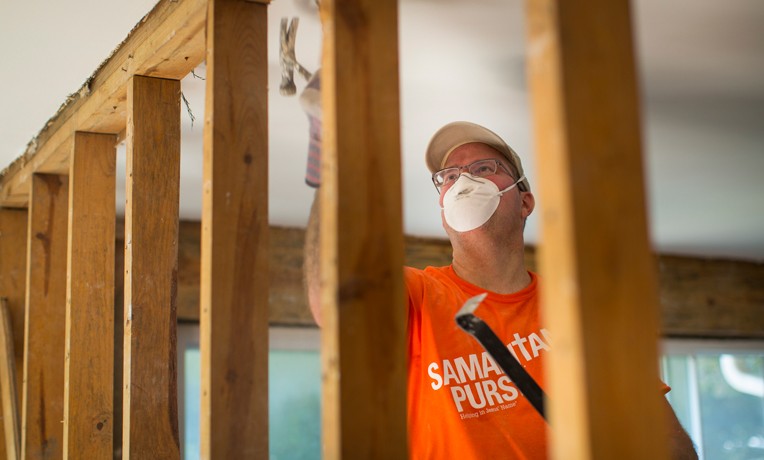 U.S. Disaster Relief
Samaritan's Purse mobilizes and equips thousands of volunteers to provide emergency aid to U.S. victims of wildfires, floods, tornadoes, hurricanes, and other natural disasters. In the aftermath of major storms, we often stay behind to rebuild houses for people with nowhere else to turn for help.
---
U.S. Disaster Relief 013622