Samaritan's Purse is sending help after heavy rainfall produces flash floods in Kingsport
The combination of saturated ground from a summer of heavy rains and a sudden downpour proved catastrophic for many residents of Kingsport, Tennessee, on July 17.
Four inches of rain fell in less than two hours, causing record levels of flooding in Kingsport and surrounding areas. The downtown area was completely engulfed. Several motorists had to be rescued from stranded cars.
Almost 100 homes were flooded. The Red Cross opened a storm shelter for those forced from their homes.
Samaritan's Purse responded by deploying a Disaster Relief Unit from our headquarters in North Carolina, located about 110 miles away. Volunteers working out of our base at Power Point Ministries in Kingsport are helping homeowners by clearing downed trees and debris and removing waterlogged belongings from houses.
So far 30 volunteers have completed work orders on 15 houses. One homeowner has come to Christ as well.
"Christ is very much alive in Kingsport and we are humbled to be here and a part of what He is doing," said Brent Graybeal, the onsite program manager. "One of the most welcoming communities I've worked with."
For Kingsport resident Maggie Schafer, Samaritan's Purse volunteers were "heaven sent."
Homebound with a brace from her shoulders to her waist, the 68-year-old local woman didn't know what to do when she found her house filled with three inches of standing water.
"I thought 'How am I going to get all this out of here? What am I going to do?'" she said. "I cried and prayed and cried and prayed."
Volunteers came to her home and removed tiles and moldy trash while also checking the wood for mold damage.
What touched Maggie even more was the Bible she received after the volunteer work was completed, especially because she had lost some of her own Bibles as a result of the water damage to her home.
"God answered my prayers and here comes my angels," she said. "I don't know how else how to put it."
Samaritan's Purse also has teams responding to wildfires in Arizona and Colorado. For more information on our disaster relief efforts or to find out how you can get involved, visit our online volunteer network.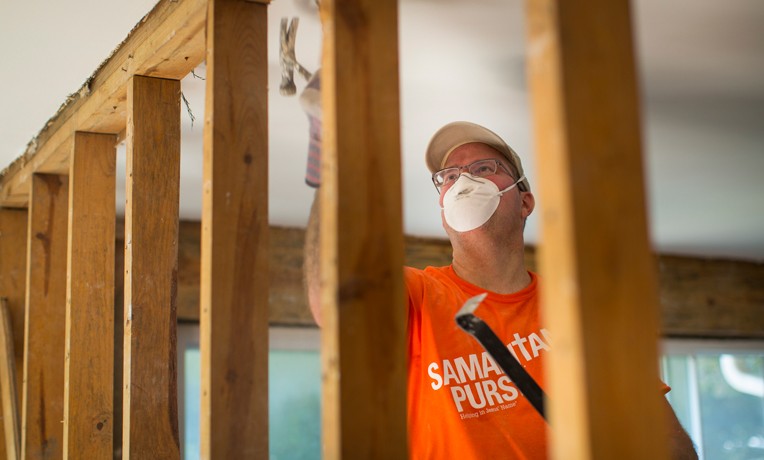 U.S. Disaster Relief
Samaritan's Purse mobilizes and equips thousands of volunteers to provide emergency aid to U.S. victims of wildfires, floods, tornadoes, hurricanes, and other natural disasters. In the aftermath of major storms, we often stay behind to rebuild houses for people with nowhere else to turn for help.
---
U.S. Disaster Relief 013622