Our trucks will leave the St. Louis area this weekend after serving dozens of homeowners
Just as the East Coast is bracing for a monster storm, Samaritan's Purse staff members and volunteers in the St. Louis area are overcoming snow and frigid temperatures to serve homeowners still affected by the devastating post-Christmas floods.
The Mighty Mississippi and several of its tributaries around St. Louis flooded when heavy rains pounded the Midwest during the Christmas holiday season. Samaritan's Purse responded and has been serving in the city's southwest suburbs.
Our teams are performing mud-outs—cleaning out and prepping a home to get it ready for a contractor to come in for repairs and restoration. At present, sub-freezing temperatures are hampering our work. Carpet and furniture are frozen to the floor. Water-soaked wallboards are frozen to the framing and difficult to cut. What normally may take two or three days is now requiring four.
"While these conditions can be discouraging, our volunteers aren't complaining," said Wayne Shoemaker, program manager for this deployment. "They just keep on keepin' on.
"God is faithful to handle it all, and we're remaining faithful to finish well, to complete our assignments, and to show God's love to as many as cross our lives."
That has included coming alongside homeowners Dave and Elizabeth Landsbury, who have lived in their home for the past 23 years. Floodwaters ravaged their house, and they didn't know where to turn.
"We looked at each other and said 'Where do we go from here?'" Elizabeth said. "When [Samaritan's Purse] came to the door, I could feel that they truly cared about what they were doing and how they wanted to help me and my family."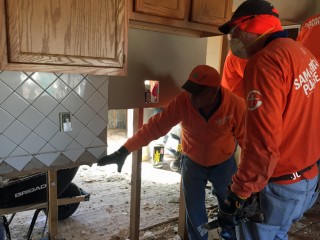 Our volunteers cut and removed drywall as well as waterlogged insulation and moldings. They also removed a damaged fireplace.
"That crew is wonderful and are so sweet," Elizabeth said. "They work so well together and always have a smile on their face. They've just been an answer to my prayers."
Not only are our volunteers helping to meet physical needs, but they're also there to share the love of Jesus Christ.
"When you can walk up to a homeowner, put your arm around them, and listen to their story and pray with them, and tell them about Jesus and the hope there is in Him, it's unspeakable joy to see the transformation in their lives," said Paul Brock, site team leader.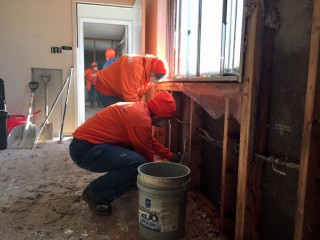 When the work was completed, our team presented a Billy Graham Training Bible to Elizabeth and Dave—just as we do at every site where we serve.
"Samaritan's Purse definitely walks the walk," Elizabeth said.
The Billy Graham Rapid Response Team chaplains deploy alongside our volunteers. They always spend time with homeowners—listening, praying, and waiting for God to open the door to share the Gospel. An opportunity surfaced with one homeowner, who fled her home country of Bosnia to Germany before making her way to the United States before 9/11. As the chaplains talked with her, they became aware that her 13-year-old son had muted the TV and was listening in on the conversation.
"Things are the same all over the world: tragic and heartbreaking," she said.
The chaplains opened the Scriptures and shared with her how much God loves her and how He demonstrated that love through Jesus Christ's death on the Cross—for her. She grasped that there's hope—for her. The 13-year-old boy came downstairs and joined the conversation. He asked hard, tough questions. In the end, both the boy and his mother acknowledged their need for a Savior and together committed their lives to Jesus Christ.
The massive storm front that precipitated flooding in Missouri also spurred deadly tornadoes in Texas and Mississippi. Samaritan's Purse responded in all three states, sending four disaster relief trucks and helping more than 200 homeowners. In total, there were 34 salvations and more than 1,225 volunteers invested over 19,200 hours in helping homeowners in Jesus' Name.
Our work in Texas and Mississippi has been completed, and we will wrap up work in Missouri this weekend.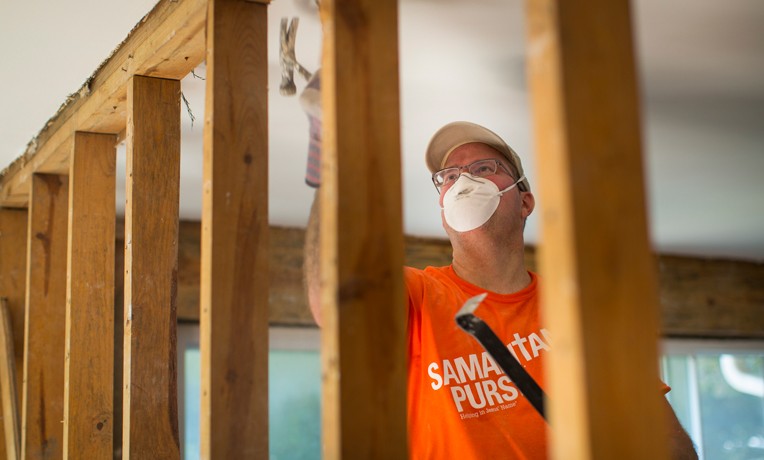 U.S. Disaster Relief
Samaritan's Purse mobilizes and equips thousands of volunteers to provide emergency aid to U.S. victims of wildfires, floods, tornadoes, hurricanes, and other natural disasters. In the aftermath of major storms, we often stay behind to rebuild houses for people with nowhere else to turn for help.
---
U.S. Disaster Relief 013622