The Samaritan's Purse doctor goes on Fox News to discuss his recovery from Ebola
Dr. Kent Brantly went "On The Record" with Greta Van Susteren Thursday night to talk about his battle with the deadly Ebola virus.
The Samaritan's Purse doctor survived the disease that has killed almost 4,900 in West Africa.
Dr. Brantly served with Samaritan's Purse in Liberia, where more than 2,700 have died. He was treating victims of the disease at our case management center at ELWA Hospital near Monrovia when he contracted Ebola. He told Van Susteren that he is convinced he didn't become ill while caring for patients in the isolation ward, because all of the protocols were followed.
He received a dose of an experimental serum while in critical condition in Liberia. He said he improved after taking the drug. He also talked about donating blood to three Ebola victims—two have recovered and the other is improving—and the role of the U.S. military in battling Ebola in West Africa.
FIGHTING EBOLA IN LIBERIA: Samaritan's Purse is continuing efforts to fight the deadly virus through Community Care Centers, home-based care, and public health education.
Van Susteren has been an advocate of Samaritan's Purse on her program and on her blog. She has reported on our work in northern Iraq, North Korea, South Sudan, Haiti, and Alaska.
Because of her reporting on behalf of the people of Haiti in the aftermath of the earthquake in December 2010, an orphanage constructed and supported by Samaritan's Purse is named in her honor.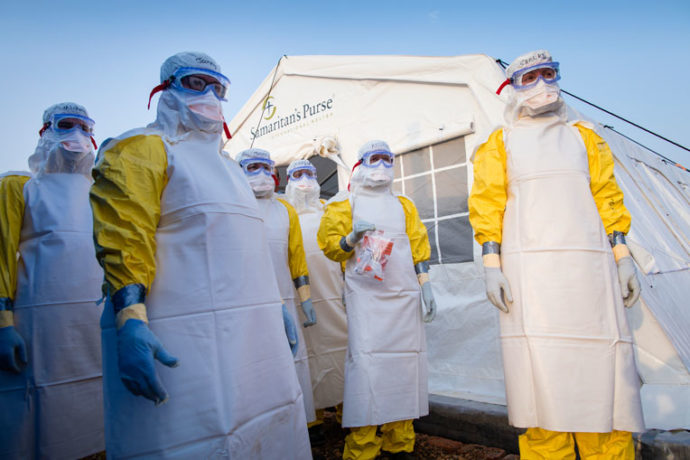 Ebola Response
Samaritan's Purse is responding to a major Ebola outbreak in the Democratic Republic of the Congo. We have established an Ebola Treatment Center where we are providing expert and compassionate clinical care in Jesus' Name. Your gift supports this lifesaving work.