Graham met with homeowners, volunteers, and fellow military veterans in Middle Tennessee communities devastated by tornadoes earlier this week.
U.S. Disaster Relief
013622
[Update March 21: Our initial disaster relief responses in Nashville, Mt. Juliet, and Cookeville have ended. Samaritan's Purse will continue to support these communities in an ongoing way; details will follow. We are thankful for more than 6,000 volunteers who completed clean up on 475 homes in these Middle Tennessee communities, working in Jesus' Name and sharing the love of Christ in word and in deed. Over the course of our response, we praise God that 32 people made decisions to follow Jesus Christ as Lord and Savior.]
Loraine Scarfia only heard the tornado warning siren after the twister had passed through her yard. She woke to the sound of "a train crashing through my window."
"I woke up to the window shattering. I jumped over my bed, grabbed my kid, and I ran. I thought 'this is not a normal storm. Not a normal storm.' I didn't even know it was a tornado until the tree came through my kitchen."
Loraine said the house seemed to twist slightly on its foundation. Rain started coming in through the roof and broken windows and she had to leave. Her husband, Aaron, was in Pennsylvania traveling for work when Loraine called him screaming. He immediately jumped in his rental car and drove the hours-long journey back home to Mt. Juliet, Tennessee.
The next day Aaron was surprised and encouraged to find Samaritan's Purse volunteers and a local group of Marines working in his yard.
"When I pulled up to my house yesterday and saw the volunteers and the Marines that's really when I got emotional," he said. "It's hard to find words. Appreciation is just an understatement."
Edward Graham, youngest son of Samaritan's Purse President Franklin Graham, visited impacted communities on Thursday, March 5, meeting with homeowners, including the Scarfias. Edward, a former Army Ranger, had an opportunity to encourage Aaron, who is a former Marine, and his family.
"It's just like a Marine to have a bulldog," Edward said, grinning and pointing to Aaron's dog sunbathing nearby. "What else can we do for you?"
Aaron said that what the volunteers had accomplished in two days blew him away.

"You've done so much already. What you've accomplished in 48 hours is remarkable. I couldn't even see my grass when I got home," Aaron said. "We could never have done all this by ourselves. It's just unbelievable what you've done here."
Unbelievable Devastation
Mt. Juliet was one of several communities across Middle Tennessee devastated in the early morning hours of Tuesday, March 3, when deadly twisters touched down as a powerful storm system passed through the region. At least 24 people were killed.
On the same day the storms hit, Samaritan's Purse deployed two disaster relief units—tractor trailers filled with relief supplies and equipment to help affected homeowners—to Mt. Juliet and Cookeville. A third unit was sent March 4 to respond to Nashville communities.
"The devastation is unbelievable. You can see where the tornadoes came down through Cookeville, Lebanon, and all the way to Nashville. It's just complete devastation. Entire homes, communities, and trailer parks are destroyed," Edward Graham said. "God's entrusted us and equipped us with materials and people to allow us to respond quickly when there are storms. As we're serving we have the opportunity to put our arm around them and to share the hope that we have in Jesus. That's why we're here."
Our volunteers have been hard at work since Wednesday clearing trees and debris from yards, placing tarps on damaged roofs, and sharing the love of Jesus Christ with hurting homeowners through tangible acts of service.
Thanking God for Changing Lives
The Scarfias were one of a number of homeowners served by our volunteers working in Tennessee. Some of our volunteers were from faraway parts of the country but relished the chance to help out in the Volunteer State.
Volunteer Bob Smith recently retired and he and his wife Carolyn moved from California to the southeastern United States. Bob says they want to help share the love of Christ with hurting people.
"Over the last five years I've said 'God, give me one more shot to do something spectacular before I die.' I don't want to live a normal life. I want to lay it down," Bob said. He said he's seen God transform lives powerfully during difficult times. "People look to Him out of their hurt. And I really expect that's going to happen here. I think God's going to touch some hearts through this. I really do."
We praise God that He already has. Through conversations with Billy Graham Rapid Response Team chaplains, Loraine Scarfia prayed to receive Jesus Christ as her Lord and Savior. Later in the day, her elderly neighbor across the street, Canh Dang Duc, whose roof was tarped by our volunteers, did the same. Loraine shouted to him when she heard: "We can do Jesus together!"
After volunteers completed work on the two houses, these new believers received their own Bibles. Edward Graham presented them with Billy Graham Study Bibles. On the inside cover of the Bible the volunteers had all added their signatures.
"There's always a lot of questions and things I can't answer, but I learned a long time ago to surrender because there were things bigger than myself. I do believe in Scripture, and I believe that it's true," Edward said. "And He's always directed my path through His Word."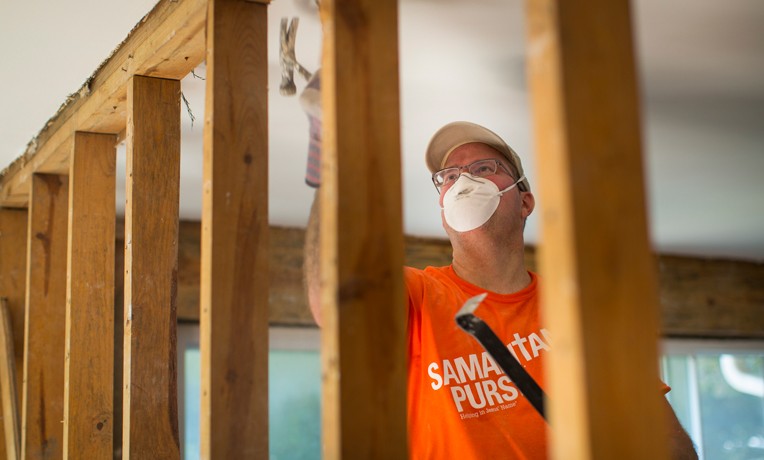 U.S. Disaster Relief
Samaritan's Purse mobilizes and equips thousands of volunteers to provide emergency aid to U.S. victims of wildfires, floods, tornadoes, hurricanes, and other natural disasters. In the aftermath of major storms, we often stay behind to rebuild houses for people with nowhere else to turn for help.
---
U.S. Disaster Relief 013622