Edward met with homeowners and volunteers in hurting communities where Samaritan's Purse teams are currently serving in the wake of Hurricane Ian.
U.S. Disaster Relief
013622
Edward Graham visited southwest Florida Tuesday where Samaritan's Purse volunteers are working in flooded and wind-damaged communities ripped apart last week by Hurricane Ian.
The powerful and deadly Category 4 storm claimed more than 100 lives and damaged thousands of structures, including hundreds of homes, on its destructive path traveling up the coast and across into the Carolinas and Virginia. Ian was one of the most powerful hurricanes to hit the U.S. in a decade.
Samaritan's Purse Disaster Relief units deployed shortly after the storm cleared. Volunteers started work on Saturday.
Edward, vice president of operations at Samaritan's Purse, spent the day ministering to homeowners and meeting with volunteers who are serving in multiple locations throughout Ft. Myers, Englewood, and Punta Gorda. Residents of these communities experienced 150 mile per hour winds, torrents of rain, and monstrous storm surge that pounded neighborhoods for hours.
Edward reminded residents that the volunteer teams are serving in Florida to help hurting people in Jesus' Name.
"We love you. More importantly, Jesus loves you, and that's why He sent us to serve you," Edward told a Ft. Myers homeowner named Elsa. "I can't imagine what you all have gone through. We're praying for you. I'm so sorry for your loss. We're here, so please let us know if we can help."
Serving in Jesus' Name
More than 500 volunteers have served homeowners since the beginning of our Florida response on Saturday. Edward, along with North American Ministries vice president Luther Harrison and other Samaritan's Purse staff, surveyed the work accomplished so far to remove ruined walls and flooring, clean out waterlogged belongings, clear trees and debris, and patch damaged roofs.
More volunteers will be needed as we continue to work in the region for many weeks to come.
VOLUNTEER FORT MYERS | ENGLEWOOD | PUNTA GORDA
"This isn't my father, Franklin, this isn't even Samaritan's Purse, this is God," Edward said. "He brings us the best people and volunteers. It doesn't matter your background, who you are, they're here to serve and love hurting people."
The group also met with local church leaders as they work hard to serve their congregations and communities even while facing their own losses. A number of churches have assisted Samaritan's Purse teams with gaining access to affected areas, assessing needs, and providing space to operate from as we deploy volunteers.
"Thank you for everything. We want people to know God hasn't forsaken them during this time and to let them know that God loves them," Edward told Dave Pleasant, pastor of City Gate Ministries in Ft. Myers, a church housing our volunteers and serving as a base of operations in the area. "Thank you for allowing us to be part of this ministry with you. We're praying for you."
Pastor Dave told Edward that it was a miracle the church's structures didn't sustain more damage.
"We were shocked when we first got here after the storm to discover the church wasn't flooded," Pastor Dave said. "And you guys being a presence here has really helped the community because they know that there's an army of volunteers coming."
Please continue to pray for these southwest Florida communities as they begin to clean up. Pray for our volunteers and staff and that God would work in many lives to bring hope and salvation through Jesus Christ.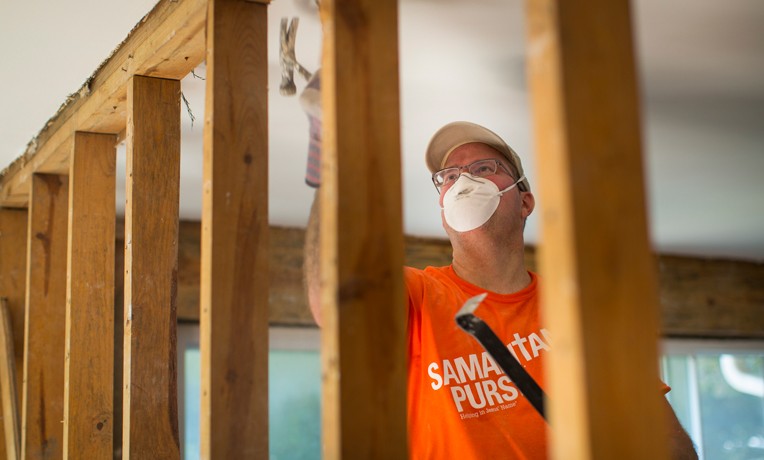 U.S. Disaster Relief
Samaritan's Purse mobilizes and equips thousands of volunteers to provide emergency aid to U.S. victims of wildfires, floods, tornadoes, hurricanes, and other natural disasters. In the aftermath of major storms, we often stay behind to rebuild houses for people with nowhere else to turn for help.
---
U.S. Disaster Relief 013622