The Carbullidos learned in Alaska that by inviting God into their weakness they grew stronger—in their faith, marriage, and family.
Bless the Marriage of a Military Couple
013960
For many years, the Carbullidos' combat experiences remained a mystery roiling under the surface of their marriage. Air Force Master Sergeant David Carbullido considered it his duty to lock away those moments into a dark corner of his mind. He thought it was an absolute necessity in order to stay engaged in the work at hand during his combat deployments.
His wife, Air Force Technical Sergeant Sarah Carbullido, considered it an act of bravery and courage on his part. She saw enough horror herself to understand that the things he carried with him from the battlefield played a part in the tension that was now filling their home.
Stationed in Germany with a ground evacuation team at the same time her husband was deployed in Iraq, her battalion received casualties that were being returned home. She could tell where the wounded or killed were coming from, and it was often from the very region of Iraq where David was working.
"I knew what he was seeing out there because I was seeing the aftermath," Sarah said. "It took a toll on me seeing these wounded coming through, but it also made it very real when I imagined the threat he was facing."
David lost friends in Iraq to all the deadly devices that have now become common currency when talking about the War on Terror—IEDs, suicide bombers, insurgents posing as civilians who ambush soldiers in cities, towns, and along roadways.
A Deadly Silence
The Carbullidos are measured in their speech about the war. They have been trained to maintain decorum and discipline about the flow of information. Plus, David is still active duty in the Air Force and is required to keep certain things quiet, even from his wife.
But neither of them realized just how much the quiet was killing them, their marriage, and the sense of peace for their children.
David said that in many cases he was trying not to admit, to himself or others, that his deployments had impacted him.
"I boxed it all up and buried it," David said. "Doing that has impacted every area of our lives—my relationship with Jesus, my relationship with my wife."
Sarah says David came back from deployments and tried to live as if the previous months of war were all imagined.
"He came back and acted as if nothing had ever happened," she said. "At first, I thought he was so strong to not let it affect him, but as the years went by there were triggers that reminded him and then there would be silence. And I realized that his silence was pain and suffering that he couldn't handle on his own."
Healing Words
David and Sarah's time in Alaska became an invitation from God to break down the walls that had been erected in their marriage, family, and in their relationship with Jesus. The wilderness excursions, Biblically based marriage enrichment classes, and the conversations with chaplains all served as catalysts to let God work.
For David that meant learning what the Apostle Paul expresses in 2 Corinthians 12:10, "For when I am weak, then I am strong."
"The military teaches you to win at all costs and for me that meant showing no weakness," David said. "But I've come to learn that the pride keeping me silent was actually my greatest weakness."
What David saw as weakness, God used as an opportunity to demonstrate His power to heal the issues David and Sarah had been facing in their marriage.
"I think we knew they were always there, but we were afraid to face them head on and fix them," Sarah said. "Our lack of communication, the disrespect we've shown each other over the years—we've just allowed things to cave in. Now we're allowing God to take hold, and we're learning not to hide from our demons but to face them head on."
Inviting God into the painful areas of their lives has given David greater freedom to share with Sarah some of the things he's suffered with in silence. She learned things about him in Alaska that he'd kept quiet for many years. They said the week in Alaska also revealed some unhealthy ways they related to each other and to their children.
"Up here I began to rediscover God's unconditional love," David said. "It was hard for me to even admit that I had weaknesses until coming up here. I actually have Operation Heal Our Patriots to thank for that. Alaska has helped us cut out some of the noise of our everyday lives and discover things that we don't notice when we're in the hustle and bustle of it all. This has allowed us to strengthen our commitment to each other and to our marriage."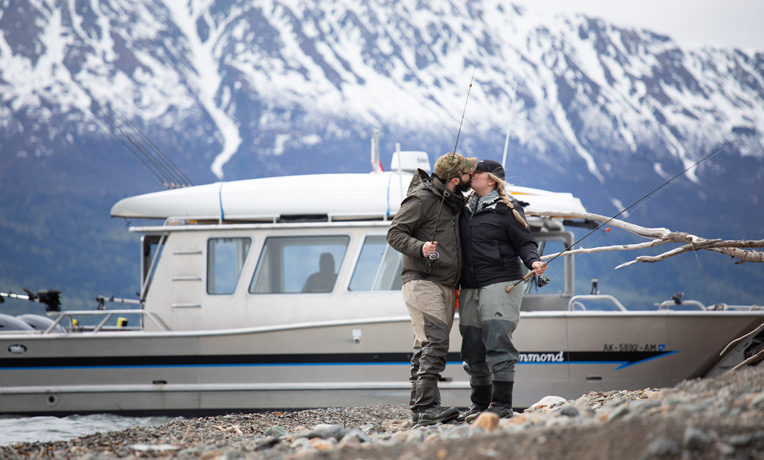 Bless the Marriage of a Military Couple
Operation Heal Our Patriots helps military couples build a strong spiritual foundation during a week of Biblically based workshops, relationship-building wilderness activities, and individual care by our retired military chaplains. We offer all this free of charge to these American heroes as a token of our appreciation for their service and sacrifice. Your gift will help us cover the costs—including transportation, lodging, activities, and long-term Family Care—so that we can help them find hope in the Lord.
---
Operation Heal Our Patriots 013960
Suggested Gift: $60