Samaritan's Purse volunteers are active in the St. Louis area following historic flooding
Samaritan's Purse volunteers are now coming alongside devastated homeowners in Missouri and providing disaster relief assistance throughout the southwestern suburbs of St. Louis, which were ravaged by recent flooding.
More than 10 inches of rain pummeled the Midwest during the Christmas season, causing the Mississippi River and its tributaries to swell, then overflow. Our teams are primarily focusing on residents living in the area where Jefferson, Franklin, and St. Louis counties border each other. They're especially fanning out into the smaller cities of Arnold, Pacific, Valley Park, and Fenton. This region is part of the Meramec River watershed, which flows into the Mississippi.
Southgate Church, in nearby Crestwood, is serving as our base of operations during this deployment.
"We now have teams on the ground performing our work, and we have assessors scouting out additional areas that sustained damage," explained Wayne Shoemaker, program manager for Samaritan's Purse. "We don't want anyone to fall through the cracks. We want to help and minister to as many people as we can and make sure their needs are met."
Our volunteers are performing "mud-outs"—readying houses for eventual repair. We're tearing out waterlogged walls and insulation and pulling up flooring and damaged cabinets. And in some houses that were almost inundated, ceilings are being torn out. We're also spraying for mold, as well as helping residents recover salvageable possessions.
Not only are our teams providing practical help, they're also sharing the hope and love of Jesus Christ. Crisis-trained Billy Graham Rapid Response Team chaplains are on hand offering spiritual and emotional care.
Stories from the Field
On Monday, volunteers worked under two houses, taking out wet insulation, and then helping another man move what could be salvaged out of his storage building.
"Your volunteers are just so nice," said Glenda, who is 87 years old. "It's just been great to know that someone cares about us in this time of disaster."
The BGEA chaplains were able to talk with Glenda's husband, Hayward. They've been married 72 years. The conversation turned spiritual in nature, and the chaplains shared about God's unfailing love. When they asked the 91-year-old Hayward how they could pray for him, he responded, "I'd like to pray for the forgiveness of my sins." They all bowed their heads and Hayward asked Jesus Christ to come into his life.
"We're coming alongside people who have experienced a disaster, who don't know where to turn, and providing help in Jesus' Name," Shoemaker said. "It's exciting to put into action what Jesus taught through the example of the Good Samaritan. It's all about sharing the love of Jesus Christ in a tangible way."
Please pray for homeowners and for our teams in Missouri, especially as they brave cold temperatures and the possibility of snow in the coming days.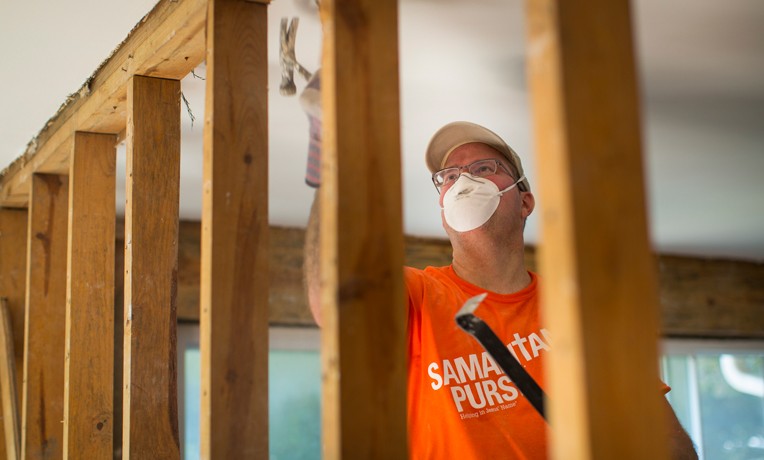 U.S. Disaster Relief
Samaritan's Purse mobilizes and equips thousands of volunteers to provide emergency aid to U.S. victims of wildfires, floods, tornadoes, hurricanes, and other natural disasters. In the aftermath of major storms, we often stay behind to rebuild houses for people with nowhere else to turn for help.
---
U.S. Disaster Relief 013622