Samaritan's Purse volunteers minister to families who lost their homes near Redding, California.
Guy Gonzales received a text message from his wife saying four short words: "We just lost power." He immediately realized that loss of electricity was not the real problem, but that one of California's worst wildfires was approaching his home.
Guy rushed home, knowing that without power his wife Lebra would be trapped and unable to get her car out of the garage. Bypassing three police barricades, he pulled into his neighborhood and saw flames already licking the treetops in his backyard. Within 90 seconds the house was on fire, and his wife and 12-year-old daughter were still inside.
There was no time to waste. Guy broke open the garage door, and they quickly loaded into two vehicles and sped out of their neighborhood. As they pulled away, Guy looked back and saw his home burst into a ball of flames. They barely escaped.
U.S. Disaster Relief
013622
Guy, a former firefighter, is no stranger to wildfires. He knew this fire was dangerous from the beginning and warned Lebra that this fire was different. "This is a bad one like no other bad ones."
The Carr Fire has already engulfed more than 170,000 acres near the city of Redding, destroyed over 1,100 homes and killed seven people. Firefighters continue to battle the fast and unpredictable blaze.
"It was a monster. It all happened so fast." Guy said.
Despite tremendous loss, the Gonzales' faith never wavered. "We are seeing God's provision and the pieces of the puzzle that have been knit together years and years before," Lebra said. "You can't see how it all comes together until you finally get the missing puzzle piece."
Little by little, Lebra feels like the pieces of the puzzle are linking together. She said that she has never felt more of God's provision, peace, comfort and even joy.
"Samaritan's Purse came. They worked in the heat and in the ashes. It's so dirty, but they still came," Lebra said as she thanked the volunteers. "We tried to sift the ashes ourselves, but we couldn't have accomplished it alone."
'Something for Them to Hold On To'
Charlotte Bailey felt that her home was safe, because she lived across the Sacramento River from the Carr Fire. This false sense of security was shattered when she walked outside the afternoon of July 26 and looked up. "As soon as I saw the sky, I knew we had to get out of there. It was awful— I'd never seen that color before. The fire had jumped the river."
A few days later, Samaritan's Purse sent a team of volunteers to Charlotte's property to help her sift for anything that might have survived the flames. Her expectations were low that anything valuable could be salvaged, but she held out hope.
When Bert Won, a volunteer from the San Francisco area, found a set of military dog tags, he hoped this was something meaningful. As soon as Charlotte saw them, she was overcome with emotion. Her husband, who died ten years ago, served in the Army during the Korean War. These dog tags were an unexpected gift.
Come Volunteer in California
Throughout the day, volunteers continued to find treasures in the ashes such as her husband's class ring from the University of Iowa and captains badges from their time serving in the volunteer fire department. The value of these items was magnified by their significance. To Charlotte, these finds were priceless.
Being on the receiving end of aid was a new experience for the 78-year-old widow. For 20 years, she served in the volunteer fire department in Kenwood, California and now she regularly volunteers with California Highway Patrol.
"I was meant to volunteer. I love it. It's harder to be on the receiving end, but I'm learning," she said. "What a joy it is to give to people and love them and help them in their worst times. We can be steadfast, something for them to hold on to."
This week, Samaritan's Purse volunteers were this steadfast support for Charlotte. Miguel Garcia, the team leader said, "We are here to do two things. One is our task and the other is our job. Our task is to sift the ashes, but our real job is to love on the homeowner."
Charlotte felt this love. While the day was filled with tears and loss, it was also filled with laughter and joy. The volunteers rallied around Charlotte, encouraging her as they served.
"I can feel God wrapping His arms around me and telling me that it's going to be okay," she said.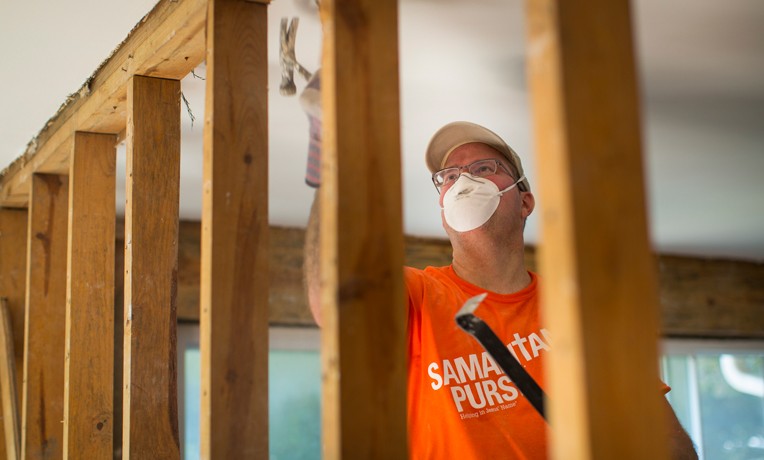 U.S. Disaster Relief
Samaritan's Purse mobilizes and equips thousands of volunteers to provide emergency aid to U.S. victims of wildfires, floods, tornadoes, hurricanes, and other natural disasters. In the aftermath of major storms, we often stay behind to rebuild houses for people with nowhere else to turn for help.
---
U.S. Disaster Relief 013622