An EF4 tornado destroyed Tom Woodward's mobile home in Kentucky last December. He was elated to receive the keys to a new, two-bedroom house on Aug. 30.
U.S. Disaster Relief
013622
Nine months ago, on the evening of Dec. 10, 2021, Tom Woodward sat in his single-wide mobile home, listening to the news about an EF4 Tornado that had set its target on Mayfield, Kentucky.
"My son called me and said 'Are you gonna stay and ride it out or are you gonna come over here with us?' he remembers. Tom replied that he would stay but his son said, "wrong answer," and urged him to leave. If he had not left Mayfield, 30 minutes later Tom likely would have lost his life in Kentucky's deadliest tornado.
Tom returned home at 11 p.m. to find the road obstructed by trees and wires. He carefully walked to his property, and even in the late night, he saw what the 190-mph twister left behind. "I had the clothes on my back and I had my truck and everything else was in little bitty pieces out all over the fields," Tom explained.
In only a few seconds, his home, along with the precious belongings of his late mother, and everything he owned, were destroyed. When recounting the experience, Tom said, "it was gone—just a piece of concrete slab."
Tom was hardly the only homeowner who lost everything in the 165-mile path cut by the tornado. But, on Aug. 30, he became the first to receive keys to a new home built by Samaritan's Purse through the Western Kentucky Rebuild Program. He will be the first of many to come.
A Dream Come True
"It's kinda like a dream," said Tom when recalling how he's felt watching Samaritan's Purse volunteers rebuild his home. "You can only have things like this happen in a dream."
When Tom received the call that Samaritan's Purse would build him a new home, he was substitute teaching at Northside Baptist Christian school. After the call, his young students embraced him and prayed over him. "I just couldn't keep it all together," Tom said.
He explained how much of a blessing it is to have volunteers from all over the country build his home. He shared, "I know heaven is gonna be a lot better than this, but this sure is awful nice right now."
On Aug. 30, Samaritan's Purse staff, volunteers, and community members gathered in front of Tom's new home for a special ceremony. Tim Cottrell, Project Superintendent, presented Tom with a bill. Tim shared, "written across it at an angle in red ink is the words, 'PAID IN FULL,' and that is what Jesus Christ has done for each one of us."
Edward Graham, vice president of operations and son of Samaritan's Purse President Franklin Graham, closed the dedication in prayer and said, "what we do at Samaritan's Purse is not about the charity, it's not about good work, it's not building this home. It's about sharing the Gospel of Jesus Christ."
Restoring Hope by Rebuilding Homes
The Samaritan's Purse Western Kentucky Rebuild Program began in late January of 2022 after Samaritan's Purse observed that the needs of Mayfield far exceeded the scope of a typical rebuild program. "It didn't take long for the ministry to realize that the impact was so much larger than just homeowners," explained Jeff Graham, Program Manager of the Mayfield Rebuild, "It left 70 percent of the rental population homeless."
In response, the rebuild has expanded to include a subdivision with 50 half-acre lots for renters and a furniture assistance program to help up to 400 families. In total, the project can build 110 new homes with a built-in storm shelter.
Samaritan's Purse is also installing underground, storm shelters in homeowners' properties. Seven have already been installed, and more than 60 are ready to go in.
We will continue working until the needs are met in this community.
Our House
As work on Tom's house came to a close, he developed lifelong friendships with volunteers from all over the country. He shared, "like it says in the Bible, 'my cup runs over.' Well, I think I have a cupboard full of cups and they're all running over."
Tom explained that although the tornado devastated his community and the loss was horrific, God used it to bring about many blessings, he said. "It just keeps getting better—better and better."
Overflowing with joy, Tom gave back to the volunteers. He helped with the house when he could and gave away his homegrown vegetables. Each volunteer that stepped on that property was instantly family to Tom.
At the dedication, he told the crowd, "I just want to say thank you again for everyone. You have changed my life in more ways than one and anybody that needs a place to stay. This house is always open."
Tom did not want the blessing of Samaritan's Purse volunteers and staff working on his house to end. "I pray that they'll keep coming back," Tom said. He kept telling volunteers, "It's not my house, it's our house."
—
Volunteers are needed for numerous Samaritan's Purse efforts, including the rebuilds in western Kentucky. Go to spvolunteer.org to learn more.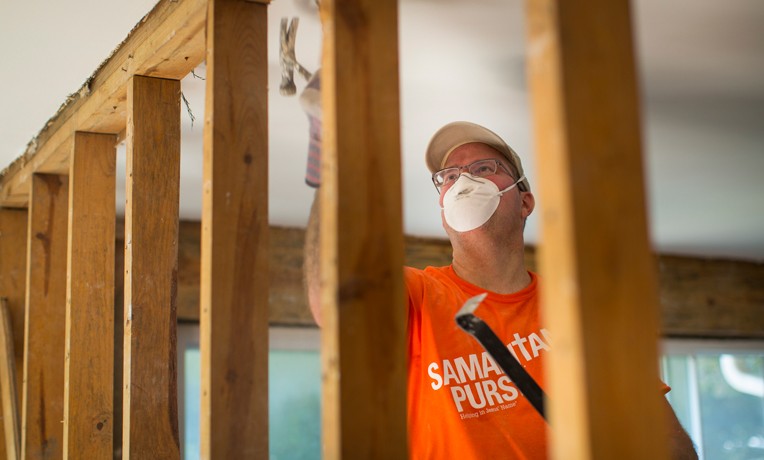 U.S. Disaster Relief
Samaritan's Purse mobilizes and equips thousands of volunteers to provide emergency aid to U.S. victims of wildfires, floods, tornadoes, hurricanes, and other natural disasters. In the aftermath of major storms, we often stay behind to rebuild houses for people with nowhere else to turn for help.
---
U.S. Disaster Relief 013622