God continues changing lives through Operation Heal Our Patriots.
Bless the Marriage of a Military Couple
013960
Army Sergeant James Sizemore and his wife, Krystle, were already best friends when they were married 10 years ago. James had already left the Army, but he struggled with post-traumatic stress after deploying during Operation Iraqi Freedom. Krystle encouraged him to seek help, and this allowed James to work on his mental health so the two of them could focus on their relationship as a couple.
Krystle, who had a difficult childhood, brought some emotional baggage to their relationship, too. "My mom was always negative," she said. "I get overly sensitive about it when I'm around people like that. Getting yourself out of those habits and acknowledging that you have them is a big deal." James tried to help Krystle, but her anger toward her mother was affecting James and Krystle's relationship.
Knowing they faced difficult challenges, they applied to Operation Heal Our Patriots, hoping the program would improve their marriage. James said, "Our relationship started having problems. And I looked at this as a way to save what we had going. We love each other, but we have some problems that we needed to work through."
During their week in Alaska, they watched grizzly bears catching salmon in Katmai National Park and Preserve and fished for Arctic grayling in Lake Clark. But their experience in the Last Frontier included more than wildlife viewing and fishing. Throughout the week, the Sizemores and 10 other couples attended classes with Samaritan's Purse chaplains, most of whom served in the military themselves.
For James and Krystle, an experience on the second day of the program brought some issues in their marriage to the forefront. They thought they were just getting a lesson in kayaking, but they learned something about their marriage, too. "You think of it like you're just kayaking, but it's so much more," James said. "It shows we need to work on our communication because you have to communicate to paddle together and work as a team."
James and Krystle felt that they knew God and would pray when they had a crisis, but James explained that although God had not been left out of their marriage, He hadn't been "a focal point." James said, "I considered myself spiritual, but I had fallen off the path quite a few ways during my time in the military."
During their week in Alaska, James and Krystle accepted Jesus Christ as their Lord and Savior. "I haven't felt this kind of peace in years," James said.
Letting Go of the Past and Leaving a Legacy for the Future
One of the sessions with the chaplains in Alaska focused on how an individual's past influences their current behaviors and relationships. "The lesson was that sometimes to take a step forward, you have to take a step back," James said. "If it's something you don't like, you can work on changing it."
Krystle still felt anger toward her mother and struggled to forgive her. As much as she wanted to let go of those emotions, she just couldn't do it alone, even with help from James. But with God's power, she was able to begin to change. "Something changed inside of me this week, and just having that strength through God to forgive her and to move forward no matter what—I'm ready," Krystle said, "I feel much more at peace."
James and Krystle renewed their marriage vows before leaving Alaska and planned to find a church to attend regularly when they returned to Kentucky. They're waiting to be baptized until their daughter can attend the event. "We wanted to save our baptism for her," James said. "I was hoping it would motivate our daughter to want to do the same."
Finding Salvation After Slowing Down
The September week in Alaska was also life-changing for Army Sergeant First Class Matt Tucker and his wife, Kayla. They married young but were determined to build a strong relationship.
Kayla says that Matt's military career was significant in shaping her life, though in a different way from how it molded his. It forced her to be independent, which she had not been before Matt's deployment to Afghanistan shortly after they married. She said, "I was never independent really, and it forced me to be. Now if something's broken, I'll fix it. I'll figure it out."
Matt feels that his career in the military was successful because he relied on Kayla to manage everything at home. "But at the same time, it drove a wedge between us, because I was so focused on work all the time," Matt said. "And she always felt like she got put on the back burner."
The Tuckers benefited from the opportunity to put other things aside and focus on each other in Alaska. Matt said, "The thing that I like the most is that there's no cellphone stuff; it brings us back to the basics. It makes us focus on each other."
Kayla was so unaccustomed to the quiet environment that she paced in their cabin the first night after arriving. "At home, it's chaos," she said. "It's running and going and doing. I'm finally starting to calm down and not have so much anxiety. It is amazing."
Guided by a chaplain who shared the Gospel, Matt and Kayla asked Jesus to be the Lord of their lives during the week. "I gave myself to God," Matt says. "I've been always trying to figure that out, but it's not that hard. I overthought it. The chaplain was able to explain things and read passages that made sense and felt right."
On their last morning in Alaska, Kayla and Matt dedicated their marriage to God and were baptized in Lake Clark.
The Sizemores and Tuckers are four of the more than 90 individuals who received Jesus Christ over the 17 weeks of the 2023 Operation Heal Our Patriots summer season at Samaritan Lodge Alaska, which ran from May 28 to Sept. 22. Nearly 30 people also rededicated their lives to the Lord, and more than 100 people were baptized. We thank God for what He's done!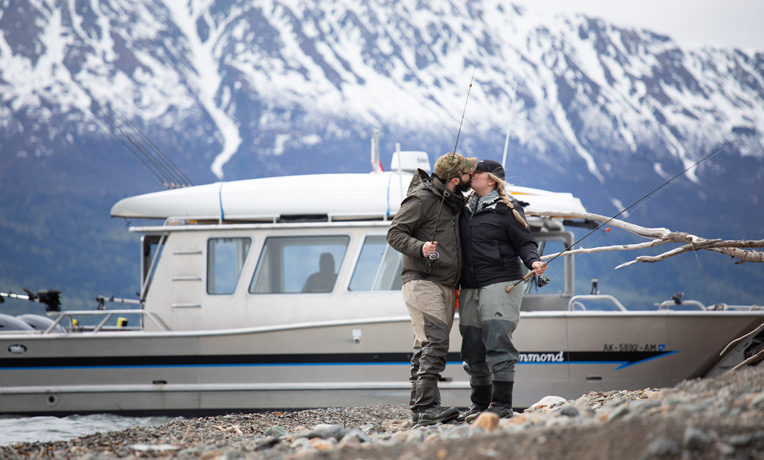 Bless the Marriage of a Military Couple
Operation Heal Our Patriots helps military couples build a strong spiritual foundation during a week of Biblically based workshops, relationship-building wilderness activities, and individual care by our retired military chaplains. We offer all this free of charge to these American heroes as a token of our appreciation for their service and sacrifice. Your gift will help us cover the costs—including transportation, lodging, activities, and long-term Family Care—so that we can help them find hope in the Lord.
---
Operation Heal Our Patriots 013960
Suggested Gift: $60