The Samaritan's Purse president traveled to Hawaii to view recovery efforts from August's wildfires and encourage local church leaders.
U.S. Disaster Relief
013622
Franklin Graham traveled to fire-ravaged Maui on Saturday to encourage homeowners who lost their homes to the wildfires in August. He surveyed the horrific damage in Lahaina, where Samaritan's Purse volunteers are hard at work sifting through ashes for homeowners in search of treasured mementos—and closure.
"A fire ripped through this area just destroying homes, businesses, and burning everything people own," Graham said. "The fire came so quickly that people that were trying to leave and pack finally just ran for their lives and lost everything."
A Church Hangs onto Hope
Graham had the opportunity to meet and encourage Pastor Arza Brown whose church on the island had just celebrated its 50th anniversary just four months before the fire. Where green grass and mango trees once surrounded their building, today only charred ashes are left.
Once the debris is cleaned up, Pastor Brown's vision is to place a tent on the spot where the church once stood, so his congregation can continue worshipping where they have for decades. He also has a vision to rebuild the church facility.
"We'd like to build a building that would accommodate the needs of the church, and also really in the back of my mind, in the future, I'd love to see a Christian school. But, I want to see the church get back together and meet. Our church has always been very missions-minded."
In fact, Pastor Brown's church has continued supporting 20 missionaries even since the fire took their building.
Graham pledged to Brown that Samaritan's Purse will buy the tent for them when that time comes. In addition, Graham said, "When he gets the OK to build the church back, Samaritan's Purse is going to help. It's people like this that need our help, they need our prayers. It's going to take years."
Brown, at age 81, told Graham that he wanted to see the church reconstructed before he dies.
"I pray that God will give him the strength and the years to do that," Graham said.
He continued to pray for Brown: "Father, we pray for the church here. This city is now a heap of ash. We pray that you'll raise not only this church—it's your church, the people—that many people will come to faith in your Son, Jesus Christ, that they will confess their sins and repent and believe on the name of the Lord Jesus Christ."
Brown said that now after preaching about having peace that passes understanding (Philippians 4:7) for over 60 years, he's now able to live that verse.
"God is good even in this situation," he said.
"Pray for the people of Hawaii, here on Maui. There's so many broken hearts."
"Pray for the people of Hawaii, here on Maui," Graham said. "There's so many broken hearts, but with these broken hearts, it's opening up an opportunity to tell them about God's love, His Son, Jesus Christ. And that's why we come to places like this."
We are thankful for over 300 Samaritan's Purse volunteers who have served more than 200 homeowners during this response. Billy Graham Rapid Response Team chaplains are on the ground serving alongside us. We together praise God that 48 people have come to saving faith in the Lord Jesus Christ.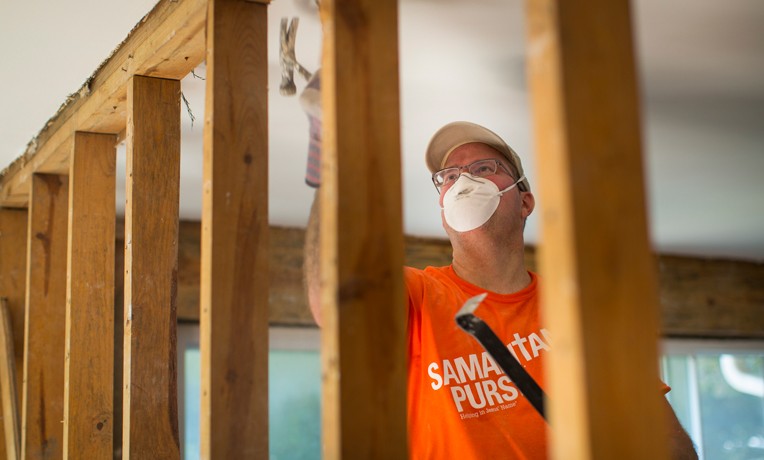 U.S. Disaster Relief
Samaritan's Purse mobilizes and equips thousands of volunteers to provide emergency aid to U.S. victims of wildfires, floods, tornadoes, hurricanes, and other natural disasters. In the aftermath of major storms, we often stay behind to rebuild houses for people with nowhere else to turn for help.
---
U.S. Disaster Relief 013622