Paradise, California families turn to the Lord in the midst of extreme loss.
U.S. Disaster Relief
013622
"We didn't take what we should have taken—we weren't prepared at all."
Tom and Connie Wallis had only minutes to gather precious personal belongings before fleeing their Paradise, California, home. Their only warning was a phone call from their son who drove past the rapidly moving flames.
Tom and Connie struggled to comprehend the reality of the situation. "Ashes were floating in the air—we get smoke from fires hundreds of miles away but when you see ashes, that's a pretty serious indication," Tom said.
The couple's home of 20 years—and the eight homes of their nearby immediate family members—burned to the ground in the devastating Camp Fire.
"We figured we would be back in a couple days. We had been evacuated three times and on standby a couple of other times. It's kind of like the boy who cried wolf—only this time we didn't come back," Tom said.
Years of family memories and prized possessions were reduced to a pile of ash. While Tom and Connie were thankful to have escaped with their lives, they mourned their losses. The couple reached out to Samaritan's Purse for help recovering some items—though they had little hope of finding much.
Nonetheless, our volunteers spent a day helping the couple recover meaningful metal sculptures, precious jewelry, and mementos from Tom's time in the Army. They were glad to find those things, but the couple was most overwhelmed by the number of volunteers who came out to bless them in Jesus' name.
"The thing that brings tears to our eyes is not that our house burnt down but how nice people have been, and the acts of loving kindness that have been bestowed upon us," Tom said.
In the midst of difficulty, they are turning to the Lord with hopeful expectation. "We are wondering what God is going to do now—we're available, God, what do you want to do?" Connie said.
Wherever God leads them, Connie plans to make stepping stones for their new home from the ceramics that Samaritan's Purse volunteers recovered from the ashes.
"I don't want this to be a stumbling block in our lives. I want this to continue to be a stepping stone for what God has for us," she said.
Never Alone
The day the Camp Fire destroyed Barbie Duffy's home was the second worst day of her life; placing her husband Tony in an Alzheimer's facility almost exactly one year prior was the worst, she said.
The Camp Fire destroyed a huge part of the couple's history. Barbie worked as a nurse for over 40 years, and Tony served as an administrative clerk at a workman's compensation office. Their paths crossed as they were both celebrating their recent sobriety at a gathering and happened to be seated next to each other. "The rest, as they say, was history," Barbie said.
In the 18 years of their marriage, Barbie and Tony made the home their own—renovating several rooms and filling it with countless memories. "We traveled, we went camping, we've cruised, and we would always come back to our little house. It wasn't just a house—it was a home," Barbie said.
Barbie was one of the few Paradise residents to receive an emergency alert phone call on the day of the fire. Alone, she attempted to determine what was worth saving. Settling on just a few possessions and the couple's dogs, she fled to Tony's Alzheimer's facility and slept on a mattress on the floor. Like many others, she assumed she would return home.
She didn't know how she could return to what was left of their home without Tony by her side. "He understands that my house is gone but he doesn't understand that it was our house. He just knows that he still loves me," Barbie said.
Samaritan's Purse volunteers from across the country helped Barbie recover physically and emotionally from the fire. Sifting through the ashes, they were able to salvage hundreds of coins from Tony's coin collection, a diamond tennis bracelet, and a metal wall hanging depicting a family holding hands and praying around a table. Volunteers also salvaged dozens of the couples' sobriety coins. Barbie smiled through tears as she went through the items that our team had recovered.
Volunteers prayed for God to give Barbie strength and peace as she manages her husband's declining health and the loss of her home—encouraging her to always lean on the Lord.
"It means that I'm not in this alone—and being in my family's situation, where my husband is not with me to make decisions, feels very alone," Barbie said through tears.
"This beautiful family [of volunteers] sifting through things and finding precious mementos just means the world to me. I feel truly, truly blessed to be able to associate with all of you."
Samaritan's Purse continues our work after the California wildfires. As of Feb. 11, more than 1,500 volunteers have helped some 700 families recover precious personal belongings from the ashes in Paradise, California. Praise the Lord that 122 salvations have been reported!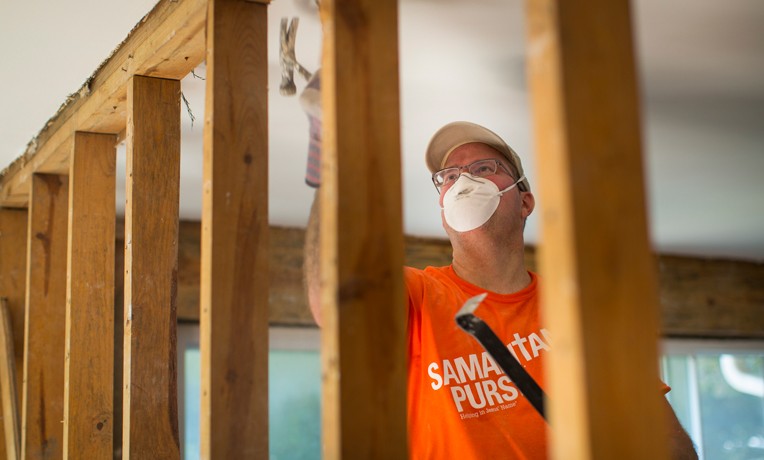 U.S. Disaster Relief
Samaritan's Purse mobilizes and equips thousands of volunteers to provide emergency aid to U.S. victims of wildfires, floods, tornadoes, hurricanes, and other natural disasters. In the aftermath of major storms, we often stay behind to rebuild houses for people with nowhere else to turn for help.
---
U.S. Disaster Relief 013622